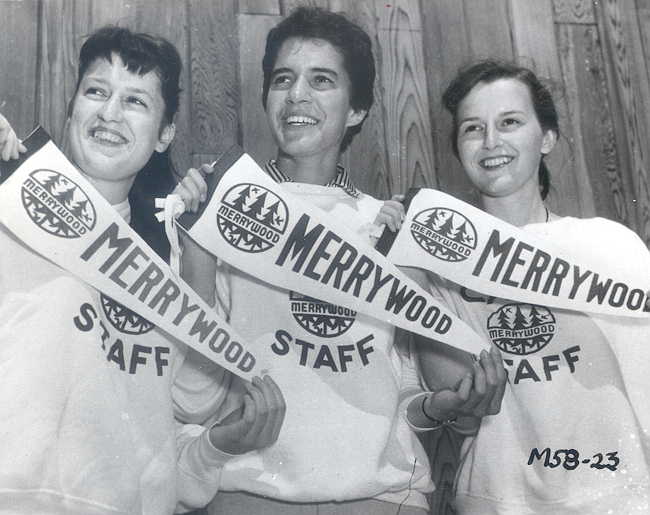 Flashback Thursday
November 26, 2015
I am back from sunny Florida in time for the cold and snow in Toronto. A hard transition from 33C to -3C was hard.
The 2016 dates have been posted and can be found on this site or on the Easter Seals website www.eastersealscamps.org. This year July 1 - Canada Day falls on the staff days off. This will allow people to go into Ottawa and enjoy the amazing celebrations there that day.
The application package will be emailed to all returning staff December 15th. It will also be available online on that day. Camper applications will go online January 5, 2016.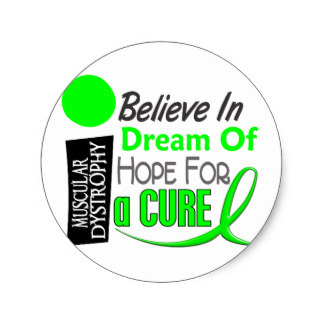 November 20, 2015
It is amazing the research that is going on right now in the medical field. I am not sure if you have seen the article about new research into Muscular Dystrophy. Here is the link to the article. You will recognize one of our campers in the article.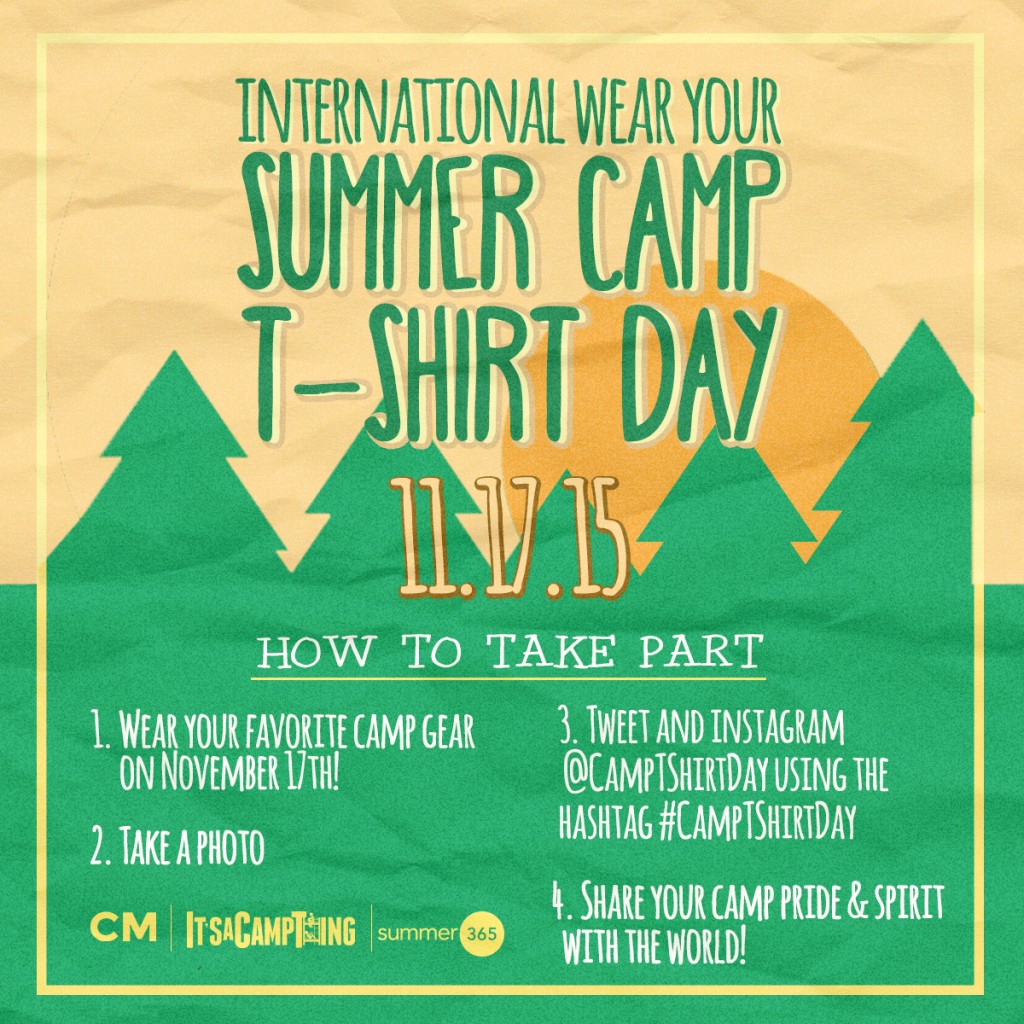 November 16, 2015
Tomorrow is International Wear your Camp T-Shirt day Don't forget to put on your camp shirt. You can share it at #camptshirtday!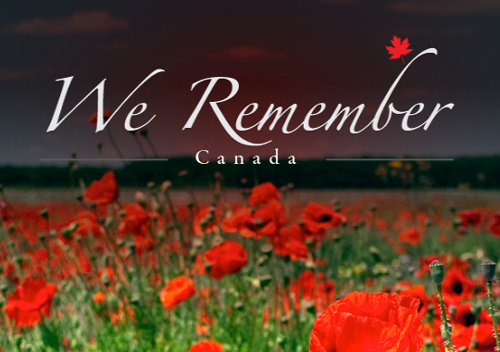 November 9, 2015
Just a reminder that Remembrance Day is on Wednesday. Take the time to remember the sacrifice that many of our family members made for Canada.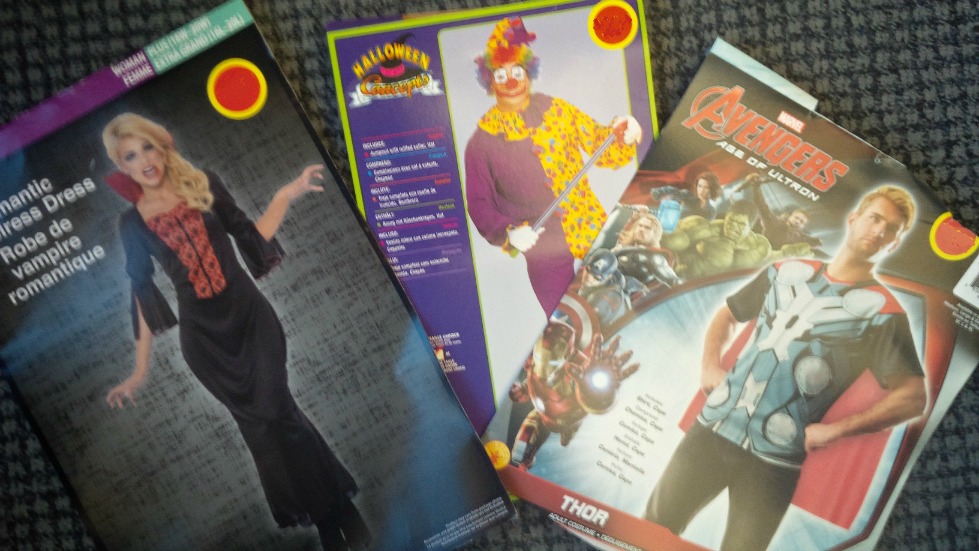 November 2, 2015
Love the after Halloween sales. Walmart had 75% off all Halloween costumes and face make-up. I was up early yesterday morning and was able to purchased lots of fun costumes and face paint for camp. I am excited to see the costumes in use next summer.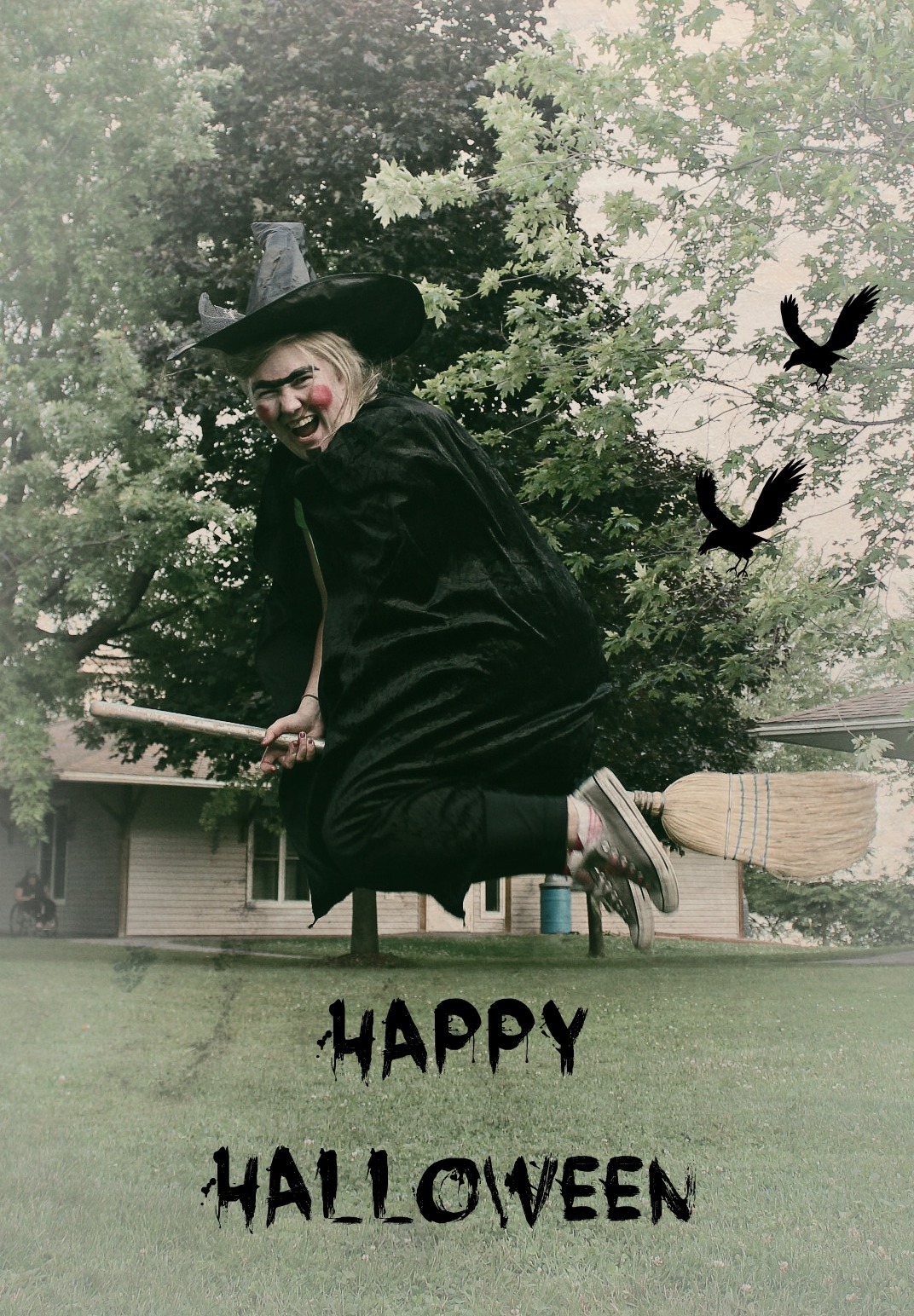 October 31, 2015
HAPPY HALLOWEEN!
Have a fun day.
Thanks Stephanie for a great picture!
October 30, 2015
Tomorrow is Halloween! Although looking at everyone dressed up on the streets of Toronto today, I think many people will be stretching Halloween to two days.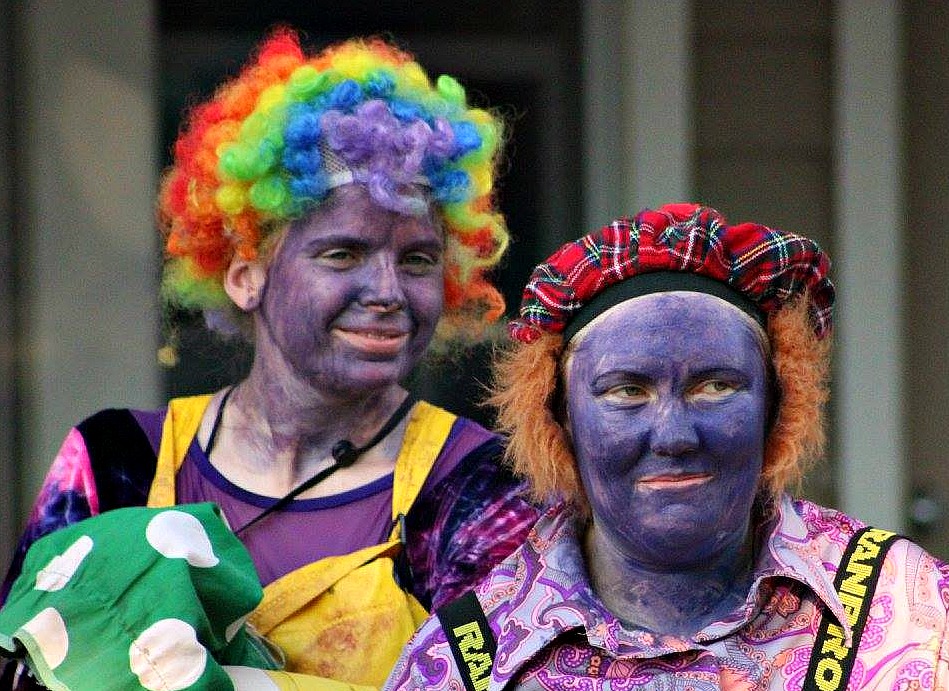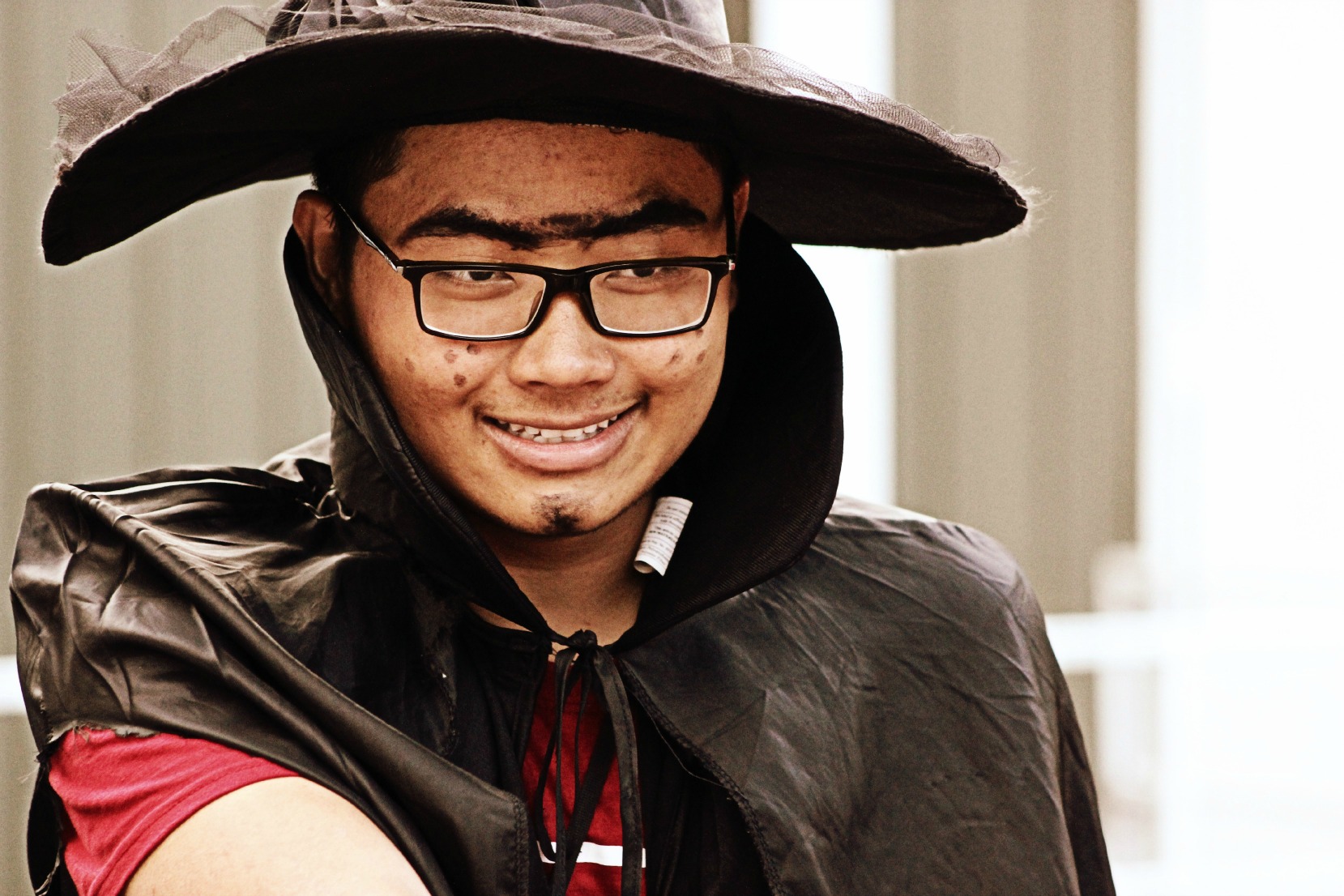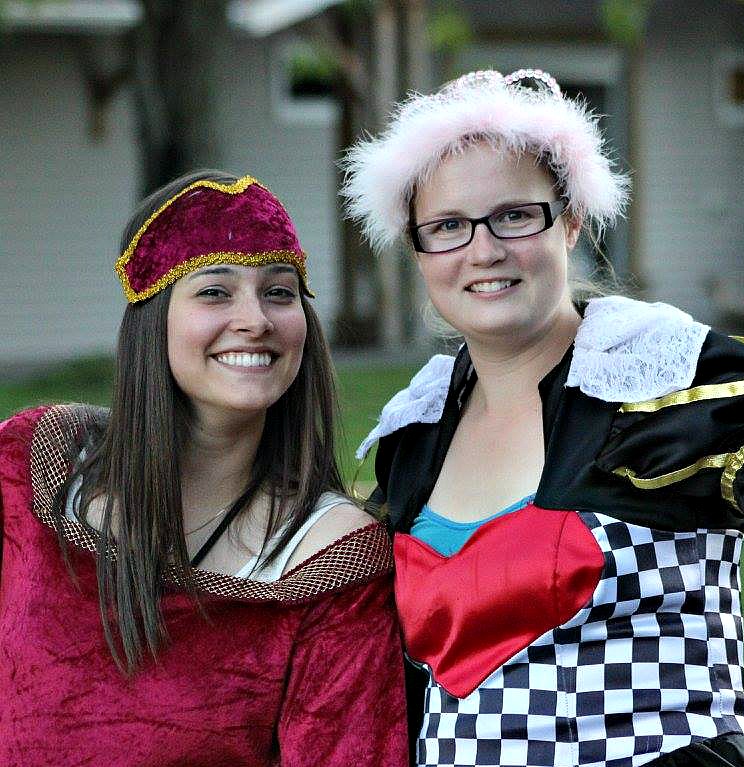 October 29, 2015
Only 2 more days until Halloween.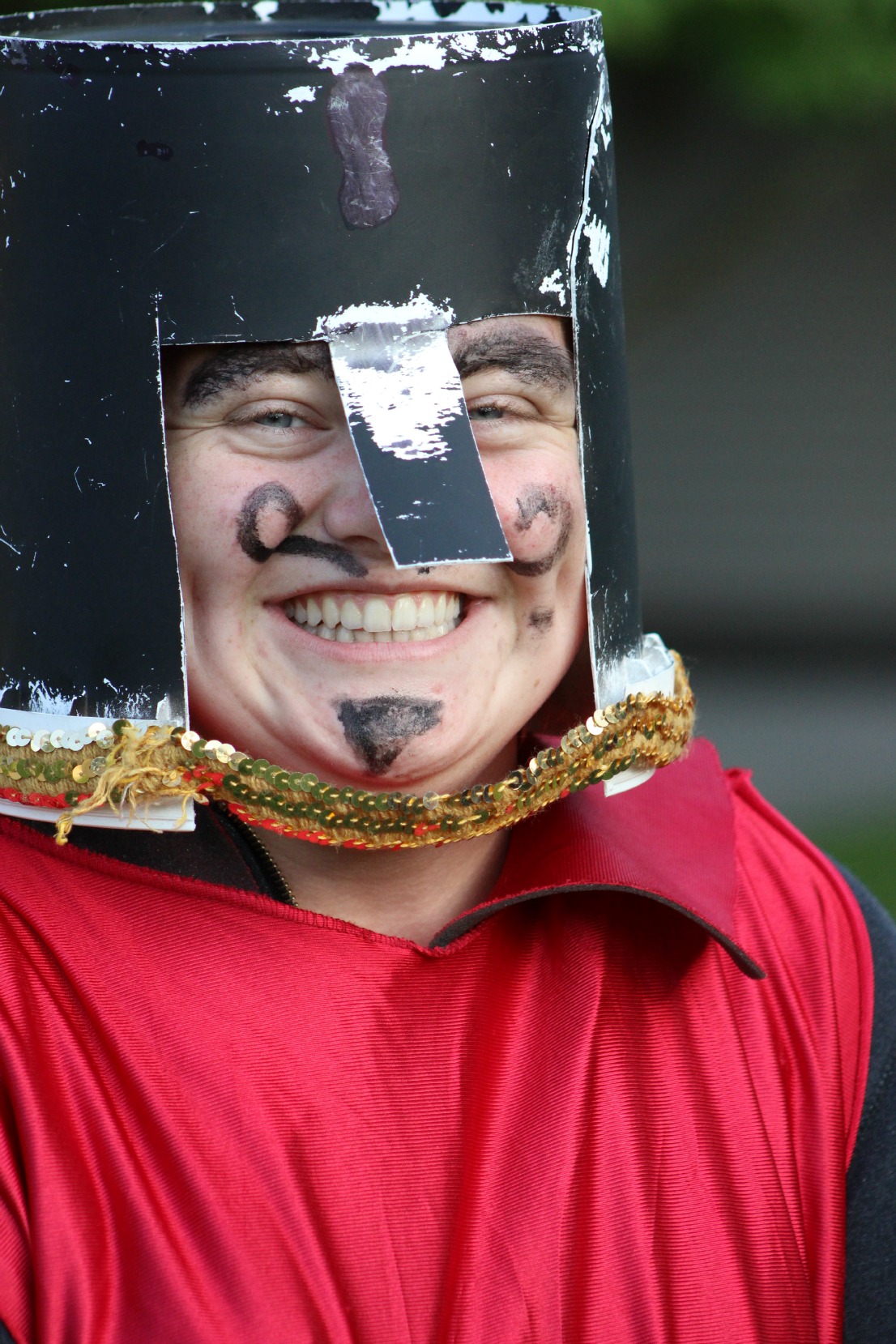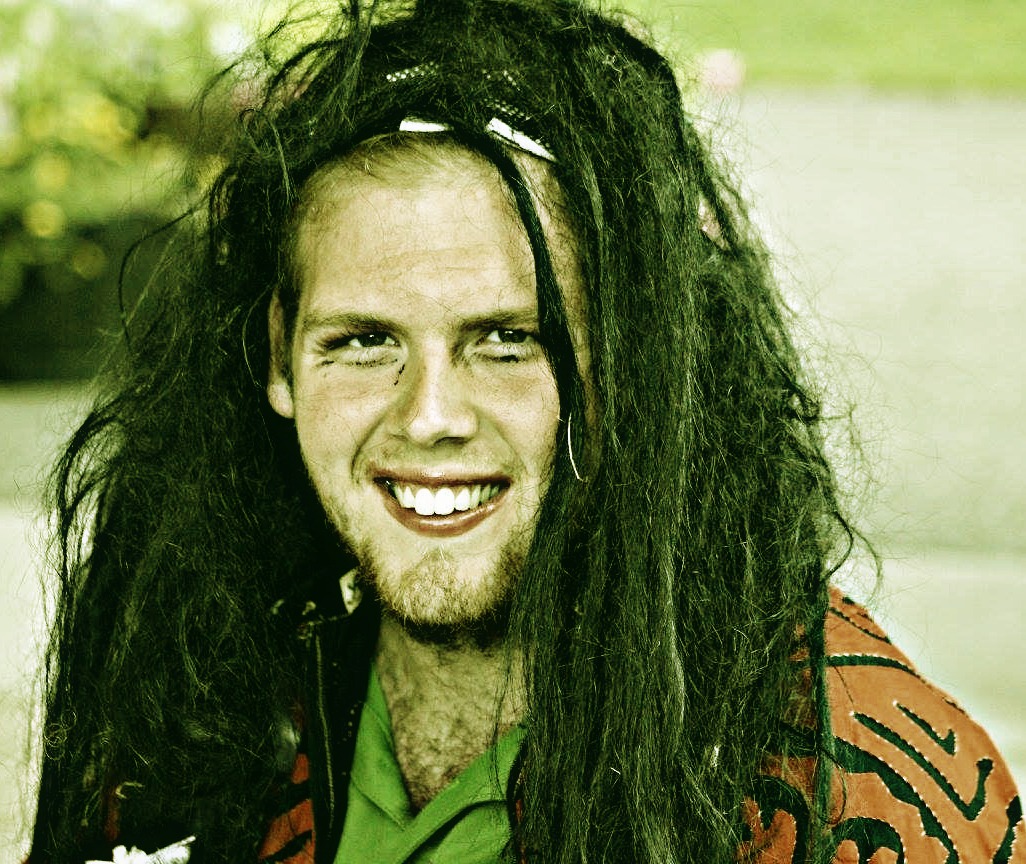 October 28, 2015
3 days until Halloween! It is a dark and rainy day here in Toronto. Happy National Chocolate Day!
October 27, 2015
4 days until Halloween!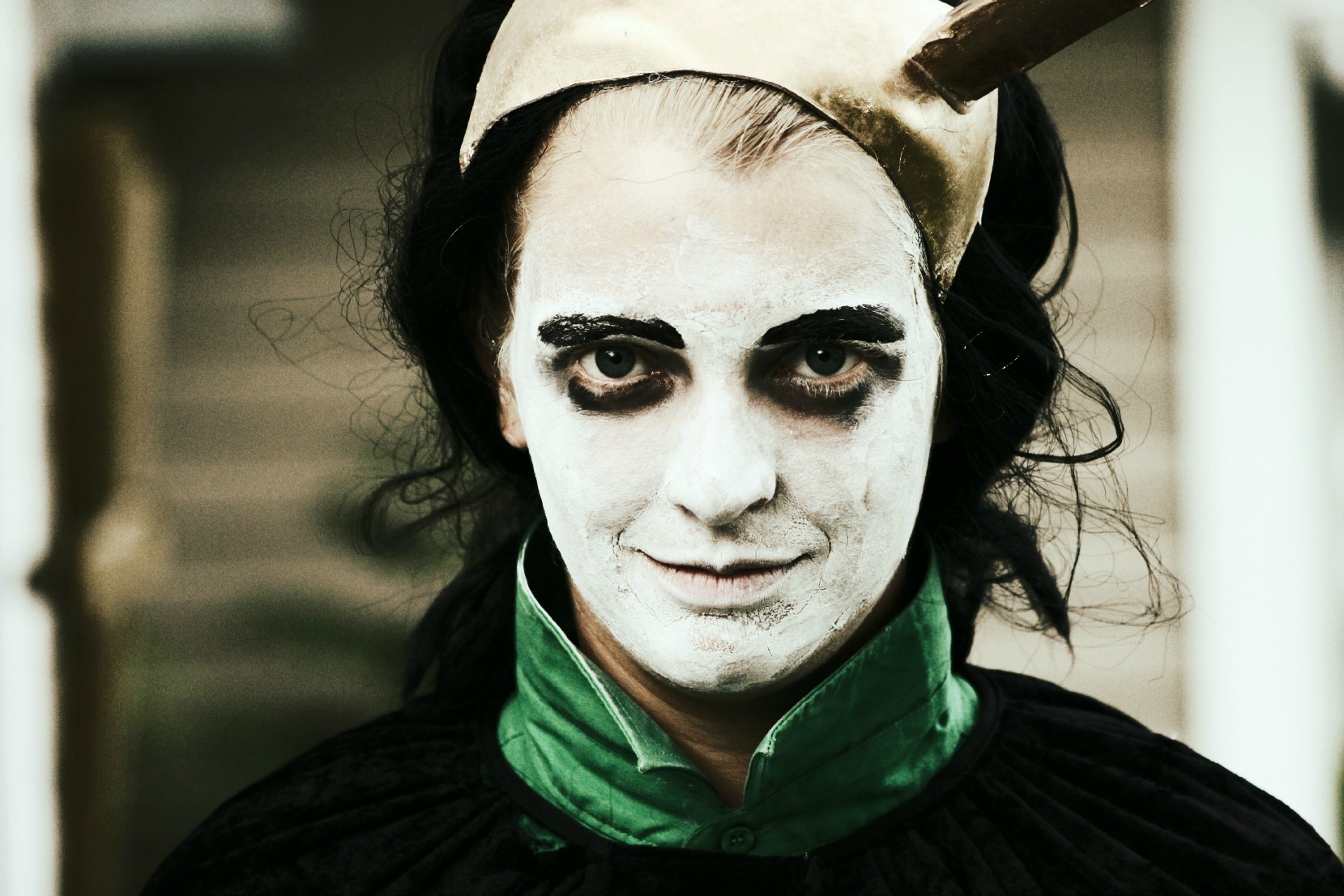 October 26, 2015
Halloween is just around the corner, but at camp every day is like Halloween as someone is always in a costume.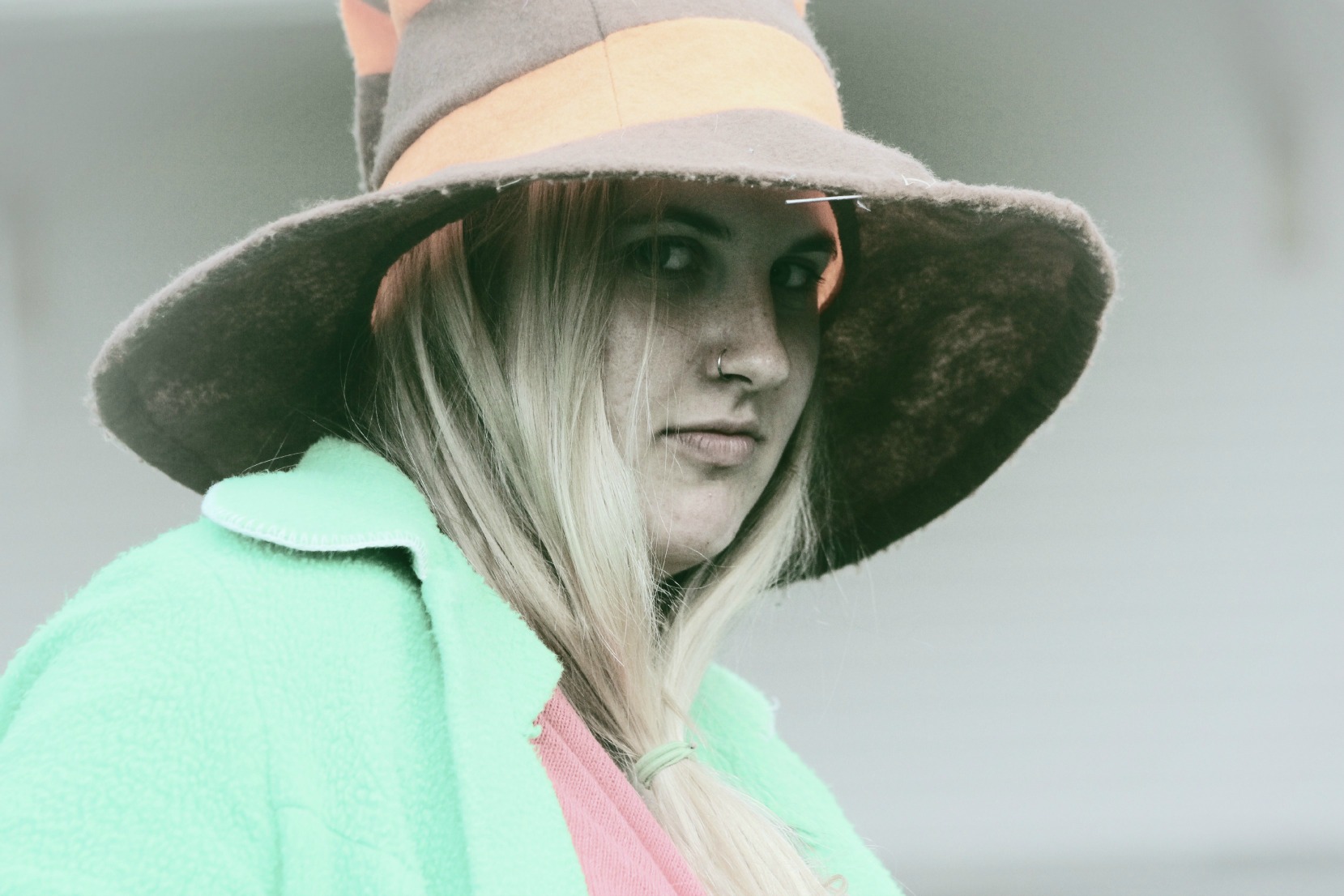 October 20, 2015
What a crazy night - the Blue Jays won in an amazing fashion and the Liberal Government swept the election! Hard to know what to watch, lots of flipping back and forth on the television. Here is a picture of the MS campers and staff meeting Justin Trudeau, our new Prime Minister at Mont Cascade.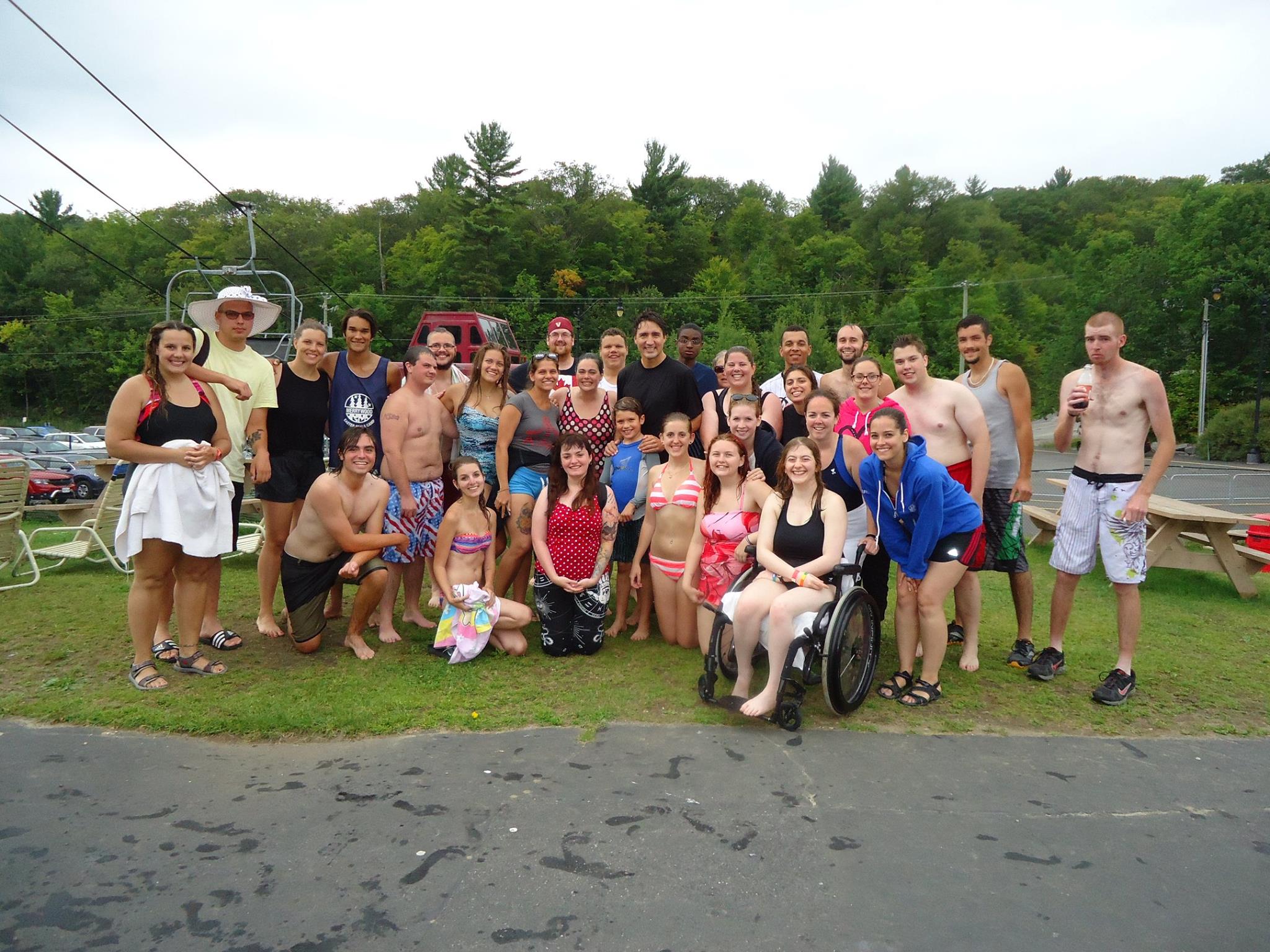 The old sandbox between Bear & Pine cabin is now gone.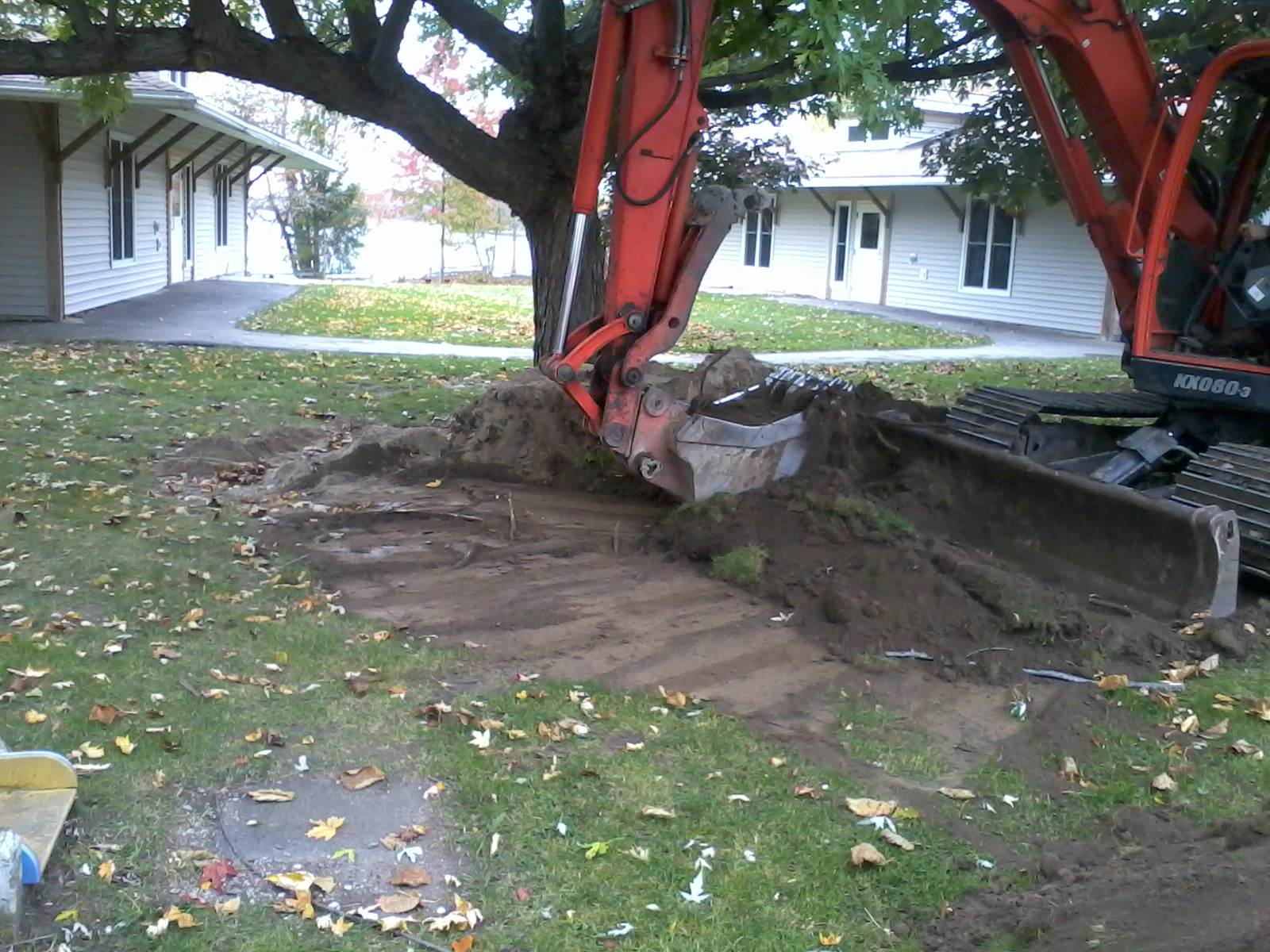 October 19, 2015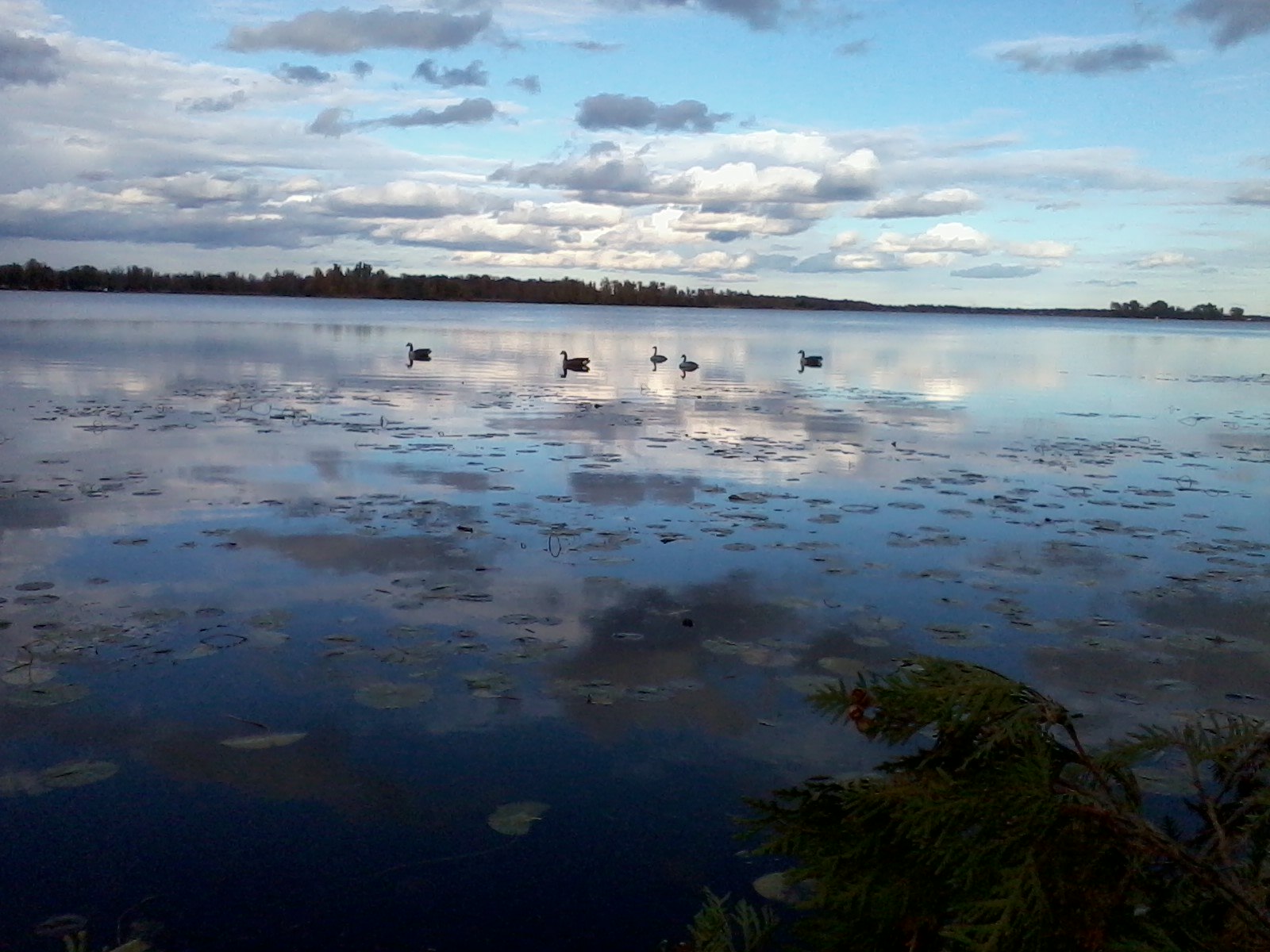 Strange to see snow again especially as it has been so mild out. It was a very cold weekend. Here are a couple more fall pictures of the shoreline and Canadian Geese on the lake.

Today is election day - please don't forget to Get out and Vote!
October 16, 2015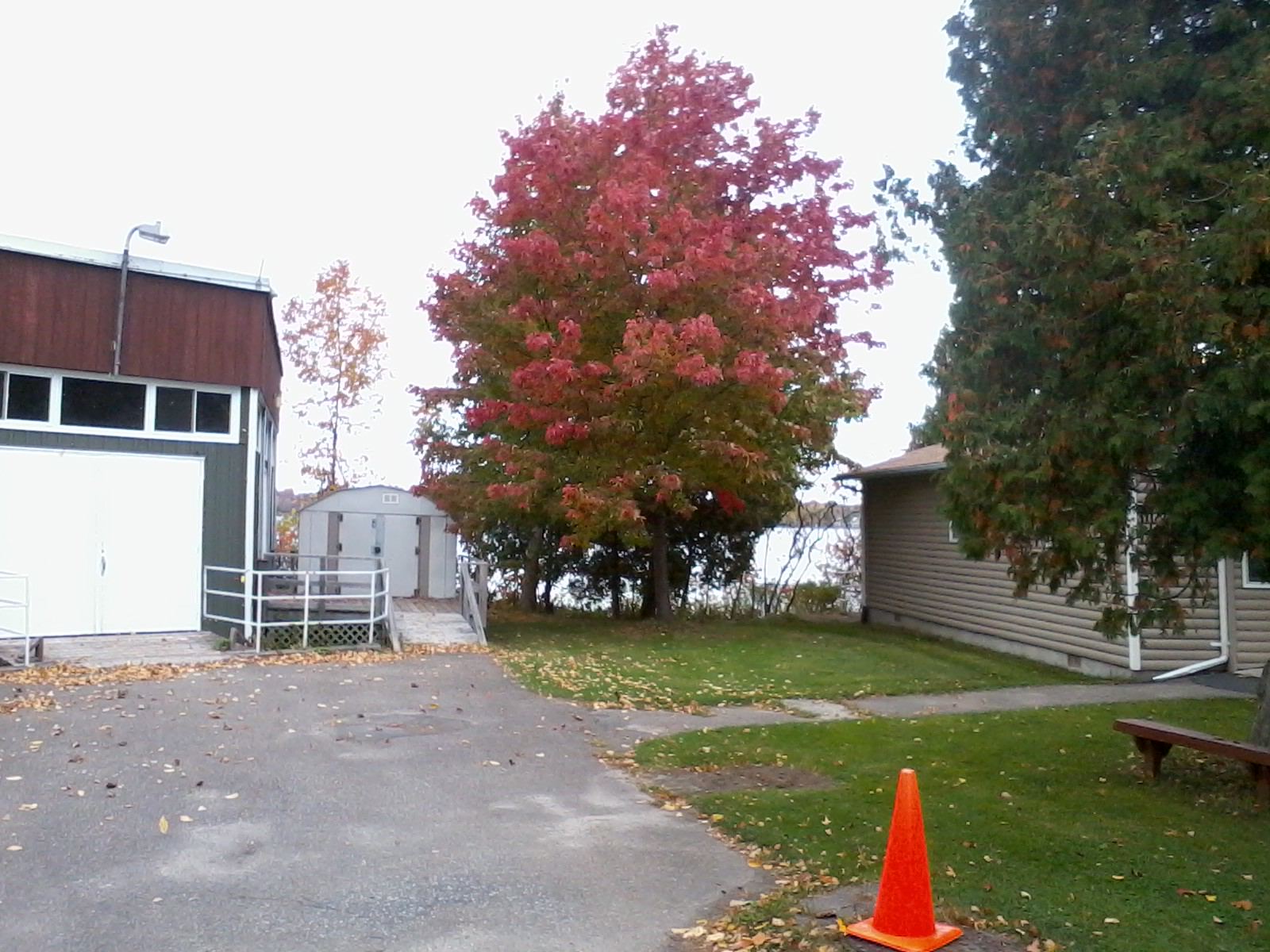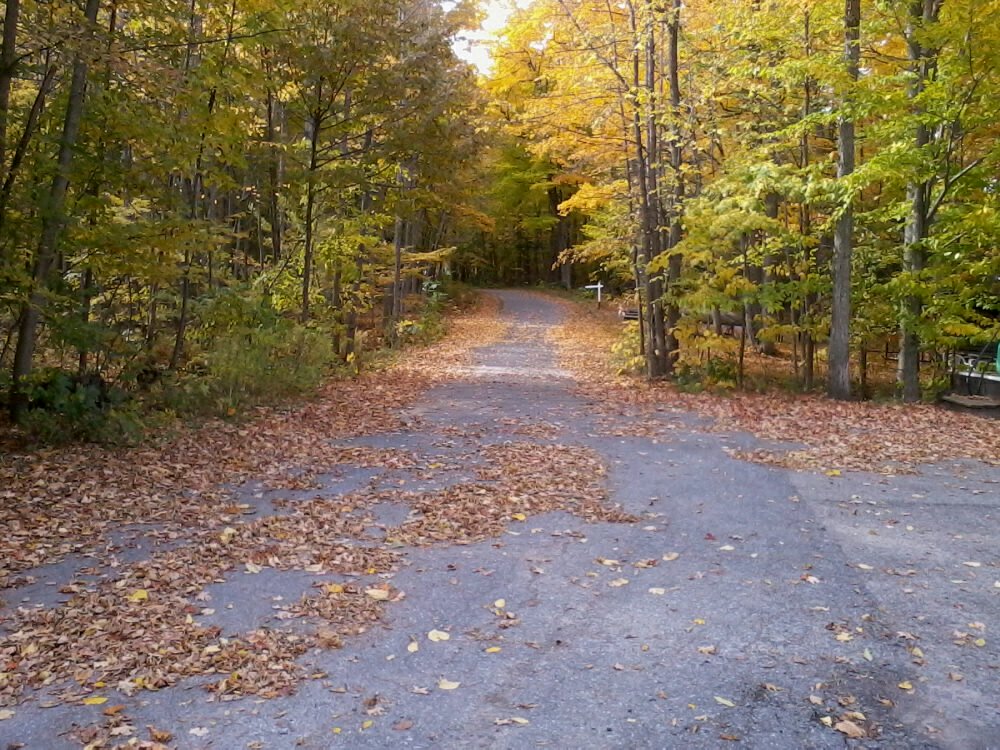 Well it was a stressful game with lots of drama, but great to know that the Jays were successful. We will see what this weekend brings!

Here are some pictures taken yesterday at camp. Everything looks so pretty in the fall.
Don't forget to VOTE on Monday!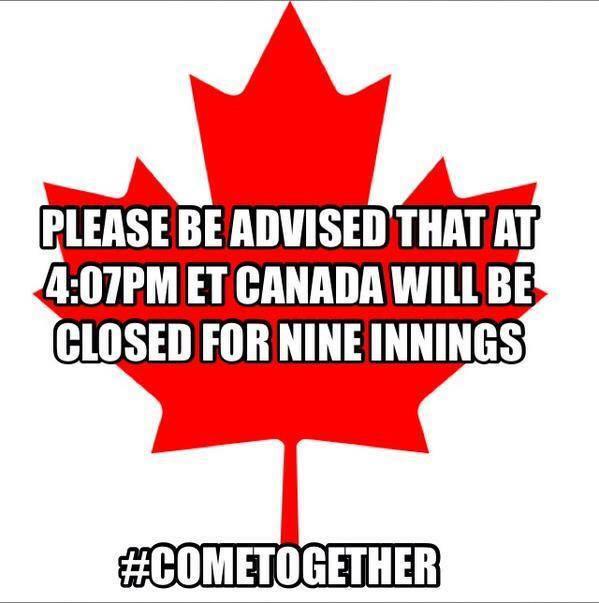 October 14, 2015
Go Jays Go!
A big day for the Toronto Blue Jays - Game 5! Keep your fingers crossed that they win.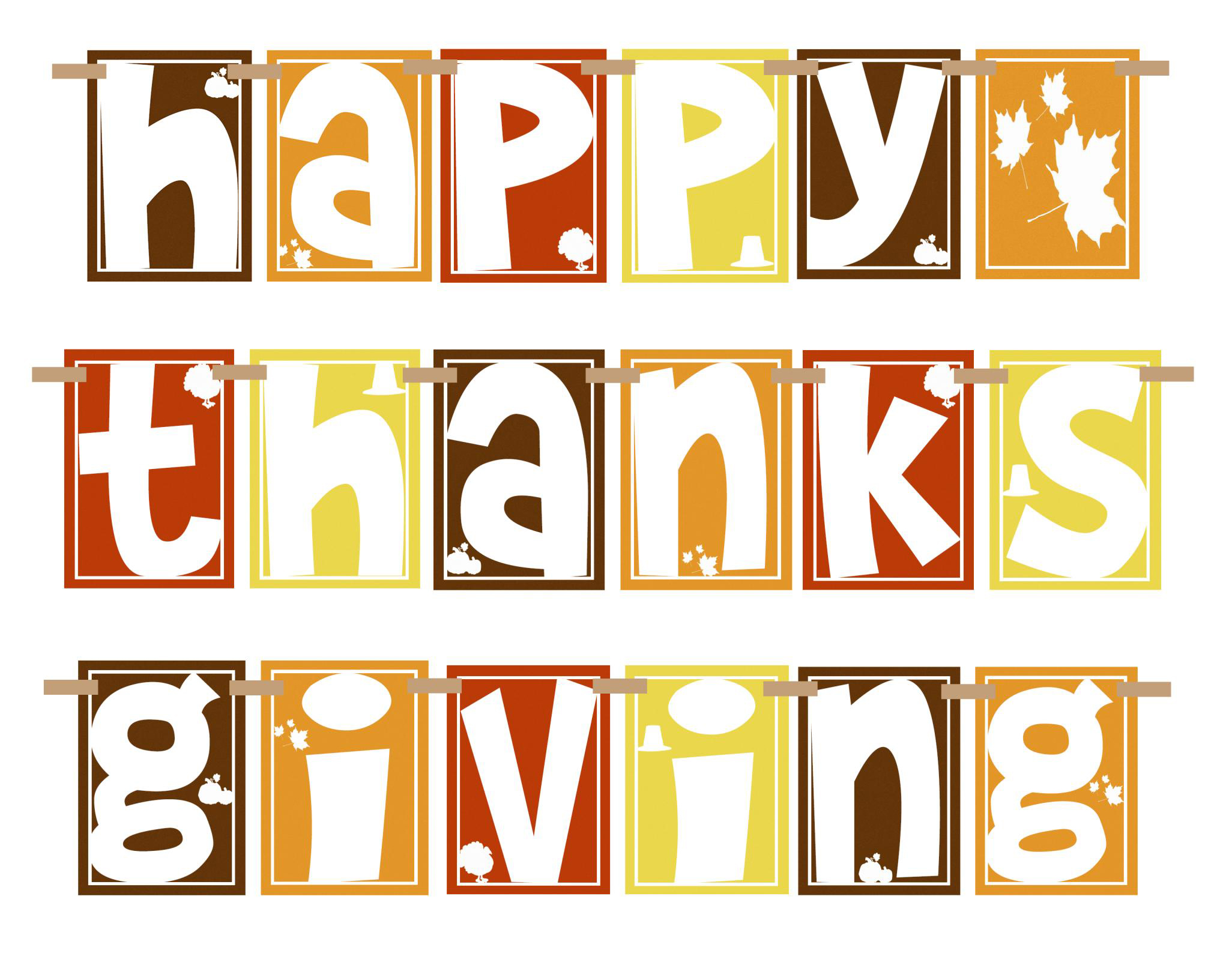 October 9, 2015
Happy Thanksgiving Weekend! I hope you have a wonderful time with friends and family.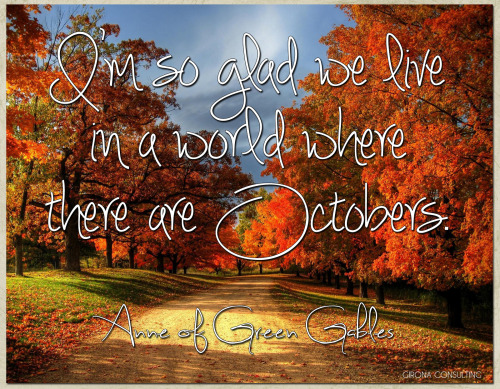 October 7, 2015
I can't believe that Thanksgiving weekend is almost here. I hope everyone has a wonderful long weekend.
It has been a busy time at camp - lots of rentals. Jacques has also been purchasing new dining room tables & chairs, linen for the cabins and a new stereo for the pool and Hot Pad. Thanks to a lot of very kind donors.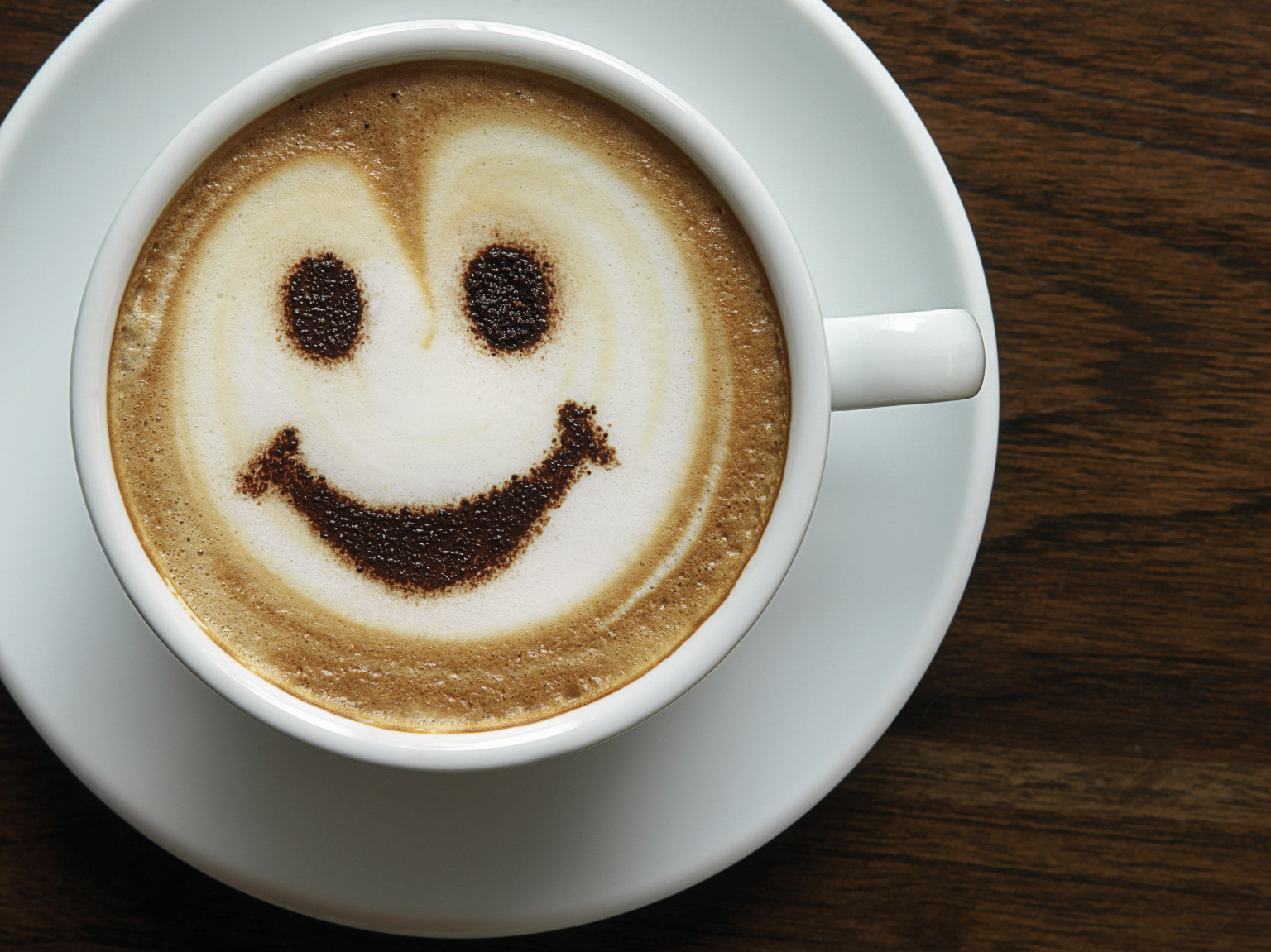 September 29, 2015
Happy National Coffee Day!
September 23, 2015
Happy first day of fall!
I have sent all of the 2015 staff an email with the 2015 Staff Survey link attached. If you could take a few minutes to complete the survey that would be great. We take your feedback seriously and use it to improve the program each year.If you did not receive the email, please contact me and I will gladly send you out the link.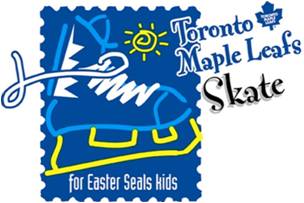 September 18, 2015
Are you interested in volunteering for Easter Seals Ontario?
On December 12, 2015 from 10:00 am - 3:00 pm the Easter Seals Skate with the Maple Leafs will be taking place at the MasterCard Centre for Hockey Excellence in Toronto. If you are interested please contact Mila at mthirasack@easterseals.org.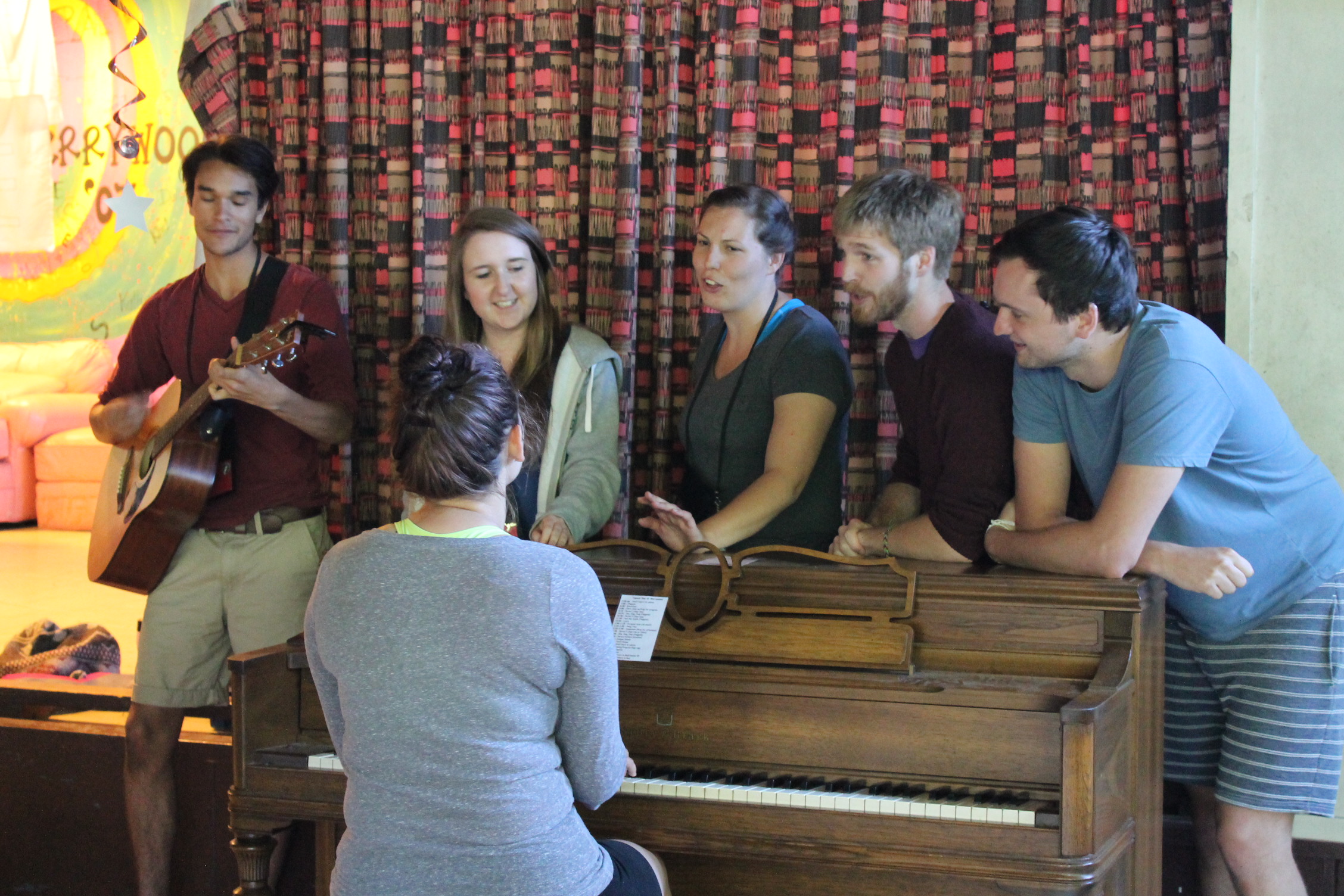 September 17, 2015
My holidays are now over and I think I have finally caught up on my sleep. Jacques has been getting the camp ready for the winter - the pool is closed, the docks and boats are in and stored. I am now starting to read through all of the EOSRs.
I hope everyone is enjoying their courses or for some of you a new job!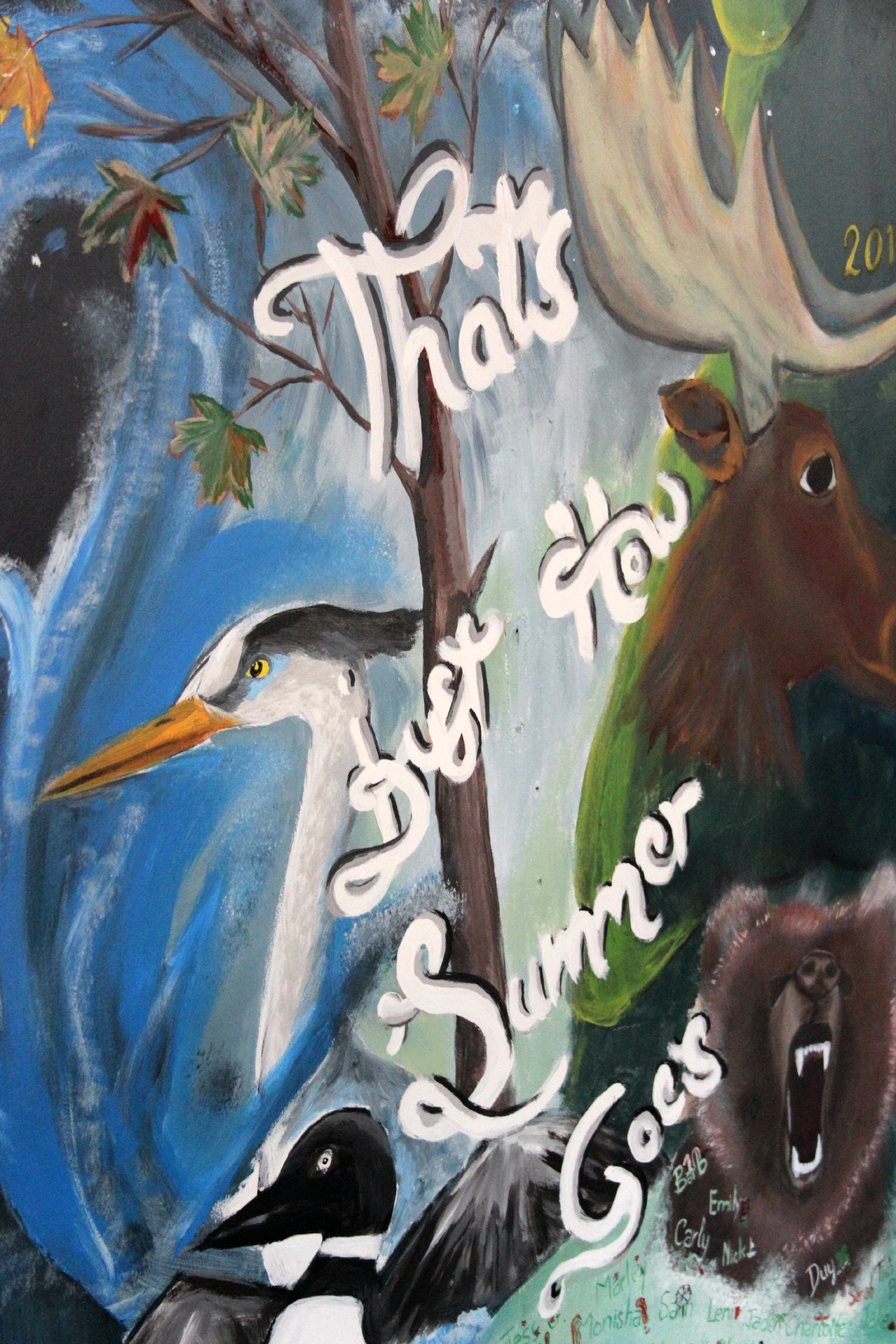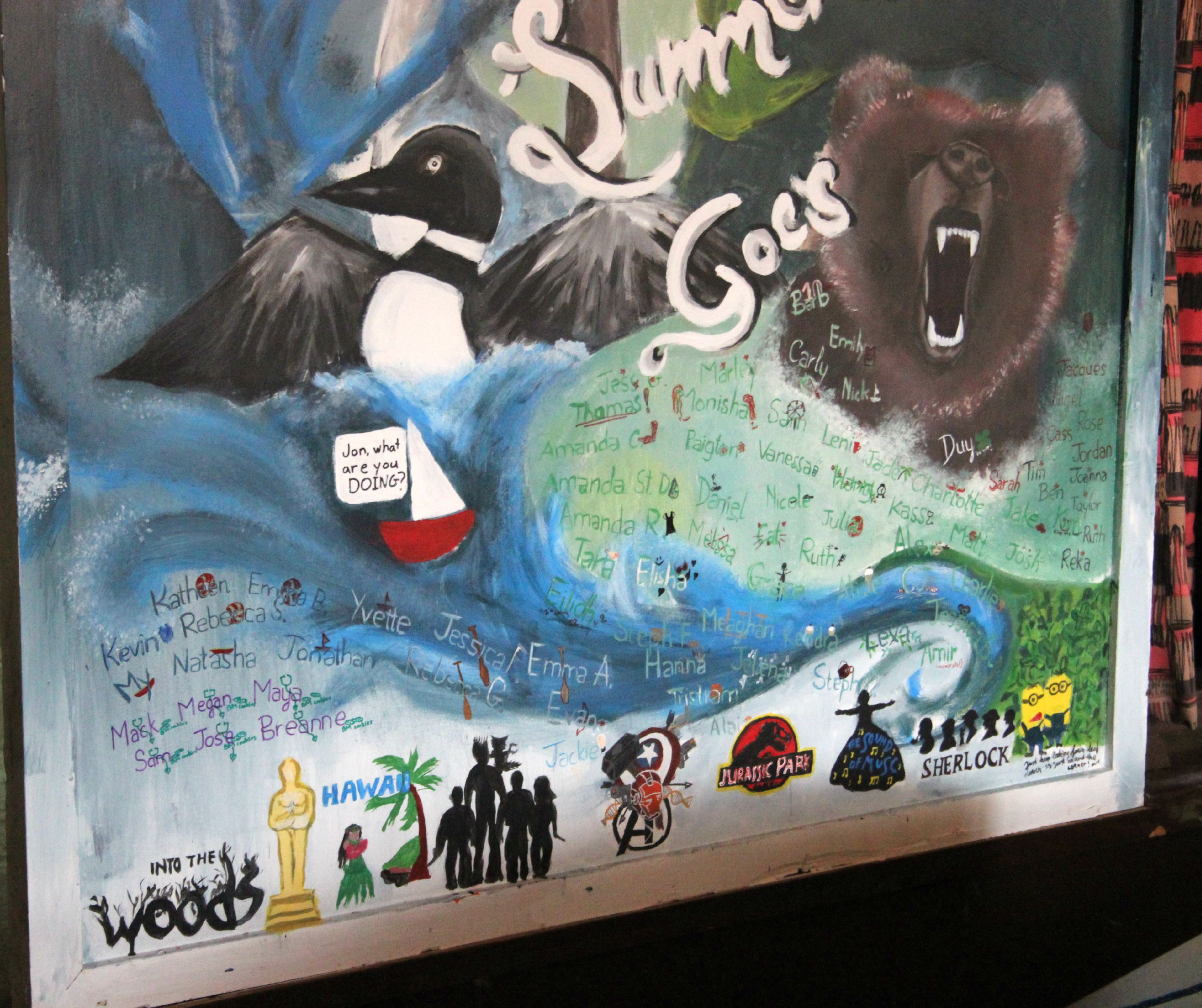 August 31, 2015,
Merrywood is very quiet with everyone gone. It is also clean!
Here is a picture of the 2015 mural, located to the left of the stage. Nice that it will actually be seen by everyone.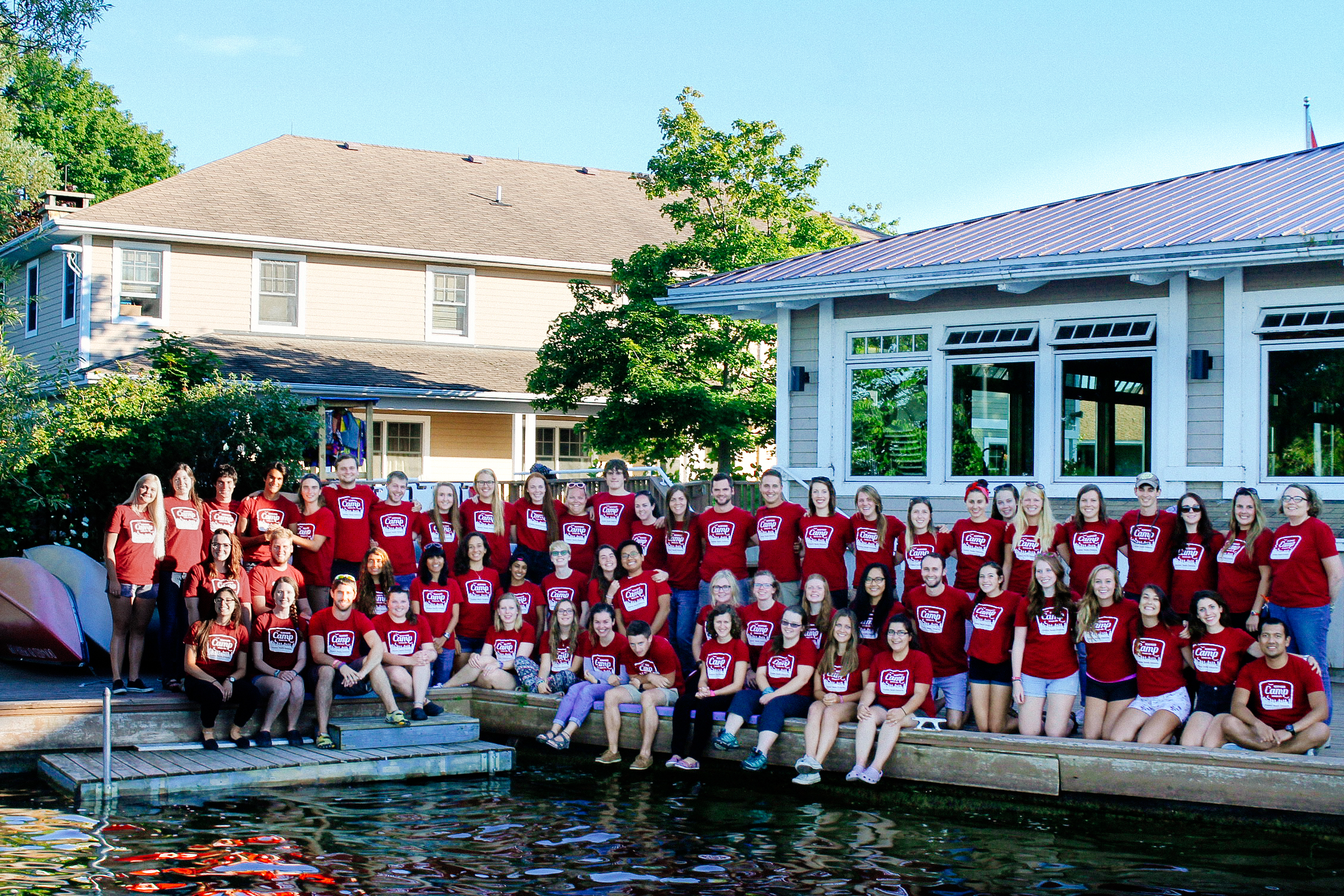 August 26, 2015
Another amazing summer at Merrywood Camp is now over. Thank you to all of the staff, volunteers, campers and Merrywood supporters for making it such a great success.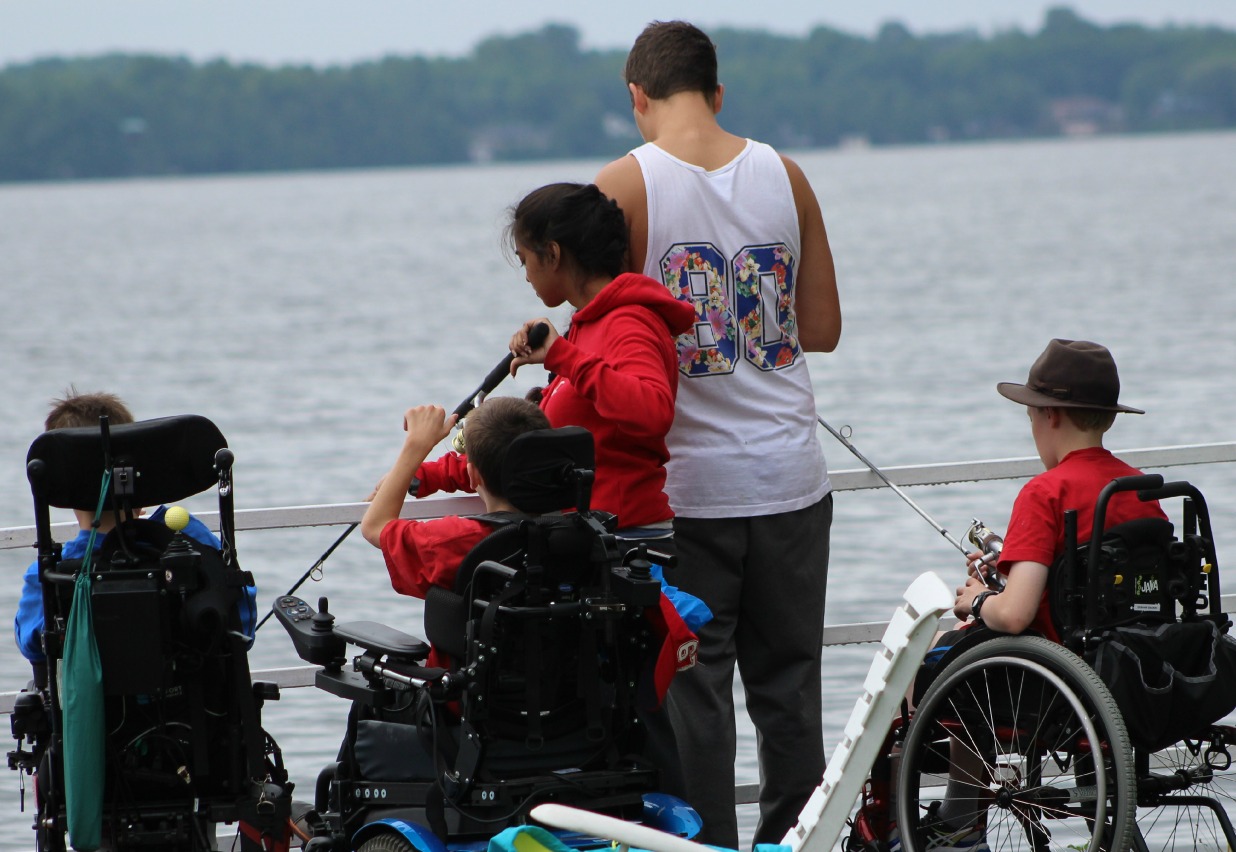 July 4, 2015
It is already Day 8. This session has flown by. Tomorrow is Theme Day.
June 30, 2015
Session 1 is underway. What an amazing group of staff. Arrival day went smoothly, even though mother nature did not cooperate bringing rain and cold weather to camp.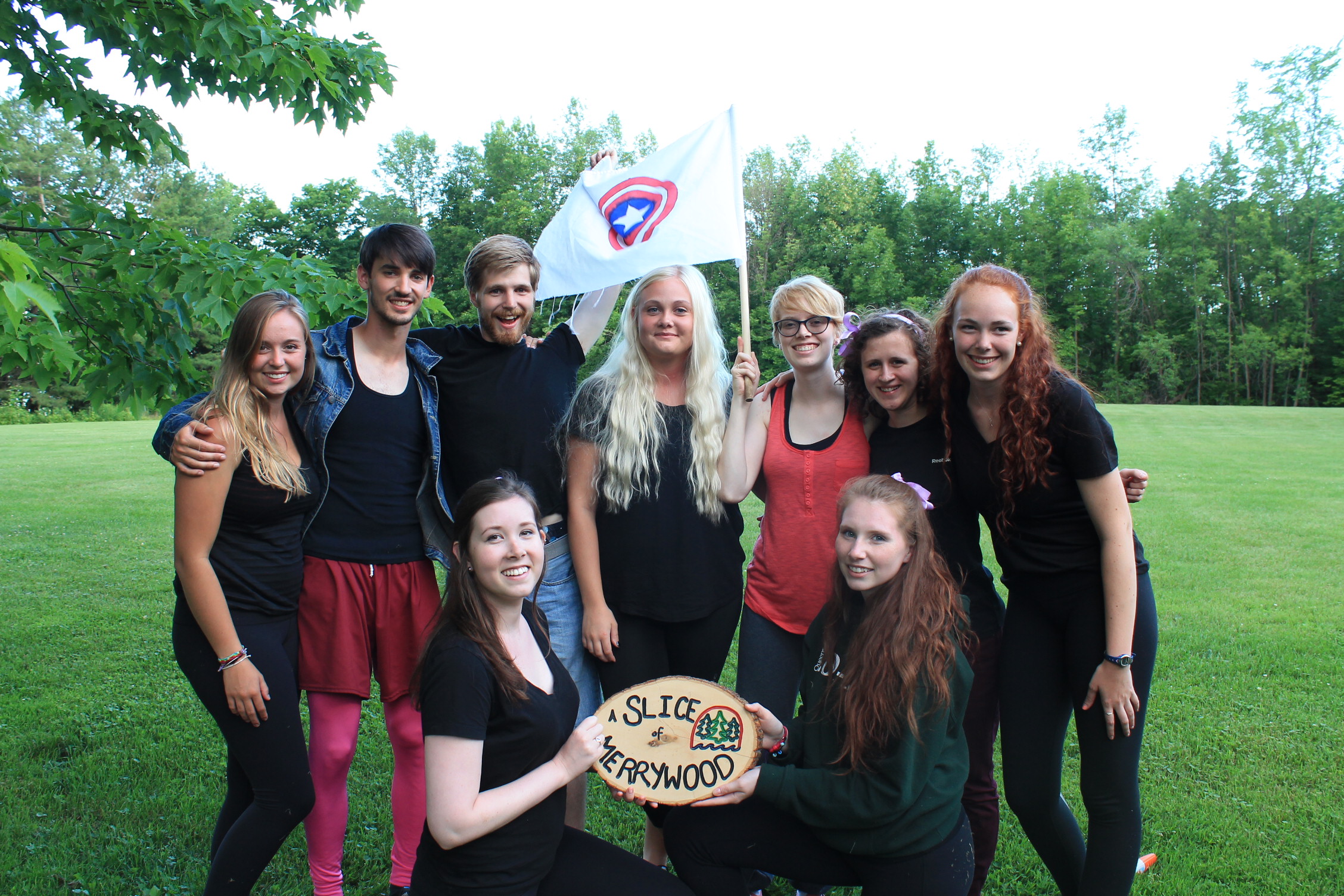 June 24, 2015
Today is the last day of the 2015 Pre-Camp training. We had an amazing week getting ready for the arrival of the campers. Our 2015 team has come from around the world, but has meshed into an amazing supportive and talented team. Last night we had an Air Band challenge - each cabin's act was amazing.
The winner of the Slice of Merrywood is MOOSE!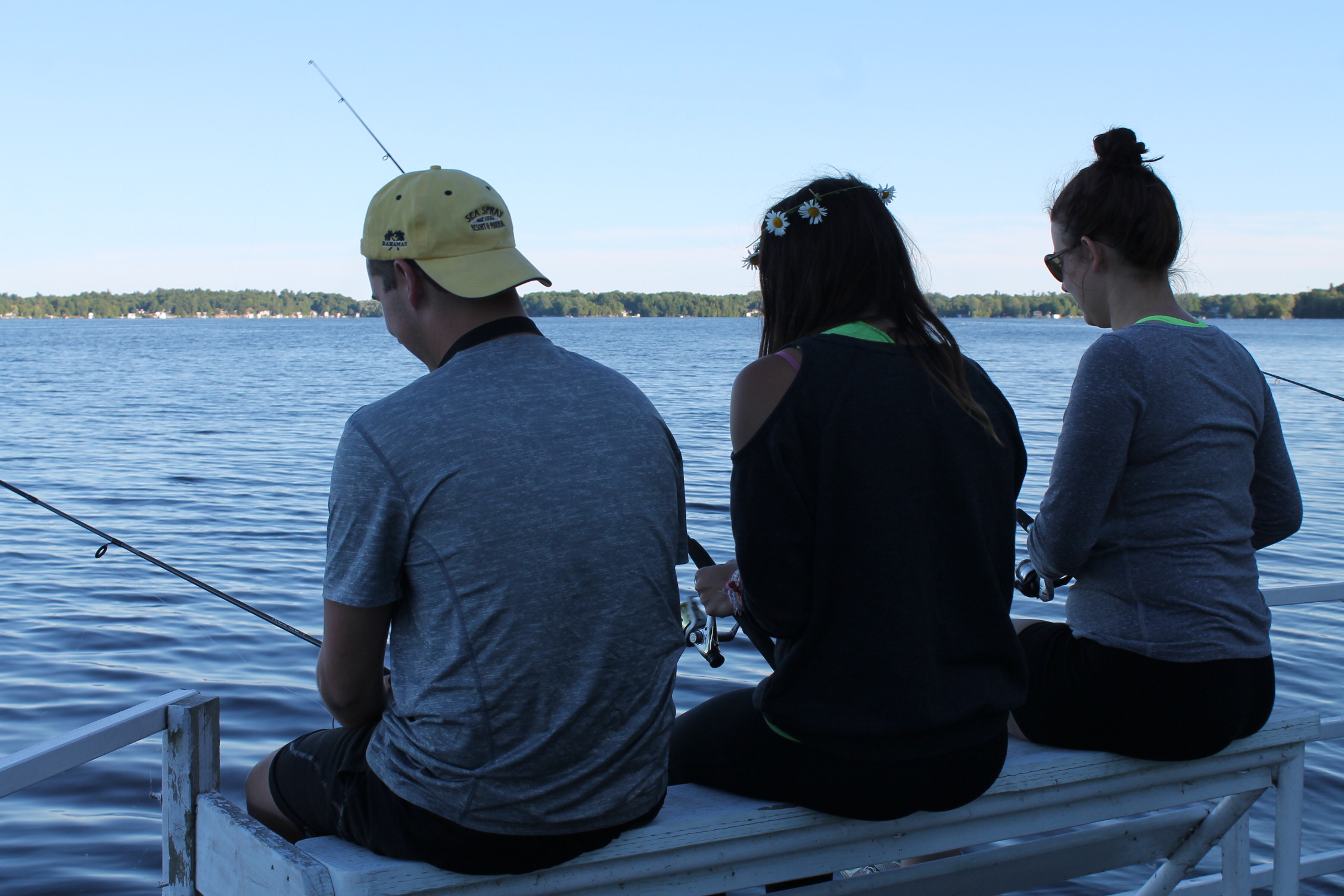 June 20, 2015
Pre-Camp training is well under way. The 2015 team is an amazing one. Lot of energy and excitement here at camp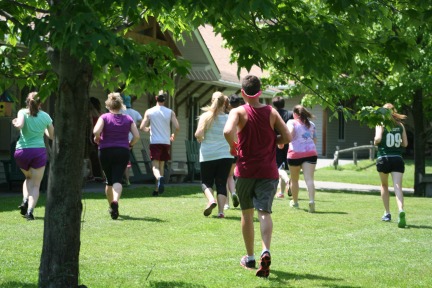 June 17, 2015
Check out this piece on CKWS Kingston that they shot at Merrywood yesterday. Click here for the link.
Tomorrow the counsellors arrive! Can't wait for everyone to get her and begin our Pre-Camp training.
June 16, 2015
We have been without the internet for the past 3 days. it is back up again and working well.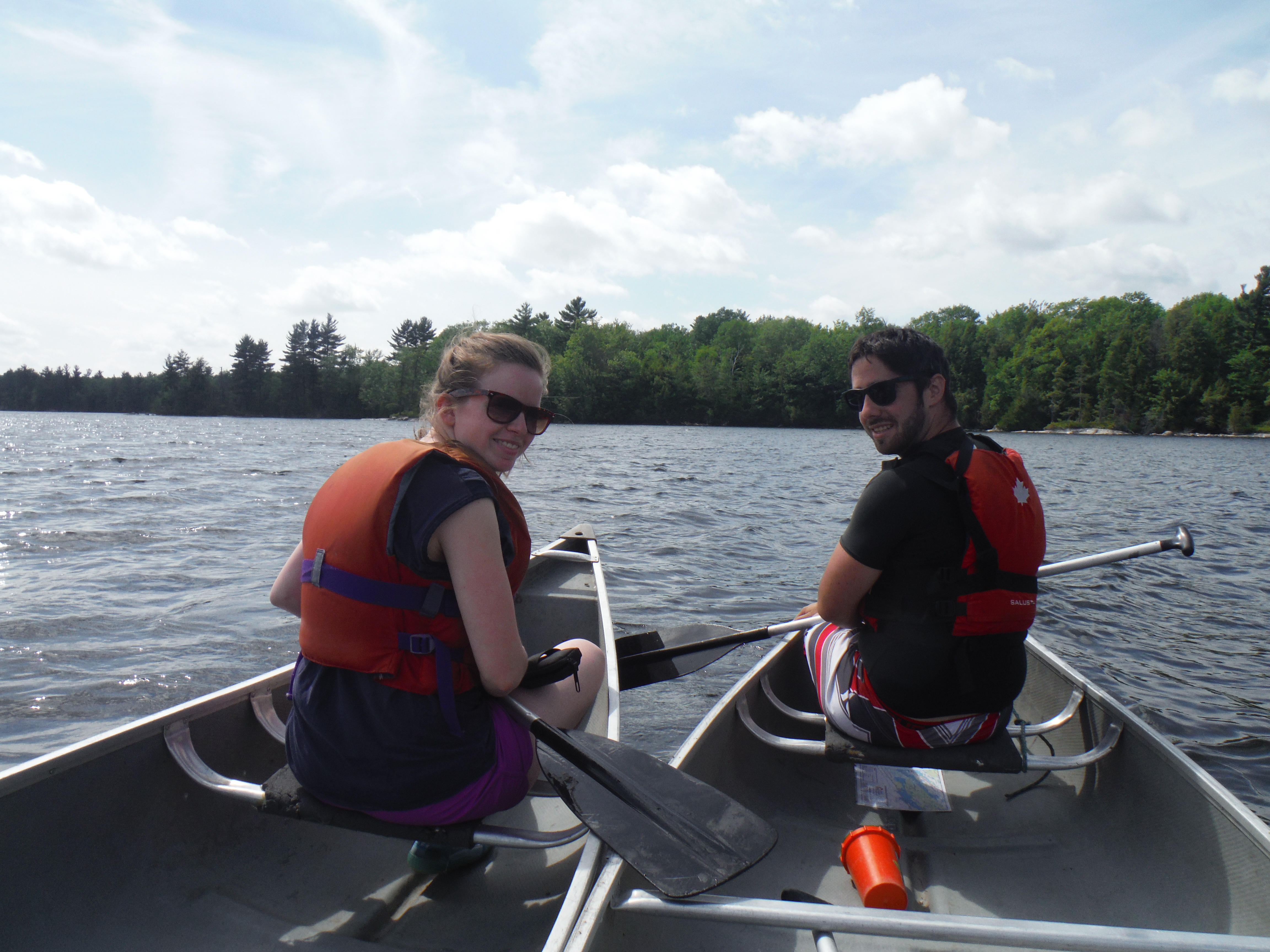 June 12, 2015
With the trippers gone is was so quiet here at camp that the deer were outside the office! That is until Max & Donny saw them. Tonight the waterfront staff arrive and the LIT Programmers.
June 11, 2015
All set for the big adventure to Big Gull Lake.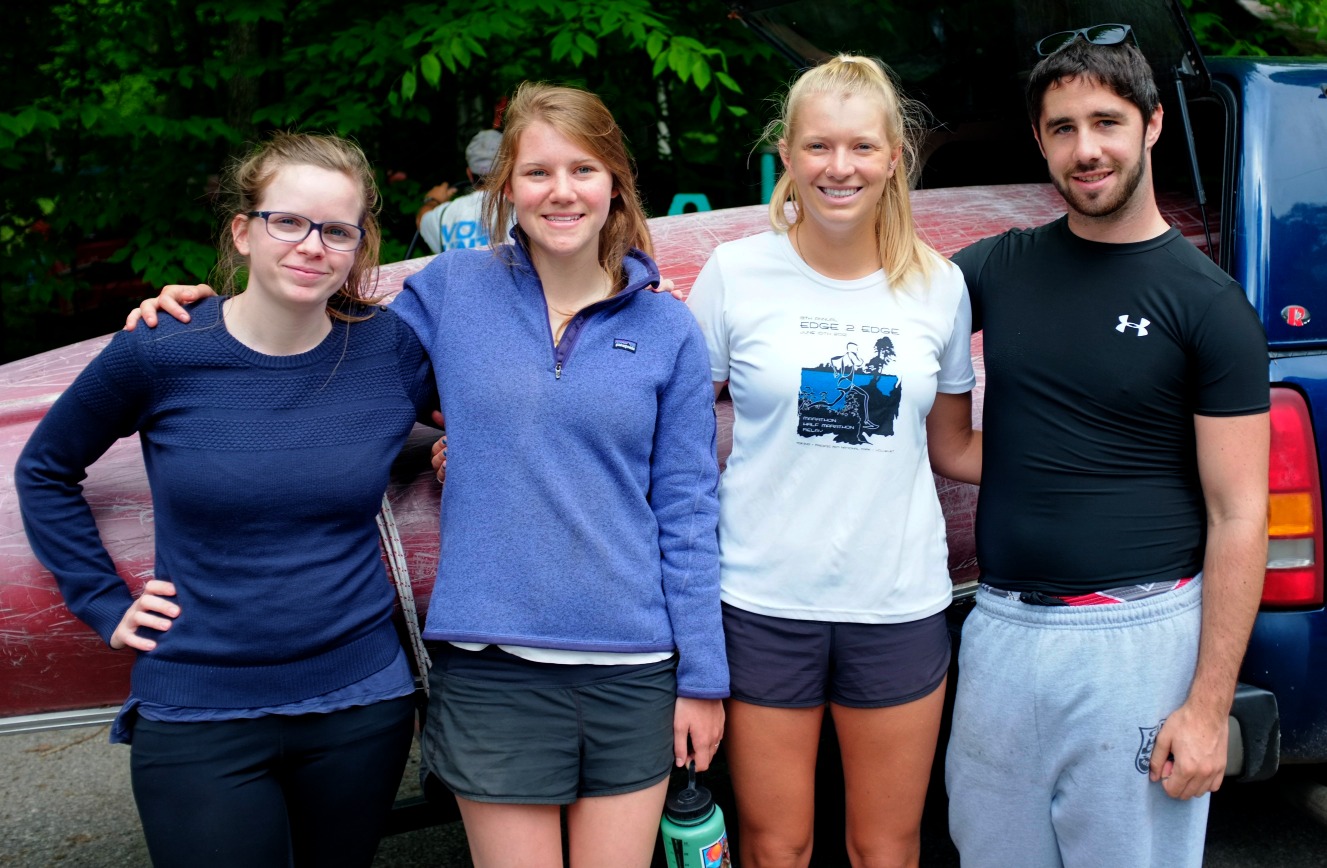 June 10, 2015
The Out-Trippers arrive today! Can't wait for them to come.
June 9, 2015
We have been treated to some wonderful sunsets and early morning fog these past 2 days. Lots of rain. Good for the garden and for doing prep work for camp.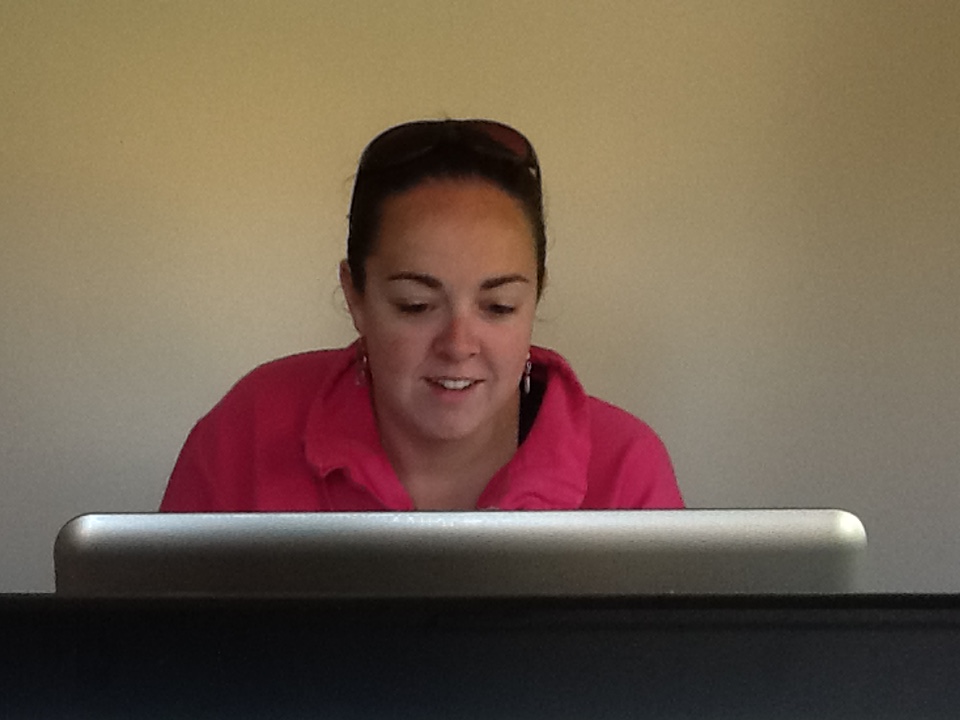 June 7, 2015
Merrywood Camp now has a twitter account! @CampMerrywood. We will be posting throughout the summer.
June 6, 2015
Yesterday Meaghan was a torch bearer for the Pan Am & Para-Pan games. What an amazing honour.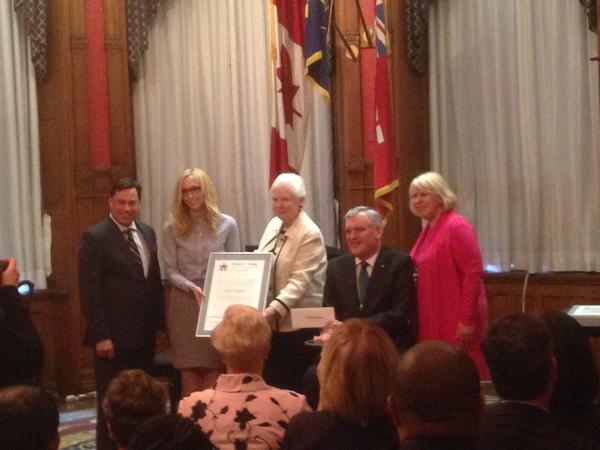 June 4, 2015
Yesterday our very own Sarah Dinsdale won the David Onley Award for Leadership in Accessibility. What an amazing award for a well deserving person. Congratulations Sarah from everyone at Merrywood.
June 4, 2015
A beautiful quiet morning at Merrywood before the rest of the L-Team is up.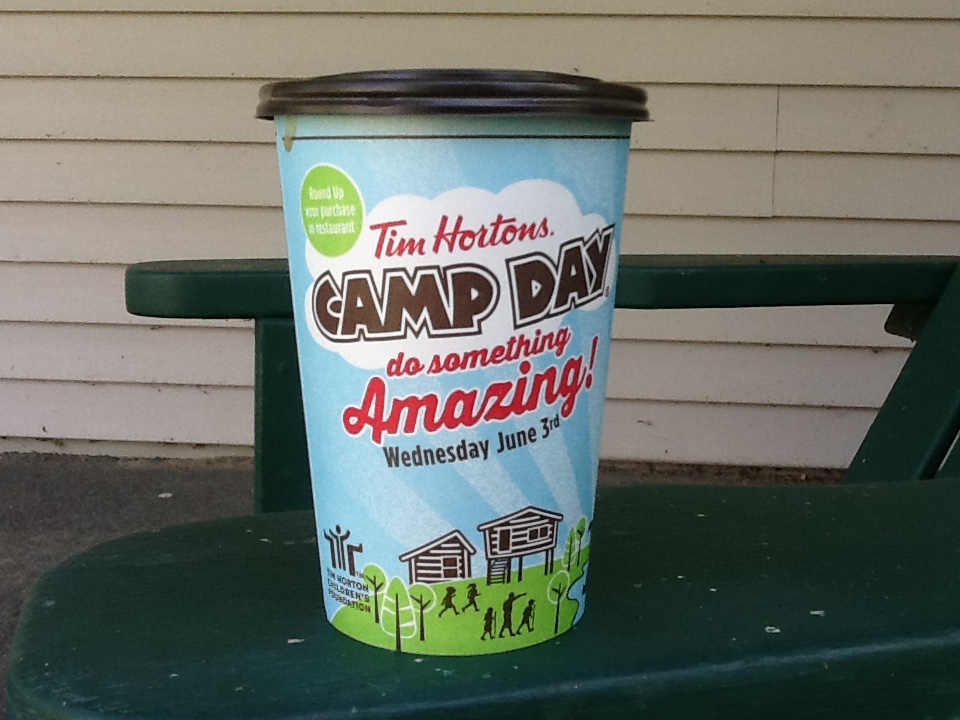 June 3, 2015
I hope everyone got a chance to support Tim Horton's Camp Day. Another great camping organization.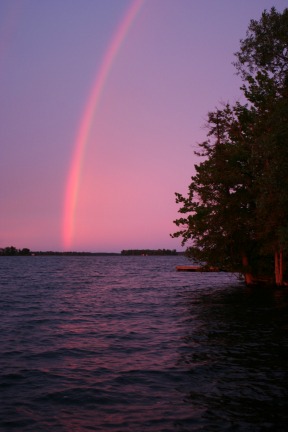 June 2, 2015
Yesterday the L-Team arrived at Merrywood! The 2015 camping season has begun. Lots of cleaning, sorting and emptying the Question Mark room took place. We took advantage of the new storage room that Jacques built this winter. We now have tons of room in the Question Mark room. Unfortunately Emily's desk is now covered with stuff.
On my first night there was a beautiful rainbow over the Rideau. What a great start to the summer.
Just a reminder - please complete the online Health & Safety Course prior to arriving at camp. Click here for the link.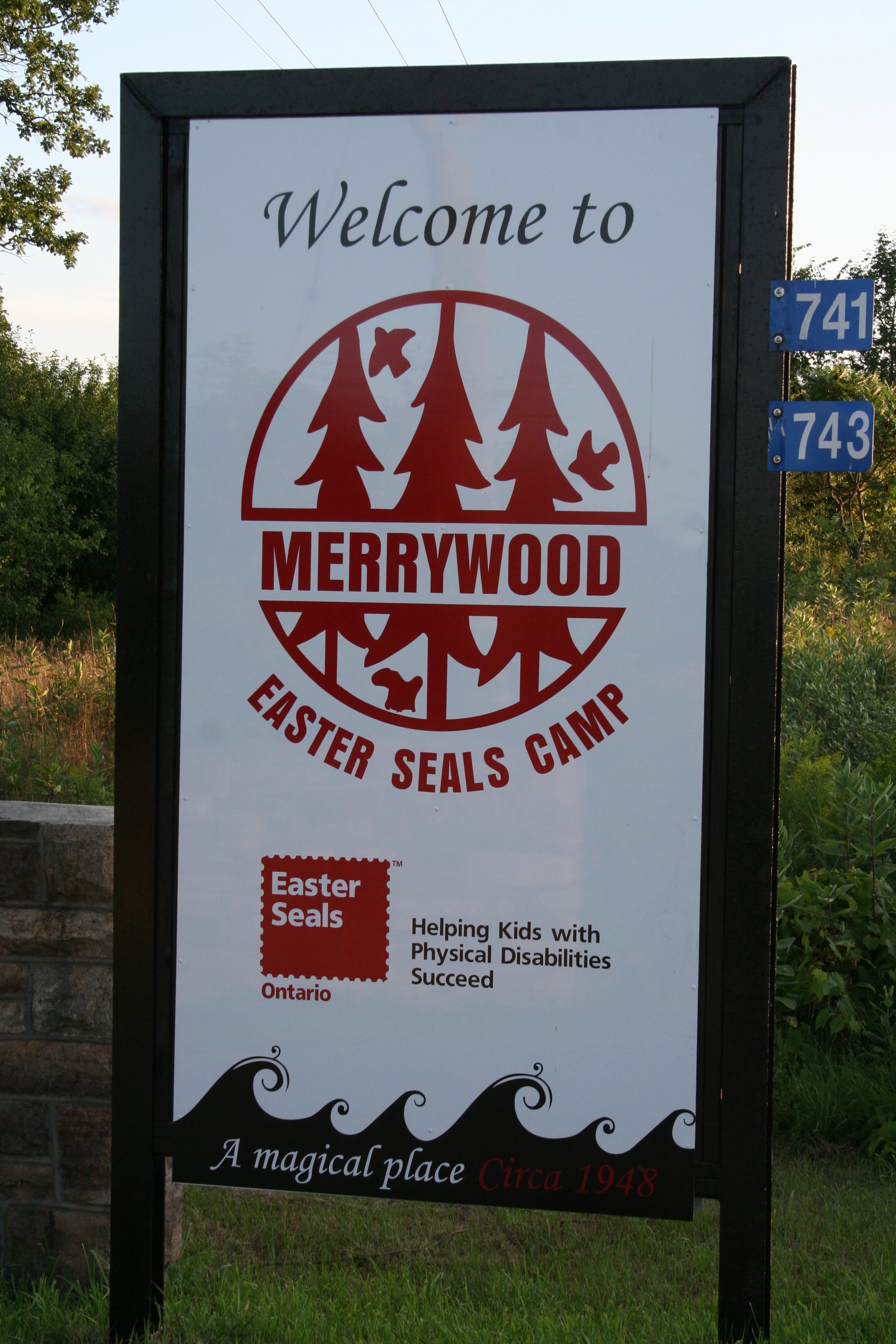 May 29, 2015
Only 3 more days until the Leadership Team arrives at Merrywood!
Tripod lost my previous postings :-(. Uggg