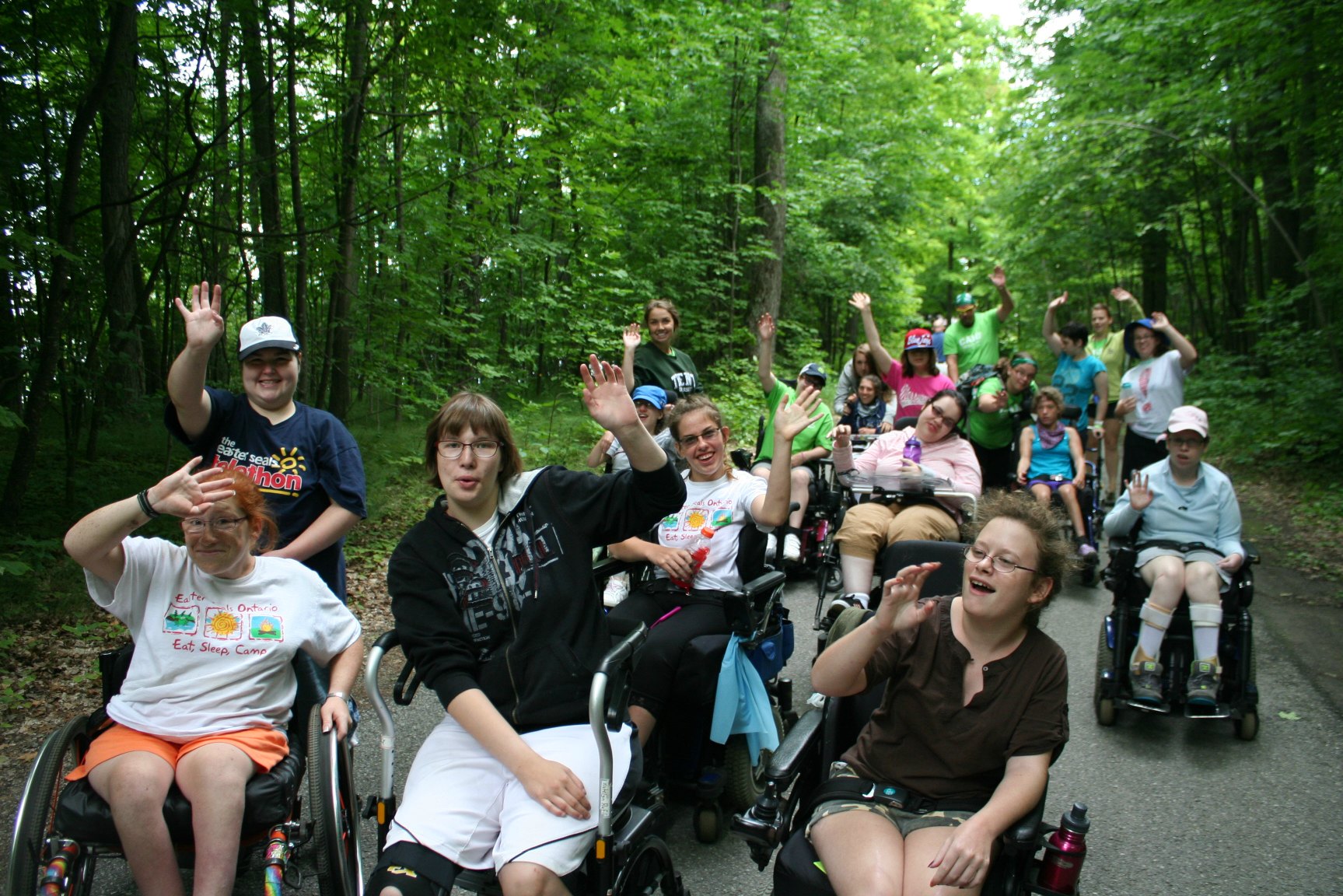 September 23, 2014
Today is the first day of Fall. Strange that this week they are calling for a lovely week of warm weather.
The 2014 wrap up is almost done, I just have to go through all of the Accident/Unusual occurrence forms. I think I am procrastinating on this task.
If you would like to see the pictures from the drone that was used during the We Care lunch, click here.
This week I will be sending out the staff survey. I really appreciate you taking the time to provide your feedback about your summer experience at Merrywood. I use this feedback in planning for the 2015 camping season. Last year some of the suggestions from that came out of the 2013 survey, such as; receiving more information about the different disabilities and the opportunity to get to know more staff during pre-camp training were implemented this year. So please take the time to complete the survey and provide any suggestions that would make Merrywood even better.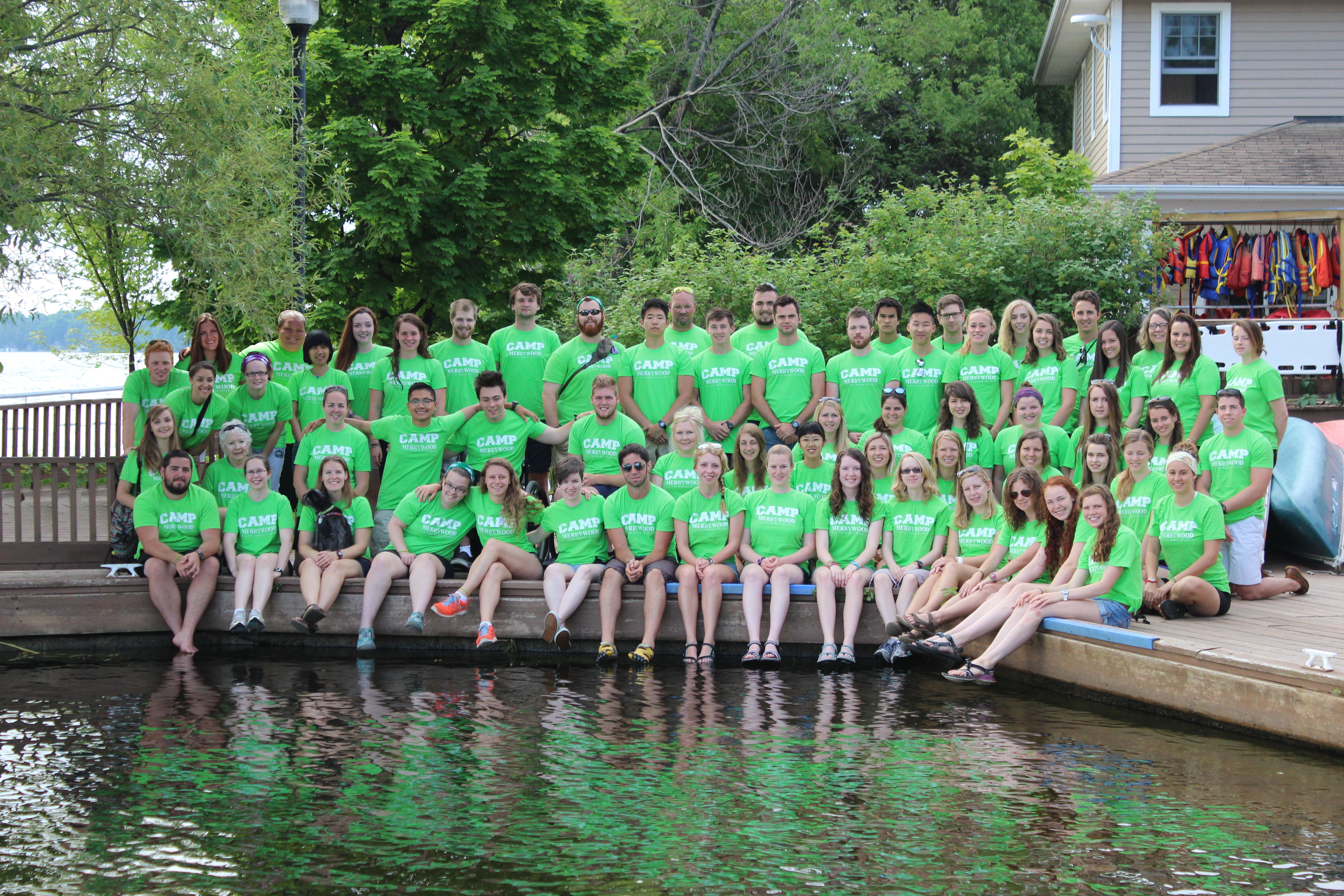 September 10, 2014
A very successful summer has come and gone and by now everyone will be busy starting classes, looking for jobs or travelling to far away places. I wanted to thank everyone for all of the amazing summer we had. The success of this summer is due to all of the time and effort everyone put into making sure all of the campers had an amazing camp experience.
This summer wasn't without it sad moments. Ken Young one of our driver's passed away in August 23rd due to a stroke. We will all remember what a kind and very patient person he was. Also one of our campers Matt M. died on August 30th. Matt had been a long time camper who was a very enthusiastic participant in all of the camp programs. Both will be missed by everyone at Merrywood.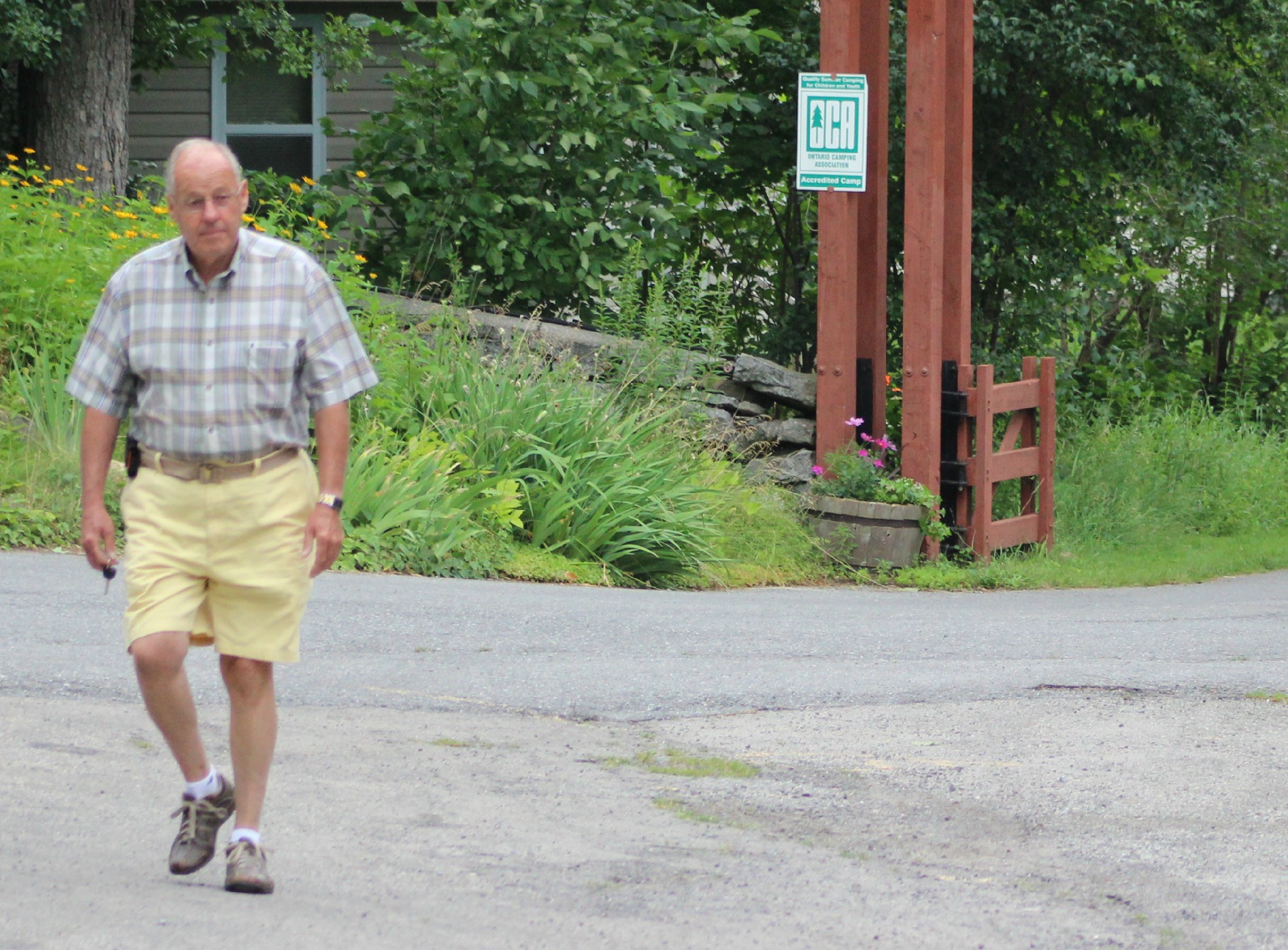 July 19, 2014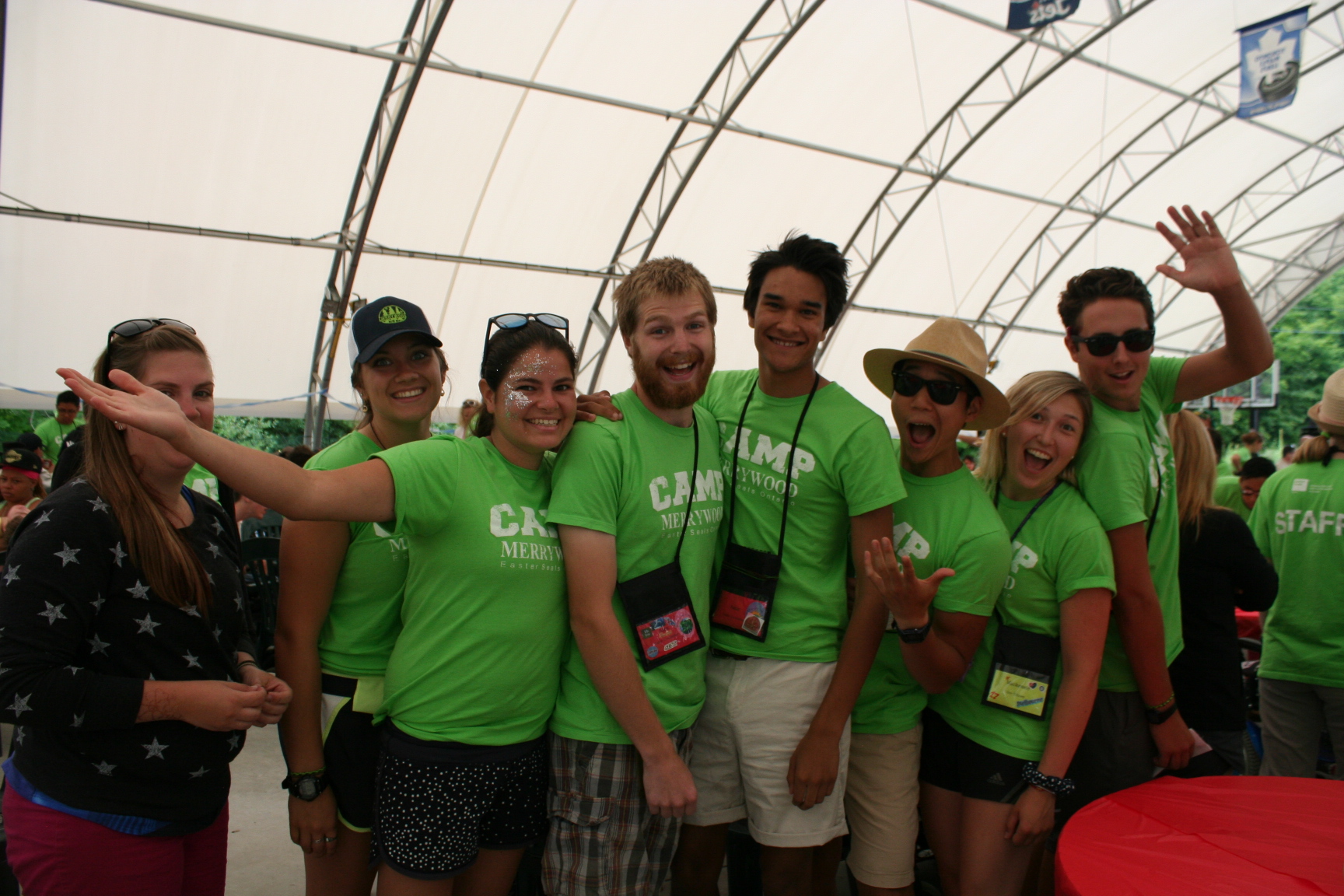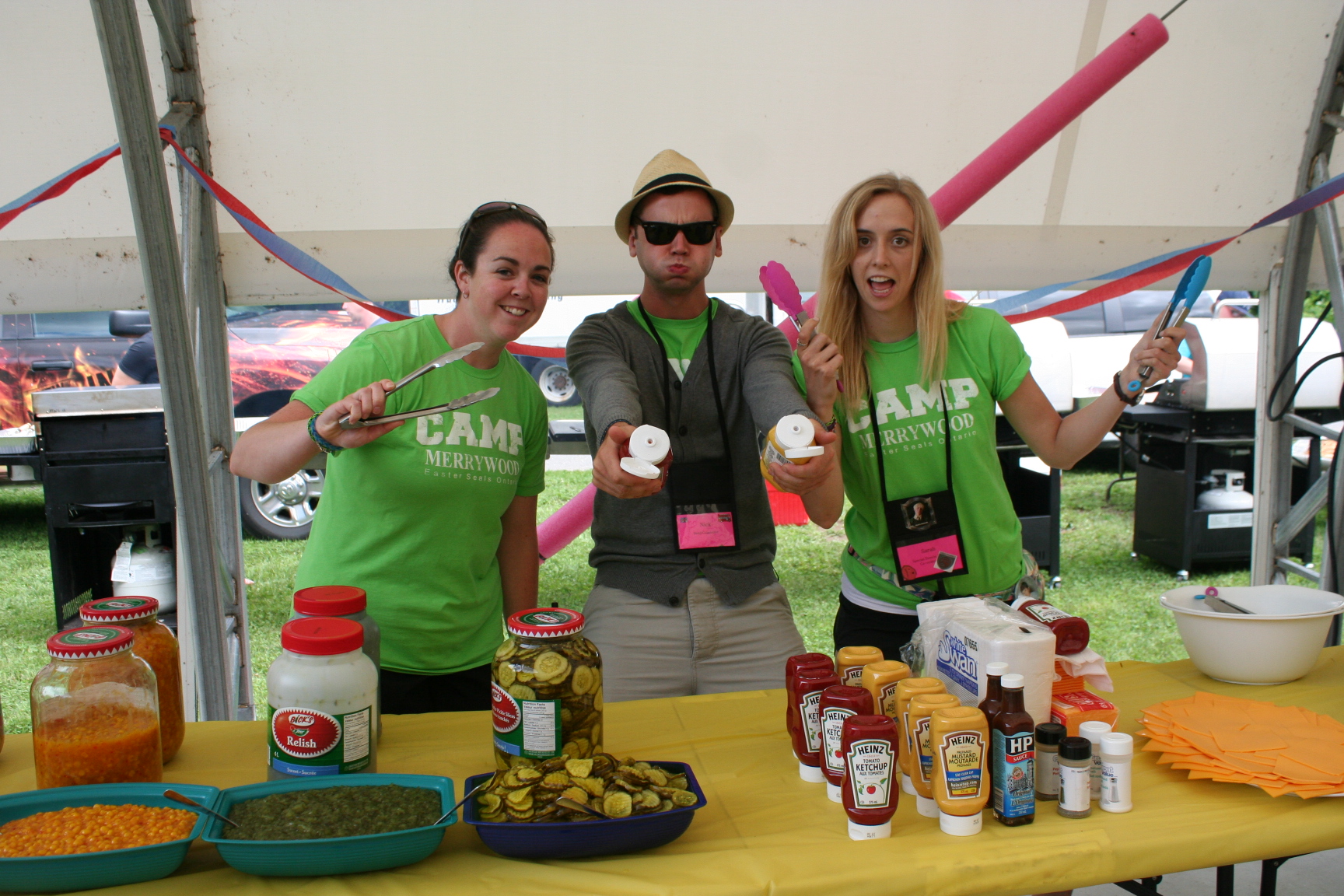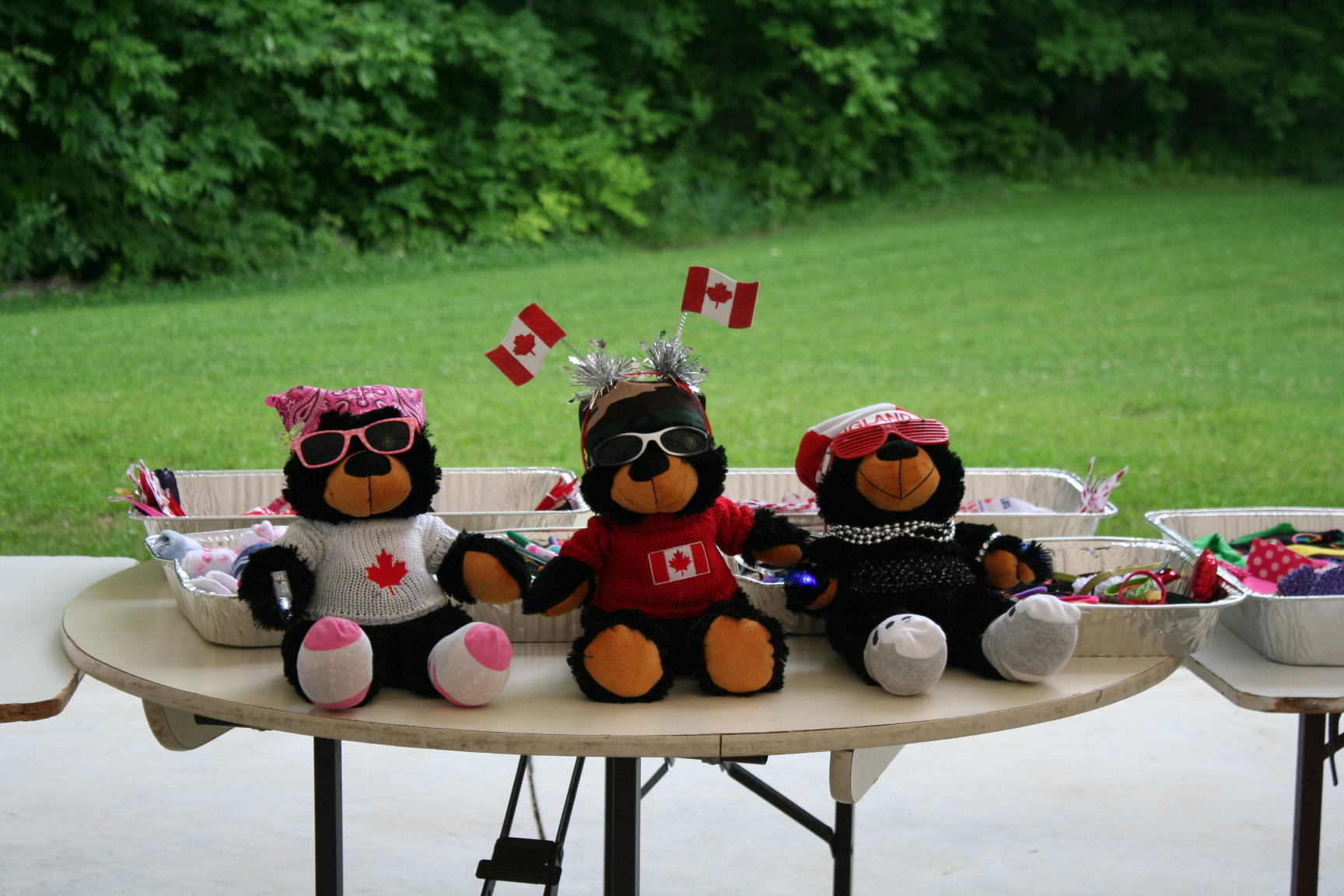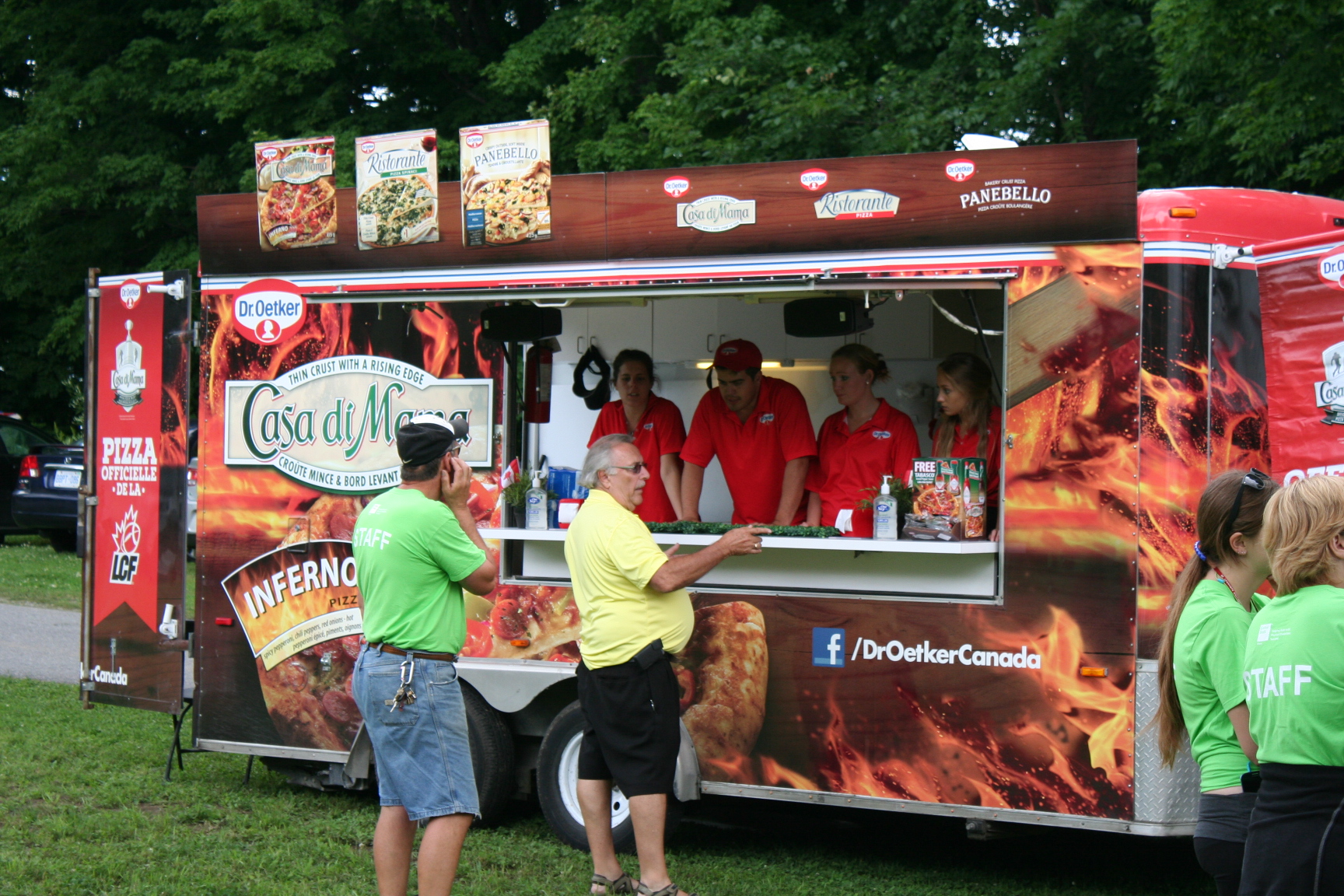 July 19, 2014
It has been a busy summer. Lots of fun and amazing thing happening at Merrywood. We can't believe how fast the summer is going!
On Wednesday Merrywood was very lucky to host the Friends of WeCare. They brought out tons of food for us - soft ice cream, a pizza truck and the traditional BBQ. They also brought Build a Bear. Every camper received a bear that they could personalize. The staff were not forgotten as they gave all the staff a gift bag.
If anyone is looking to volunteer, we could use a few volunteers over the long weekend in August.
June 17, 2014
The 2014 Program Staff enjoyed a fun overnight at Murphy's Point last night. After some fun activities, everyone fell asleep to the sounds of nature - owls, coyotes etc.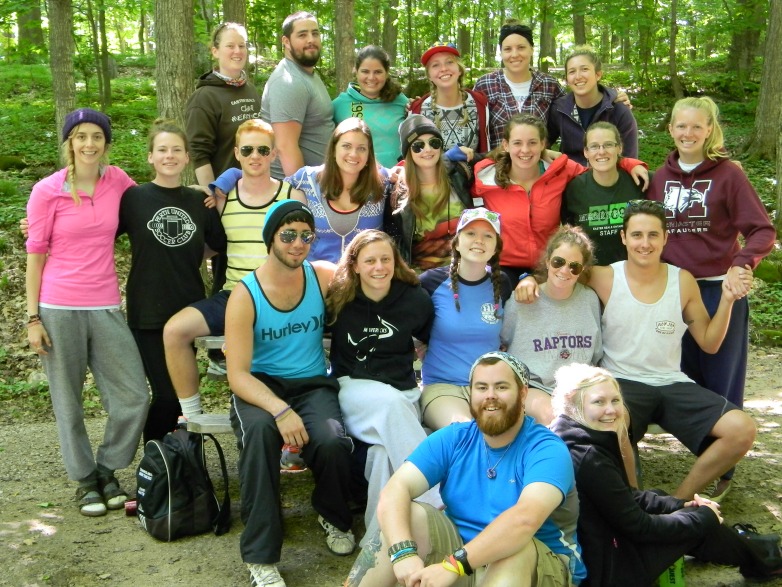 June 16, 2014
Training is in full swing at Merrywood. The cabin leaders arrive tonight. By tomorrow morning there will be 2 more nurses here. They will begin to do the paperwork for the first session. There are lots of very excited campers waiting to arrive on June 29th. It is a full session.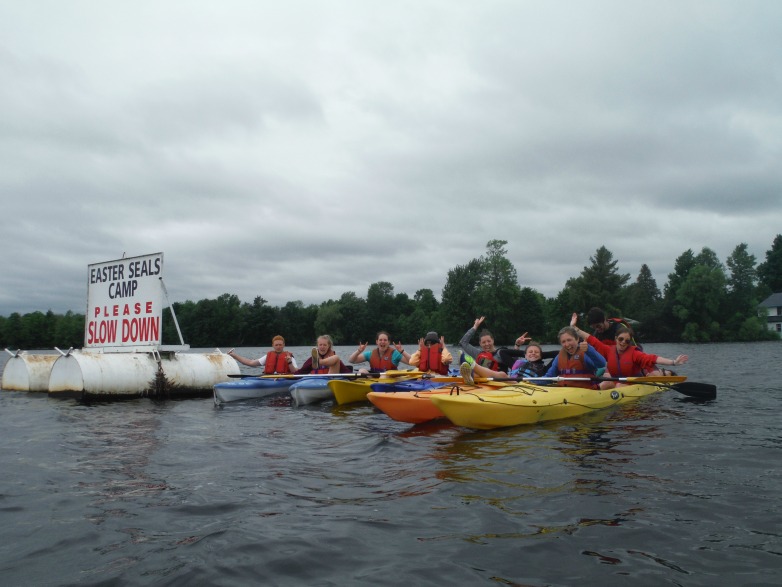 June 15, 2014
The programmers are all here and training is well underway. Hopefully the weather warms up for our waterfront. It was pretty cold in the water yesterday, although they did have wet suits that helped.
June 13, 2014
We are anxiously awaiting the arrival of the waterfront staff - some are coming tonight, the rest will be here for 9 am tomorrow ready to begin. The weatherperson has been listening to us and is calling for some nice weather over the next week. We have had a lot of rain the last few days.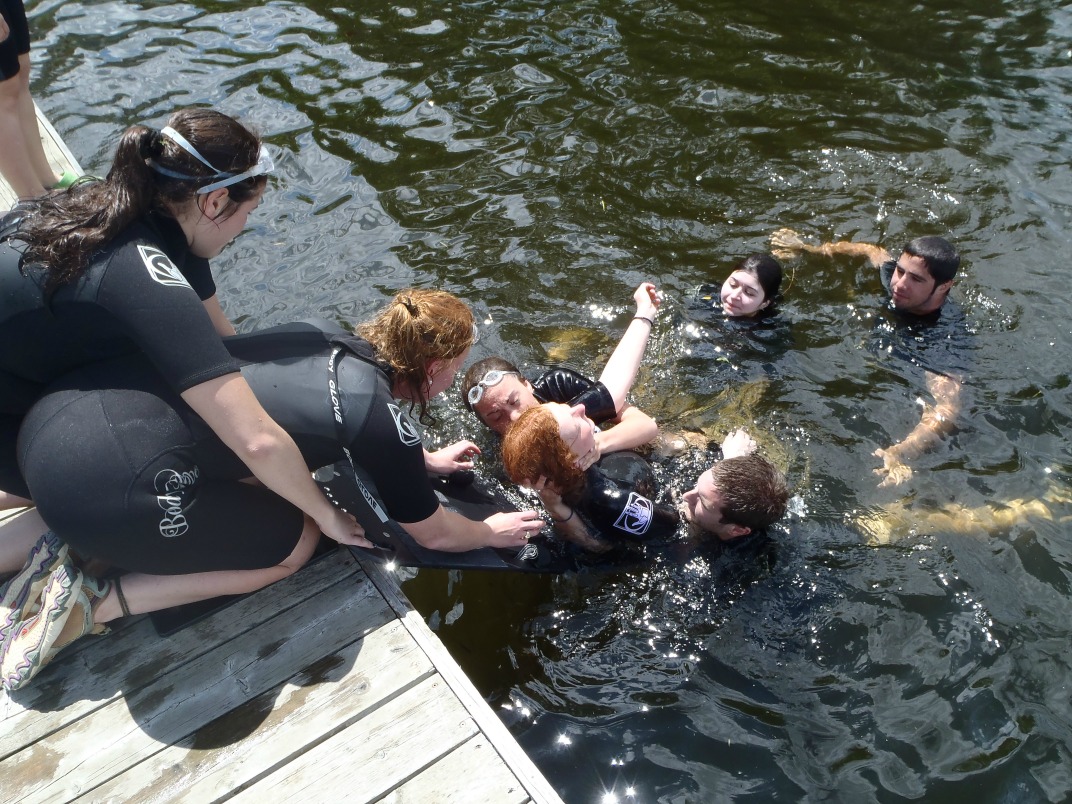 June 12, 2014
Just a reminder to all staff, except Counsellors. Training begins at 9 am on the start date of your contract. If you are unable to make it in time for the 9am start, you are more then welcome to come the day before. Dinner is at 5 pm!
June 9, 2014 We now have Merrywood back to ourselves again. The sound of barking dogs has stopped. Only 2 more days until the Trippers arrive to begin their training. Can't wait.
Here is a very good article from the American Camps Association on risk management and your role at camp in providing a safe camping experience for the campers. Click here to link to the article.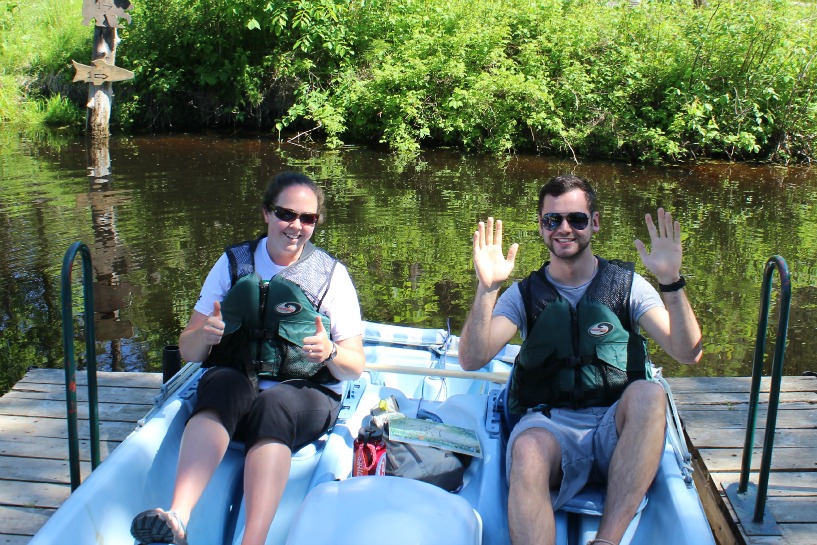 June 7, 2014
It is a quiet weekend at Merrywood. Most of the L-Team is off for the weekend. Merrywoof is here, so we have to keep out of their way. Nick & Emily went on a road trip to Quebec to check out Eco-Odessey to see if it would be a fun trip for the MS campers. They had a nice time.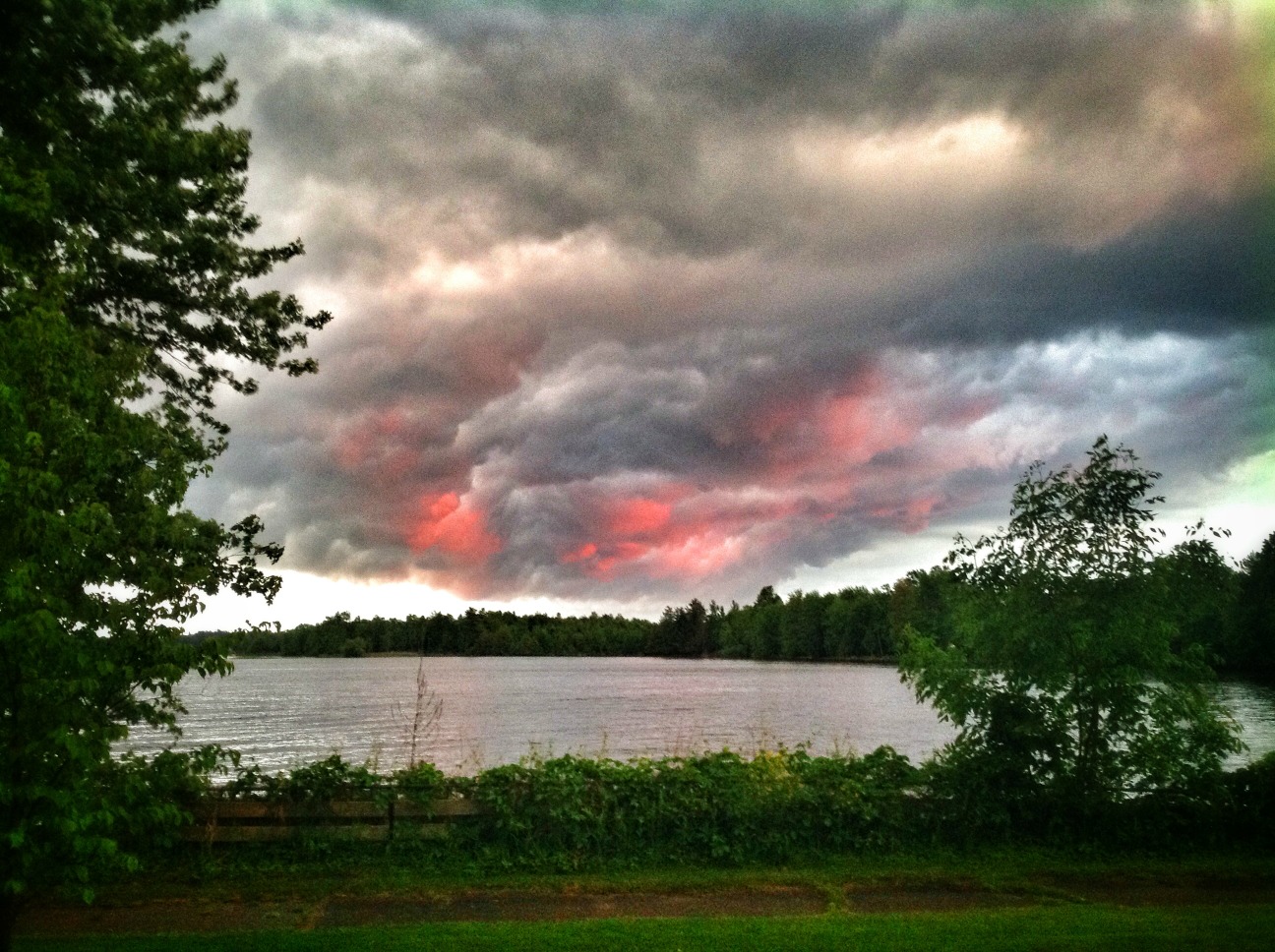 June 4, 2014
We are finally all here at camp (except Emily who is busy teaching). Lots of work happening, setting up our offices, finalizing the pre-camp schedule, etc. Can't wait for everyone to arrive.
Last night there was some pretty amazing clouds. Nick took a great picture last night.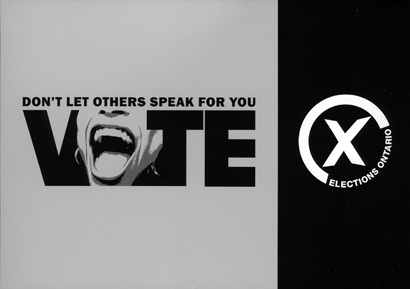 May 31, 2014
Anyone coming to camp prior to June 12, should take advantage of the advance polling for the Ontario Election running today until June 4.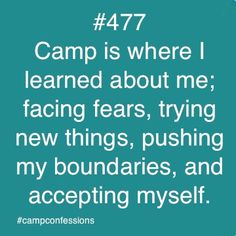 May 26, 2014
Yesterday the camp nurses were in Toronto for a day of training. It was great to see everyone. Not much longer until we are all at camp.
Thank you to everyone who has completed the Worker Health & Safety Awareness course and sending in their certificates. I think Emily has been very determined to follow up on all missing documentation!
May 21, 2014
Are you starting to think of what you will do on your days off? Don't forget that the Ottawa Bluesfest is on
over the days off between Session #1 & #2 (July 9 - 12).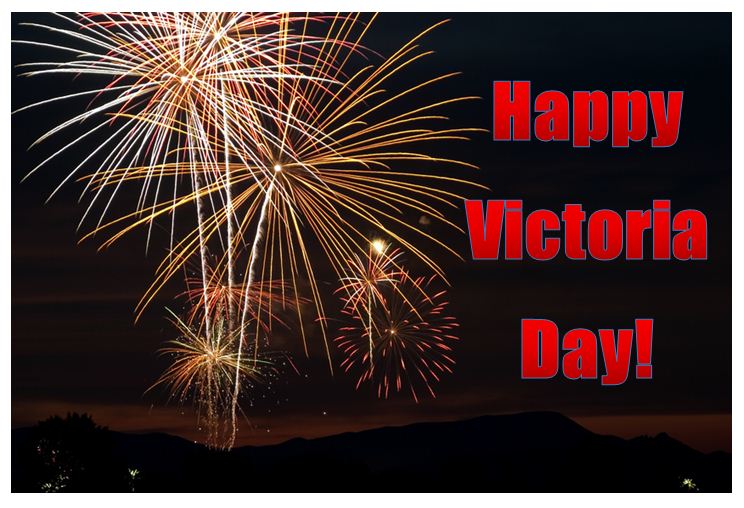 May 19, 2014
Official start of the summer!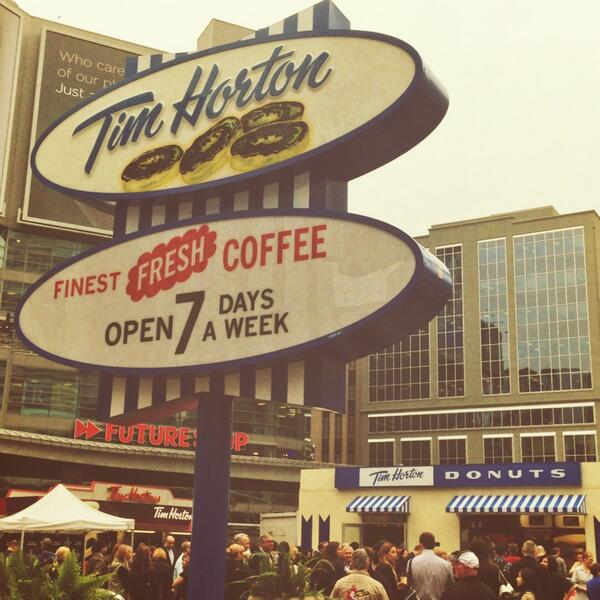 May 15, 2014
Many of you know that I love Tim Horton's coffee. Today Timmies is 50 years old. Happy Birthday Timmies.
As of today, we are at 100% camper capacity!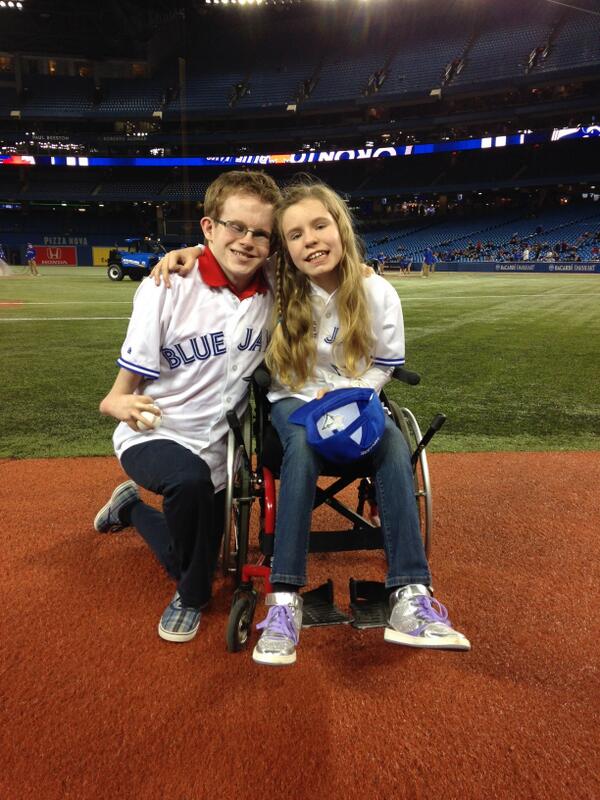 May 13, 2014
Our Provincial Ambassadors (both are campers) threw out the first pitch at the Blue Jays game.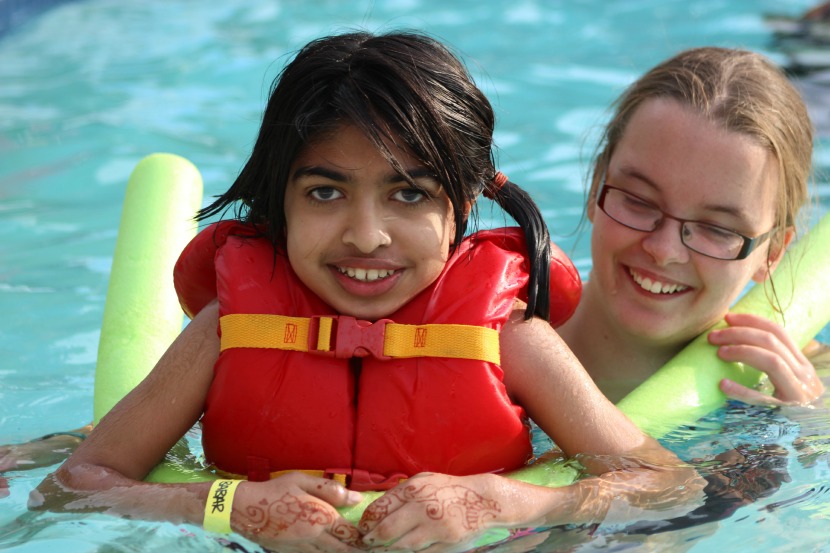 May 12, 2014

Here are some fun commercials shown in the UK about interacting with people who have disabilities, called, Are you a jerk to people with disabilities without even knowing it?. There is a fun little quiz at the end too. Here is the link.
May 6, 2014
Yesterday I e-mailed everyone the Health & Safety Training e-learning course. If you didn't receive it, please contact me directly and I will resend it.
May 4, 2014
Yesterday was the OCA Healthcare Conference. It was a great conference with lots of information. This years keynote speaker was Linda Erceg, the guru of camp nursing. It was great to meet Sydnie and Elaine and two of Woodeden's camp nurses.
Easter Seals e-mail is up and working. Check your mailbox this week for the online Occupational Health & Safety information.
May 3, 2014
Are you looking for a job in Toronto this summer.
Easter Seals Ontario has been approved for funding for a summer student position though the Canada Summer Jobs program. The position is for Development Coordinator supporting the Special Events Team in Toronto. To be eligible for the position, the candidate must currently be in full-time school and returning to full-time studies in September. The contract would run for at least 7 consecutive weeks (completed by August 29 at the latest), 35 hours a week (with active participation at all events). Rate of pay would be in the $11/hr range. Please send your resume and cover letter by May 9th to hr@easterseals.org.

May 1, 2014
Easter Seals continues to have significant issues with our internet. We can receive e-mails, but are unable to respond to any right now. They tried something last night, but it didn't seem to work. Hopefully everything will be up and working soon.
April 28, 2014

The May/June edition of the Camping Magazine is out and available online here. Lots of great articles to prepare you for the upcoming summer.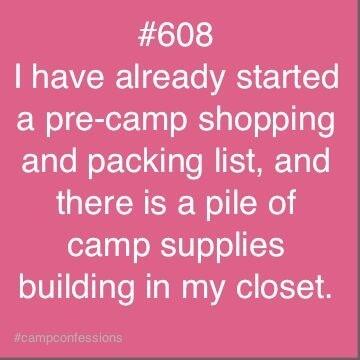 April 28, 2014
Only 50 days until we are all together at Merrywood Camp. It is getting closer. Lots of planning is taking place right now as orders are placed for clothing, manuals are reviewed and ready to go to the printer, paper work completed, etc. It is a very busy time of year.
Unfortunately Easter Seals is still having problems sending out e-mails to hotmail/alive/sympatico and a few other accounts. Once it is up and working, I will be sending everyone an online Occupational Health & Safety course you are required to complete.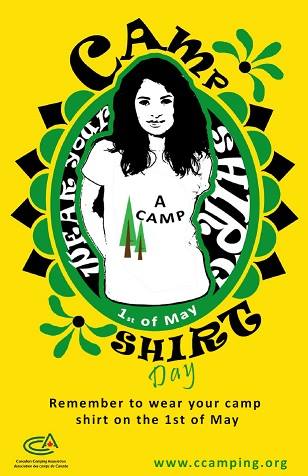 April 25, 2014
Celebrate National Camp T-Shirt Day May 1 by wearing a camp t-shirt!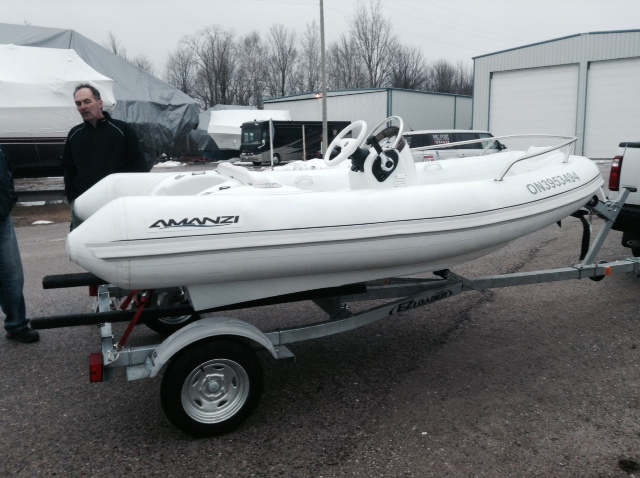 April 23, 2104

The ice went off the lake overnight. There are 2 winners - Belinda Hargreaves who guessed April 22nd and Molly Schnoodle who guessed April 23rd. Their prizes will be mailed out shortly.
I have attached a picture of our new boat. It still needs a motor, but it is pretty nice.
April 22, 2014 - Happy Earth Day!
Jacques & I are heading out today to pick up our new boat for the sailing program. The rain is coming to an end, so that will make the road trip nicer. I can't wait to see it. Our old Zodiac had a nice long life, but this past year it was off the water more then it was on it.
Right now Easter Seals is having problems with receiving e-mails from Hot Mail accounts so if you are getting bounce backs, that is why. they hope to have it fixed later today.
April 19, 2014
The water is receding a little.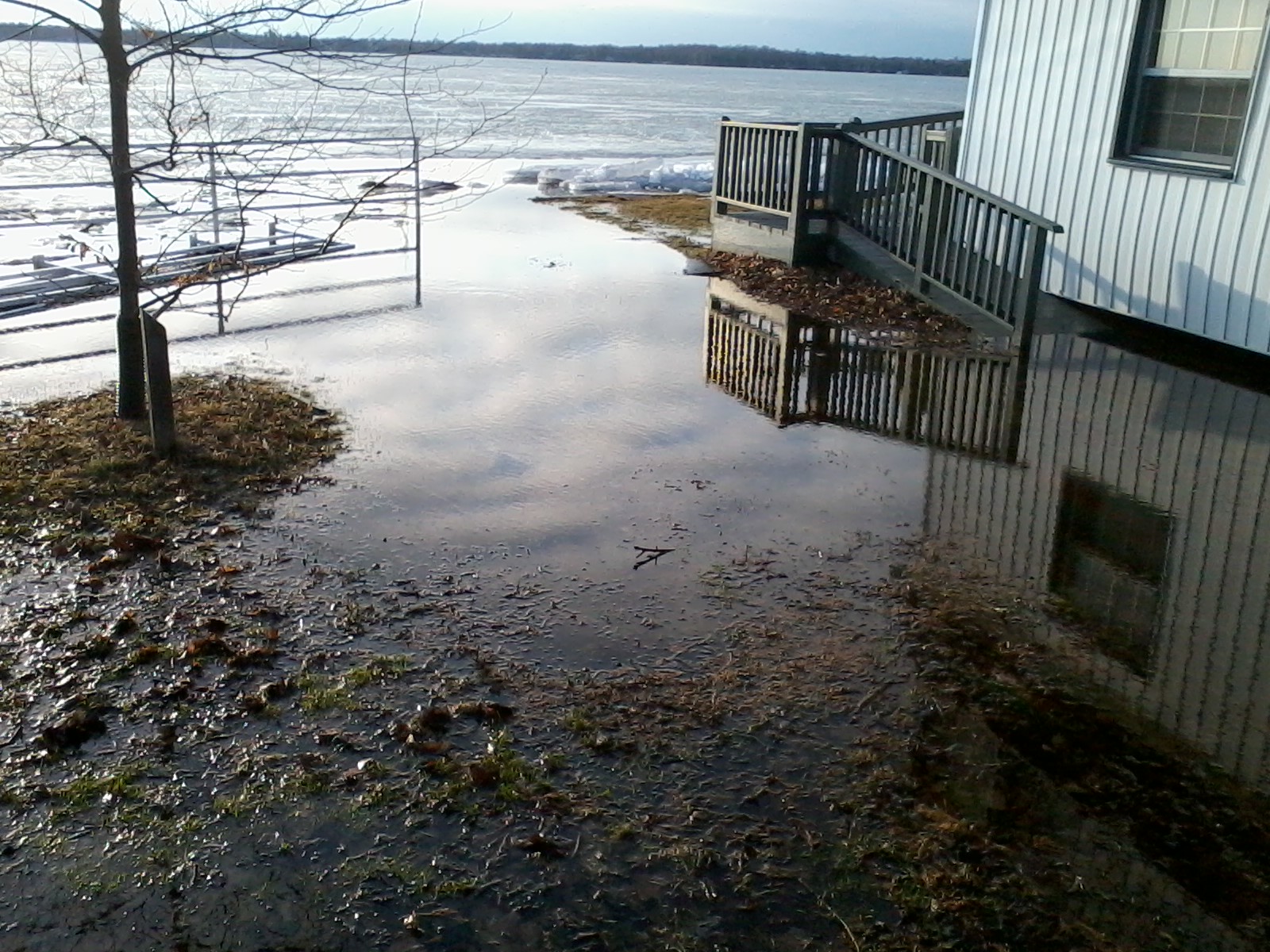 April 16, 2014
The water level in Rideau is rising. There is still ice on the lake.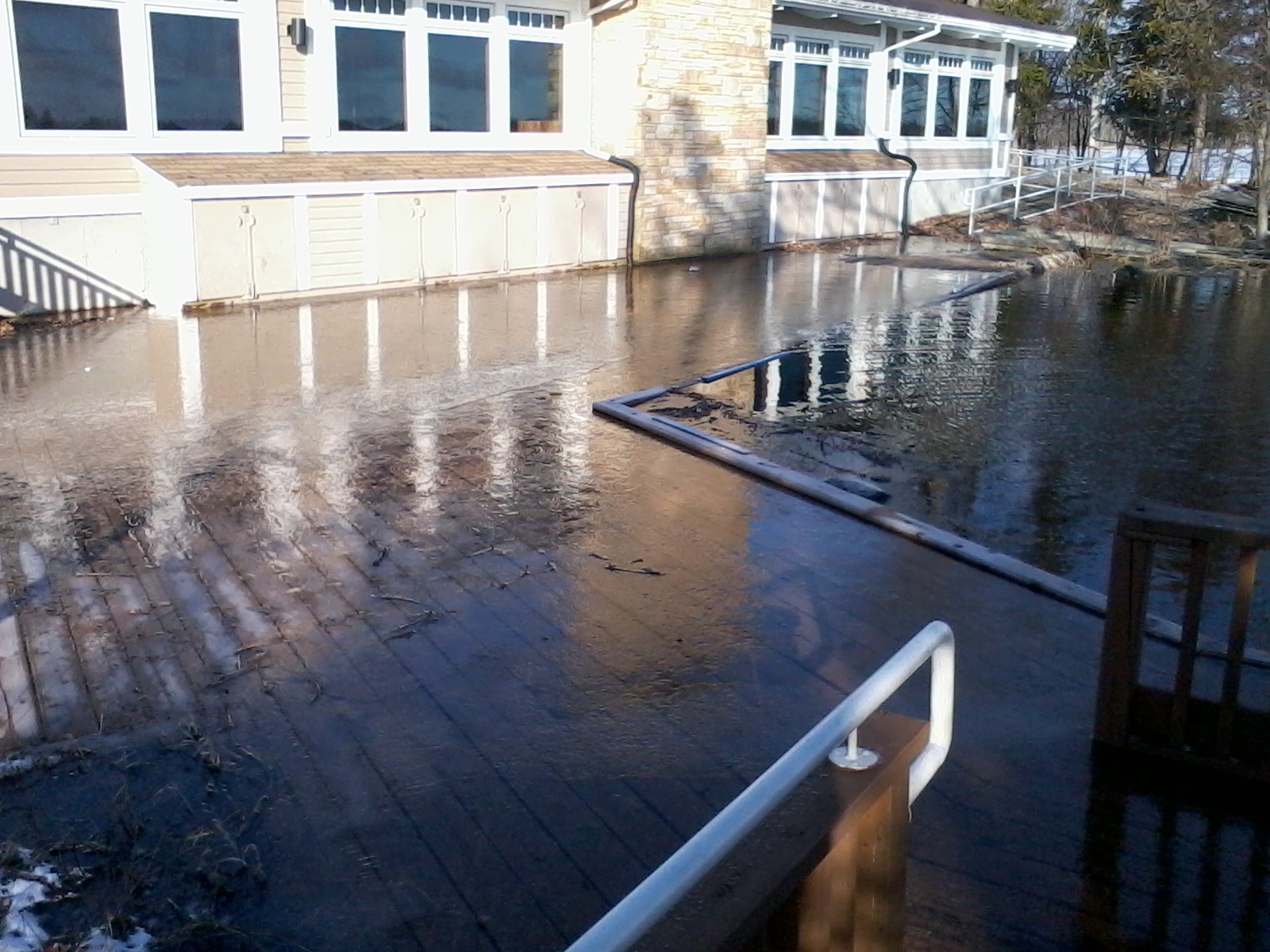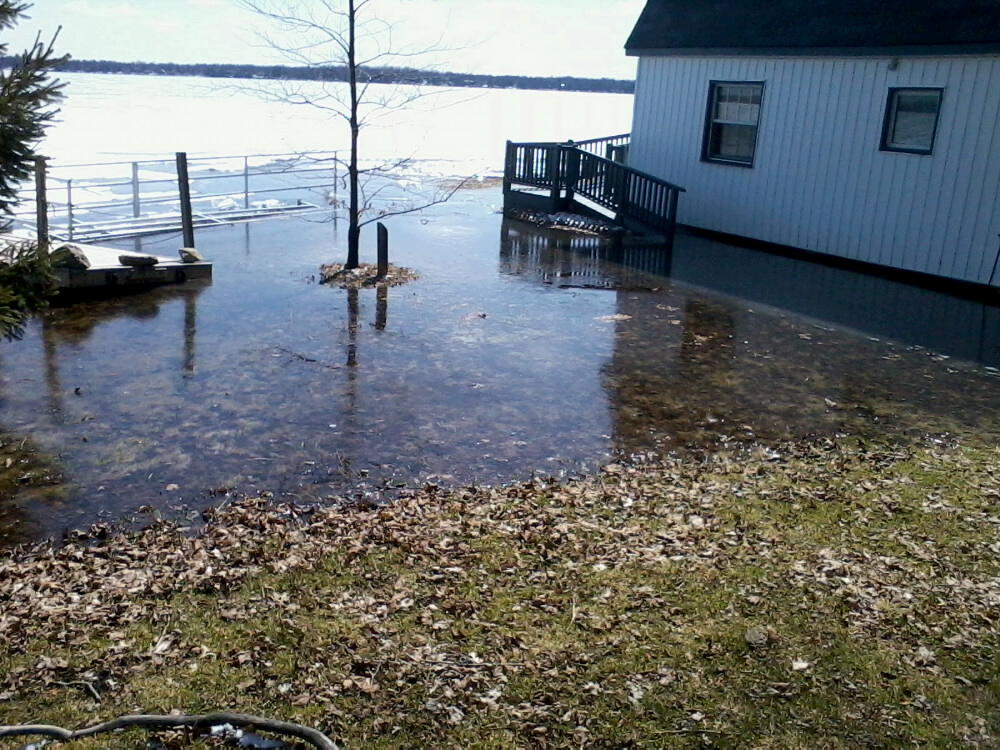 April 14, 2014
The ice is slowly leaving.....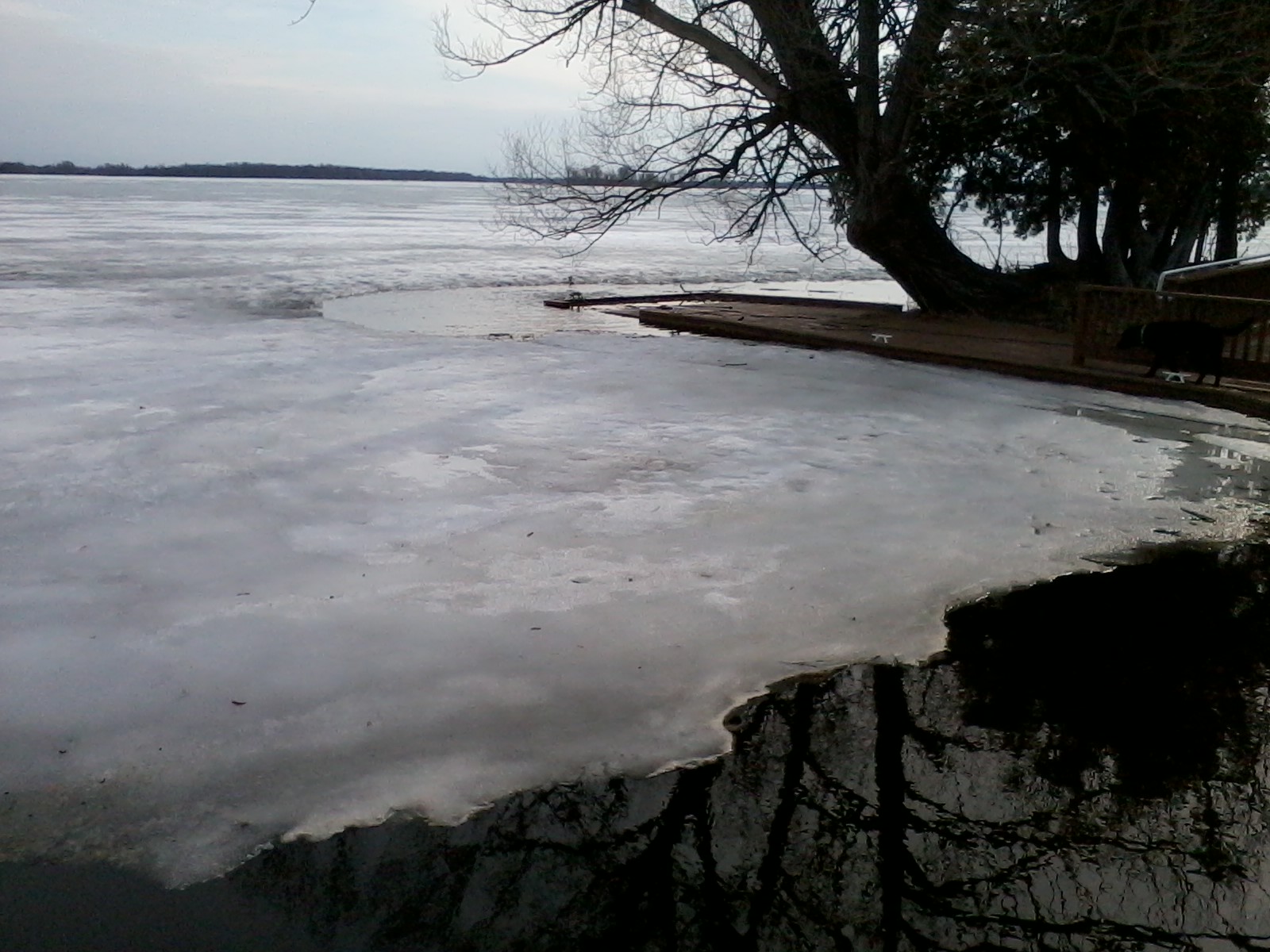 April 12, 2014

Tomorrow is the Easter Seals Telethon on CBC. There will be lots of film clips of the camps and interviews with the campers. If you get a chance you can always phone in a donation.
Thanks to all of the staff who are volunteering their time tomorrow at the various telethons across the province. I will be in Toronto entering all of the pledges that come in.

April 11, 2014

Here are some pictures of the ice slowly melting on Rideau Lake.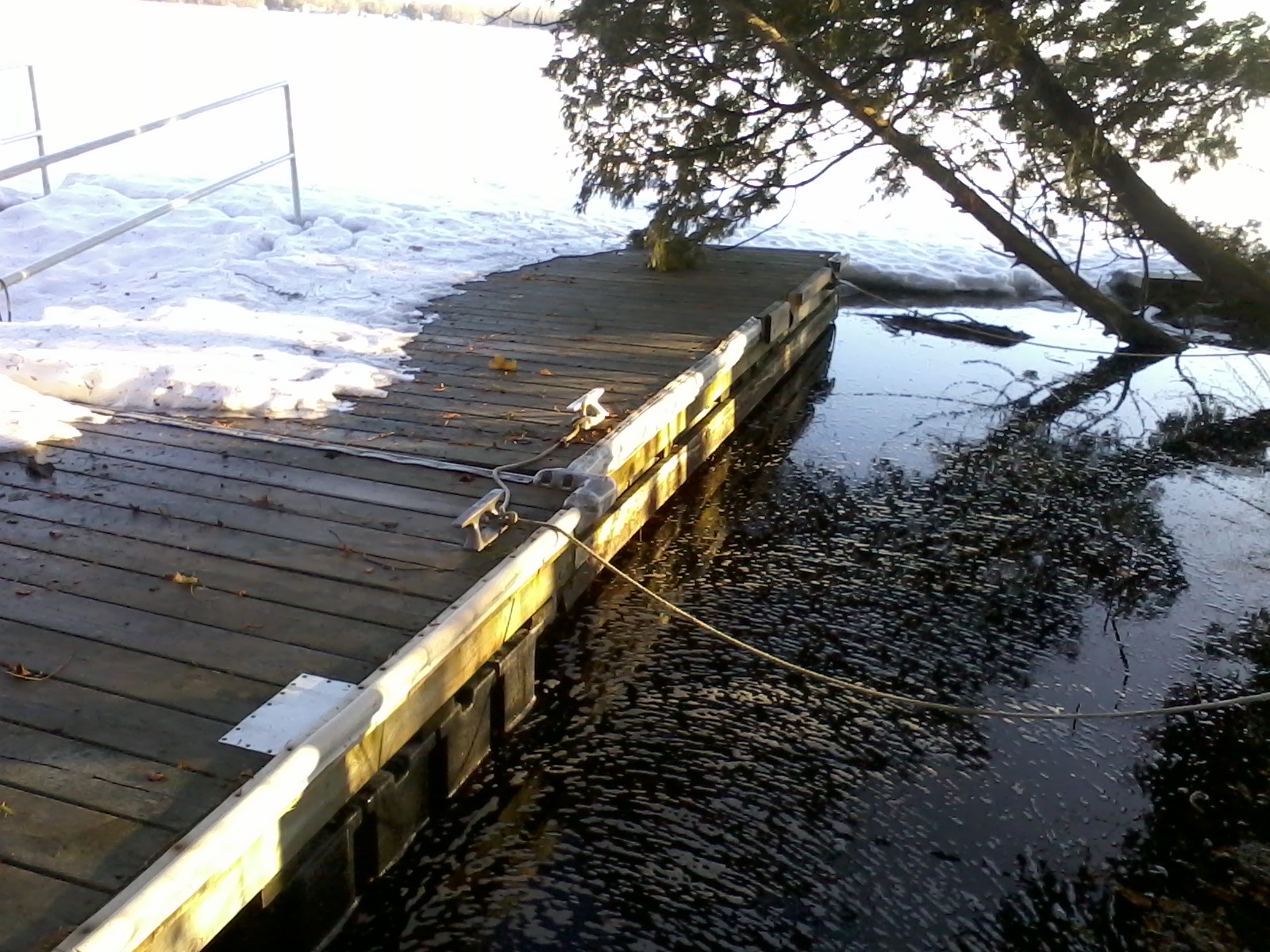 The sailing docks stored behind Jacques shop.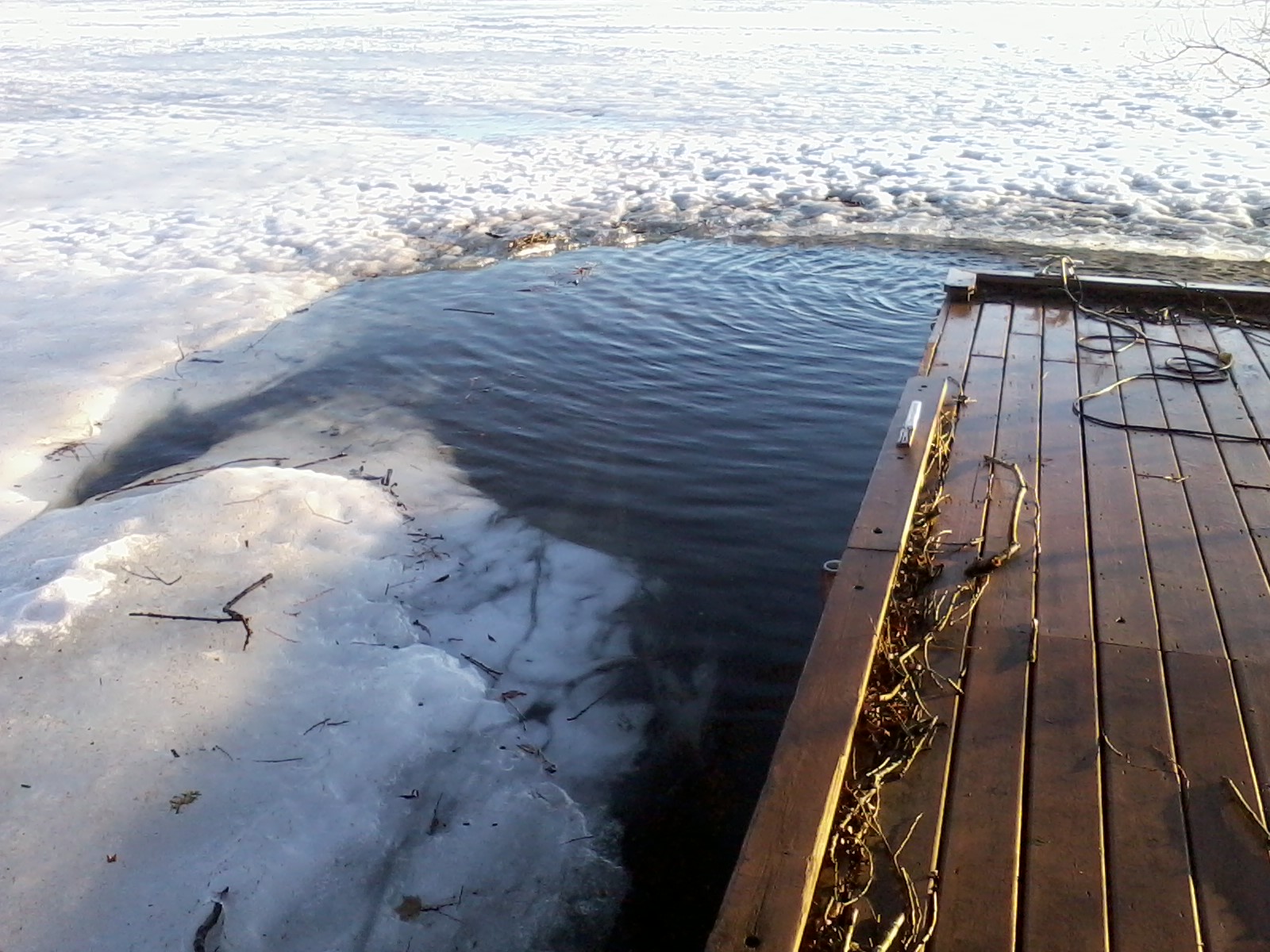 The canoe docks behind the dining hall. Jacques has had a bubblier in tor 2 weeks. This has opened
up the water around the docks. Hopefully this will limit the damage that the ice causes when it
begins to move around.
April 10, 2014
Just a reminder to please send in your signed contracts and paperwork as soon as possible. There have been some contracts outstanding for a couple of months!
April 8, 2014
Pre-camp begins in 70 days! Yikes. So much left to do.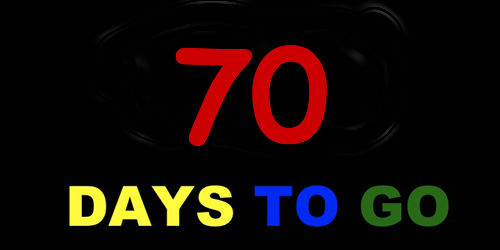 April 3, 2014
All staff for the 2014 camping season have been hired! We certainly have an amazing team this summer. Only 75 days until pre-camp starts.
We are having a contest. E-mail me the date that you think the ice will leave Rideau Lake and you will win a prize. Multiple winners are okay. E-mail me at bgray@easterseals.org with your date or visit the Merrywood Staff Past & Present Facebook site. Right now the lake is still frozen and the ice is 2.5 meters thick. Good luck!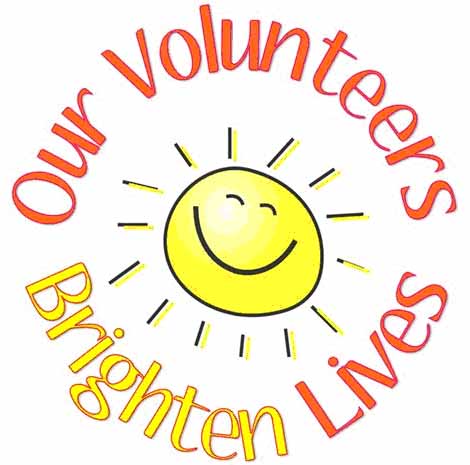 April 2, 2014
April is Volunteer Appreciation month. Our volunteers are a key ingredient to making camp magic possible. Thank you so much!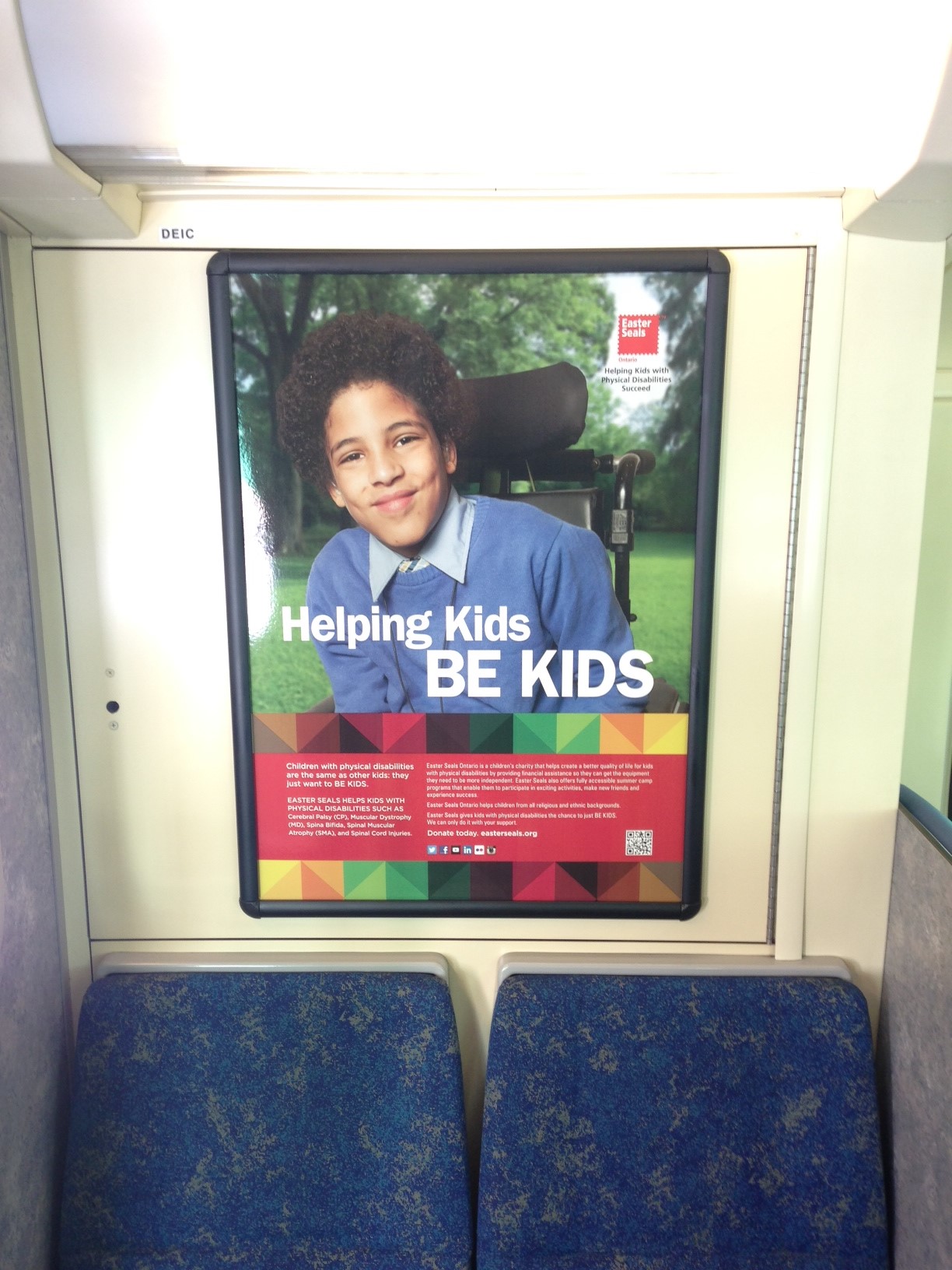 March 29, 2014
March is Easter Seals Month and it is drawing to an end, lots of great events took place across Ontario during the month. One of our campers from 2013 was part of a Go Train Campaign.
March 27, 2014
i just wanted to let everyone know that Rick Bowes, one of our drivers from 2012 & 2013, died on Tuesday. Click here to link to his obituary. Rick will be greatly missed by everyone at Merrywood who knew him. We could always count on Rick, even when we called at the last minute.
March 26, 2014

Another snowy day at Merrywood!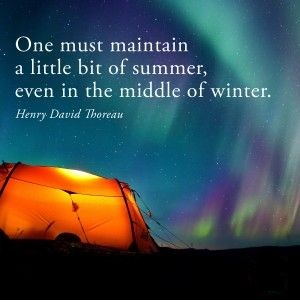 March 24, 2014

Just a little reminder to return your signed contracts! You do not need to send your missing documents in a the same time.
I wish everyone in university/college who are just finishing up there year all the best on your final essays and exams. I remember what a crazy time of year it is for you.
Suzanne, Emily & I had a great time in Atlantic City. We learned so much and are all excited to begin the summer.
Session #2, #3, #4 Arts Camp and Family Camp are full. All girls spots are filled in Session #1. There are a few spots left in Sports Camp, Discovery Camp and 1 girl spot in Out-tripping Adventure Camp. It will be a busy summer!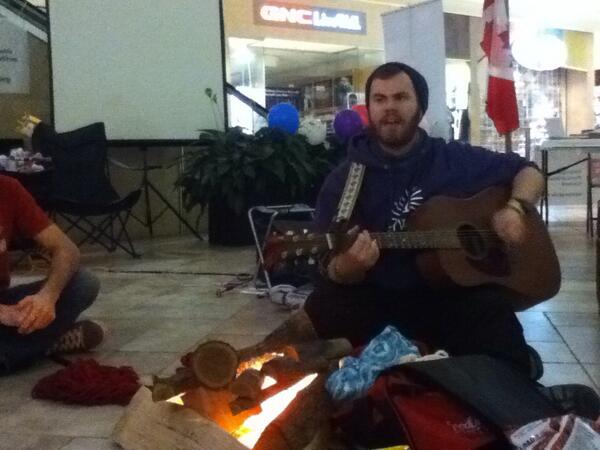 Campfire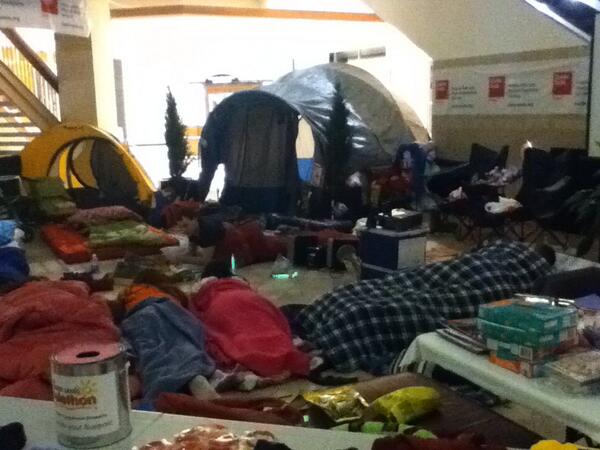 All tucked in for the night.
March 22, 2014
It is a big day at Lansdowne Place in Peterborough as campers, their families and staff come together to experience a little bit of Merrywood Camp. Thanks to everyone for coming out to support this great event and helping to send kids to camp. Thanks Emily for all the work in making this happen. Have fun!
March 17, 2014
Happy St. Patrick's Day!
The American Camp Association Tri-State Conference is this week in Atlantic City. We are heading out today to begin our long drive. We will be spending the night at Merrywood, then leaving early tomorrow am. It is such a great conference and we get so many ideas for the upcoming summer. There are usually over 5,000 people there from all over the USA, Mexico and Canada.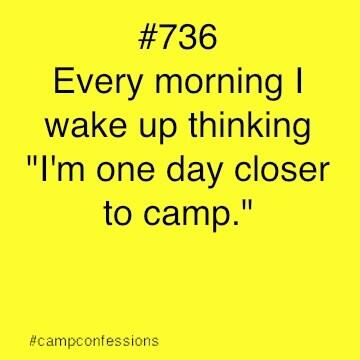 March 13, 2014

Don't forget to send me at picture at bgray@easterseals.org of something that makes you happy for the 100 Happy Days!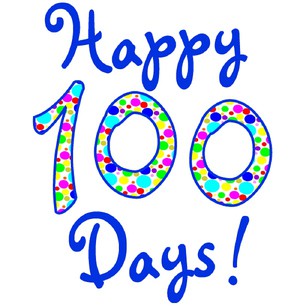 March 11, 2014
Are you looking for something to do March 22 & 23? How about heading to Peterborough for a camp out in the Lansdowne Mall? This is an amazing fund raiser for Easter Seals Ontario. Click here for more information or to make a donation.
Last weekend there was another fundraiser in Peterborough with the local hockey team. They raised $1,003.19! Thanks Emily, Emma and Melanie.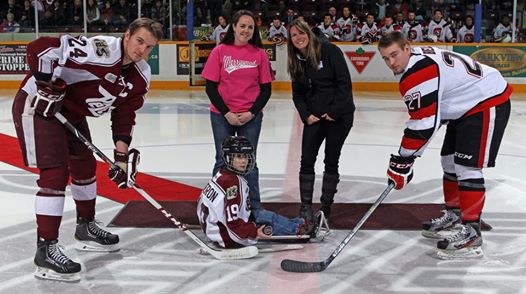 March 10, 2014
Just booked all the sites for the Out-tripping Adventure Camp! Five months today the out-trip heads out to Algonquin Park.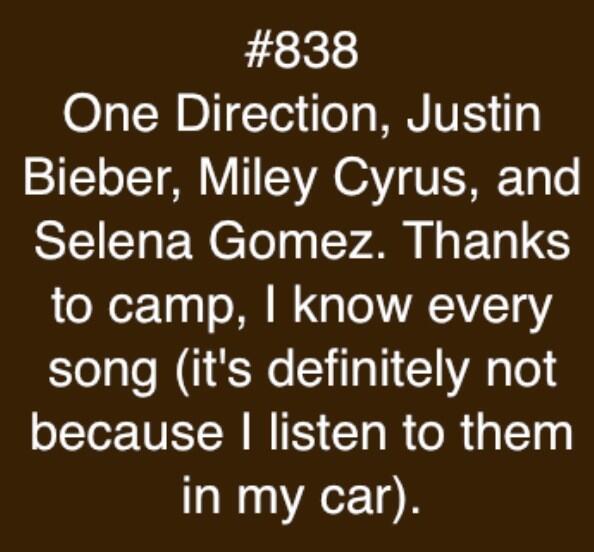 March 9, 2014
It is official 100 days until pre-camp starts. The #100 happy days has begun. Don't forget to send me a picture of something that makes you happy (or you are going to see lots of things that make me happy!). My e-mail is bgray@easterseals.org
I found this quote above on twitter and thought if was so true. For the new staff, look what you have to look forward to.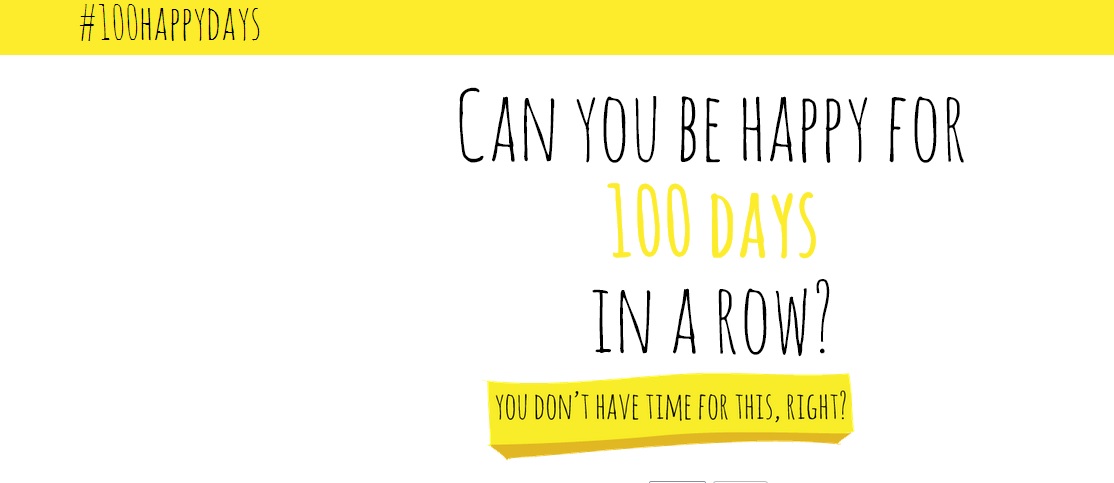 March 6, 2014
This Sunday is not only the day we set our clocks ahead an hour, it also marks 100 days until pre-camp starts. This is when we will be all together at pre-camp training. Some of the staff will be coming in earlier - programmers, cabin leaders and nurses, but on Thursday June 19th, everyone will be together.
I thought it would be nice to do something to celebrate this count down to pre-camp. Kim, the camp director from Woodeden told me about this and I thought it would be an amazing idea. 100 Happy Days. I need your help, please send me a picture at bgray@easterseals.org of something that makes you happy. You can provide a description if you like. I have created a separate page for the 100 Happy Days countdown.
February 27, 2014
Tonight is the Conn Smythe Celebrity dinner at the Royal York in Toronto. I will see some of our campers there I am sure. The new Provincial Ambassador's were announced today, both have been campers at Merrywood. Tyler Preece has attended the Out-tripping Camp every year since it started and will be coming again this year. Kalea Davies who attended Family Camp and Discovery Camp a few years ago.
February 24, 2014
What an exciting game. So glad we won. Even Donny got into it.
We are now almost full. I think we only need an out-tripper and a sailor. Session #3 is now full, as is LIT and GEAR_Up. Everything is filling up so quickly this year.
I am looking for 2 volunteers to provide attendant care at the Easter Seals Ontario Telethon, Sunday April 13, 2014 from 10 am-4 pm at the CBC studio in Toronto. If you are interested, please e-mail me at bgray@easterseals.org.
February 21, 2014
GO CANADA GO
February 19, 2014
Hiring continues, but it is almost done. We have had so many amazing applicants this year. We also have a terrific team of volunteers who will be coming to spend some time with us this summer at Merrywood. I am sure there will be a lot of disappoint applicants who were not quick in submitting their application. For those that don't know, there is a Facebook page for 'Merrywood Camp Staff Past & Present'. There is also a website 'Summer Camp Professionals'. Both sites have lots of great information on them.
February 10, 2014
Sometimes Tripod drives me crazy - all my posts seem to have disappeared!
I am back from the Association of Camp Nurses conference. What an amazing experience to be with so many camp nurses and hear about all of the new ideas and research being done in the field of camp nursing.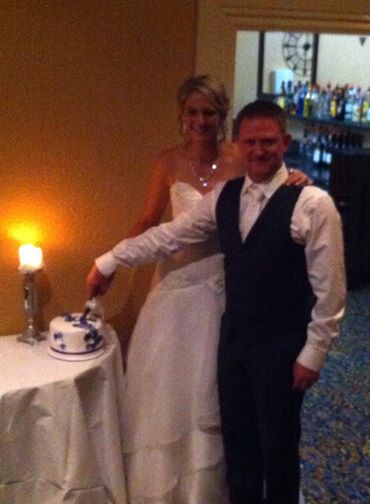 This past weekend was also a big weekend for Belinda from Australia, who worked at Merrywood for 4 summers. She got married! Congratulations Belinda and Nick!
Hiring is coming along and our camper enrollment is very high this year, with a number of sessions already full.
Winter at Merrywood Camp