May 16, 2013
Only 35 days until pre-camp starts!
I have sent everyone via e-mail a newsletter with information about what to bring to camp, when to arrive and some other information. Check your spam file if you have not received it. I have also sent everyone some online videos from Expert on Line training. They are fun videos to help you prepare for the upcoming summer. Today at 2 pm. Expert Online Taining is having a webinar this afternoon at 2 pm. on Homesickness. If you are able to join it, here is the link: http://www.expertonlinetraining.com/webinar
A staff member from Woodeden Camp made a video that provides great information on different ways to help campers enter the pool. Here is that link: http://www.youtube.com/watch?v=sZft_fjWQ9k
I am off to camp this weekend to plant the gardens! I hope everyone has a great long weekend.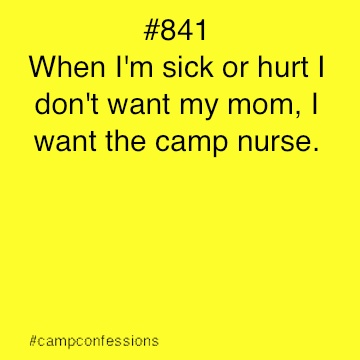 May 6, 2013
Happy Nursing Week to all of our nurses. I just want to thank all of the nurses who have worked at Merrywood Camp over the years. You have taken great care of all of us each summer.
A previous camperr, Peter Biec is looking for a Personal Support Worker.
Here is his ad:
Seeking Companion/Aide - Part-time/Casual
I am a person who suffers from cerebral palsy. Currently I am looking for an individual to help me go on outings. This could involve anything from a movie to a baseball game or even helping with some college course work.
The position would be based out of either SquareOne in Mississauga and Sheridan College's Trafalgar Rd. Campus in Oakville. Own transportation would be an asset but while we are working together, we would take public transit to each event.
Training as a personal care worker would also be a strong asset. Hours per week are negotiable and can be discussed in an interview. Only successful applicants will be contacted for interviews. Pay scale will be discussed during the interview. In responding to this ad, please provide a cover letter and resume. Please send applications to biec.peter@gmail.com
May 3, 2013
Well it finally feels like summer is on its way! Just as well, the waterfront staff will soon be swimming in the lake. It is a very busy time of year. We are just finishing up the last of the hiring for the summer and beginning to plan the 2013 Pre-Camp training. I will be sending out a newsletter very soon with information about when to arrive, what to bring etc. Unfortunately I have Jury Duty next week and won't be in the office.
April 24, 2013
Jennifer Hall posted this. If you are in the Newmarket area May 26 - maybe you would like to join? If not donate?
Hi friends, I am starting a team for the Easter Seals Run/Walkathon in Newmarket on May 26. There are already 6 of us on the team! Anyone who would like to sponsor us or join our team is welcome. Here is the link http://www.eastersealsrun.com/. To join our team click register and search for our team (Friends of Merrywood.) You can register for any of the races (run/walk 5k, or run/walk 10k) and be on the same team. To sponsor our team click on donate and search for our team (Friends of Merrywood.)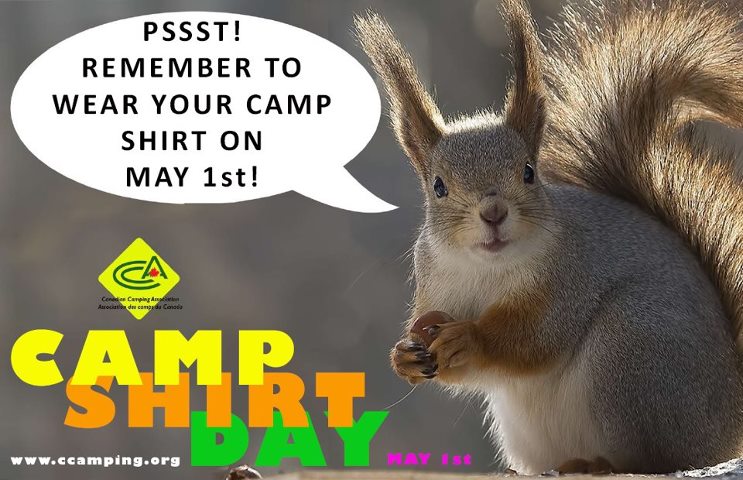 April 22, 2013
What a busy time of year. Only 59 days until the 2013 Pre-Camp starts !!!! I saw this great clip from Britain's got talent and thought you might enjoy it. Click here to view.
Don't forget, May 1 is Camp T-shirt Day.
Joanne Kates, from Camp Arrowhon wrote a great piece in the Globe & Mail about why being a camp counsellor is excellent training to be the Prime Minister!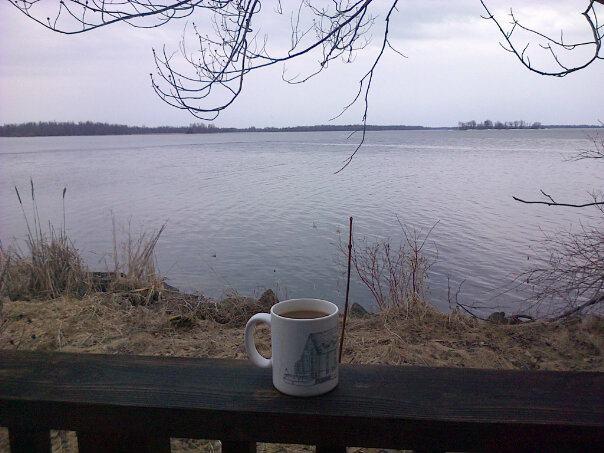 Early morning coffee on the back deck April 16th. Thanks Kim V. for the picture.
April 18, 2013
The ice finally went off the lake April 16th. One minute it was there, the next it was gone. Lots of ducks on the lake - resting before they begin the long trip up north. The loons are back and were up all night.
We had a fun meeting at Merrywood with the full time recreation staff from Woodeden and the provincial office.
I hope those in university/college all the best in their final exams! Once your exams are over - don't forget to send in your signed contract!
At the Sailing Docks
Behind Loon's Nest
April 9, 2013
The Camp and Job Fairs are now all over for the year. I spent last weekend in Ottawa at a Nursing Job Fair. I think all of the nurses from both camps should be hired shortly. I spent Saturday at Merrywood. The snow is gone, but the lake is still frozen, although it is coming away from the shoreline. Jacques predicts that the ice will be off the lake by April 15th.
It was a bumper year for maple syrup and I was lucky enough to receive some from Jacques.
We are looking for a coupld of volunteers to help out Session #1 - June 30 - July 10. If you or anyone you know is interested, please have them complete the application form and send it in!
April 1, 2013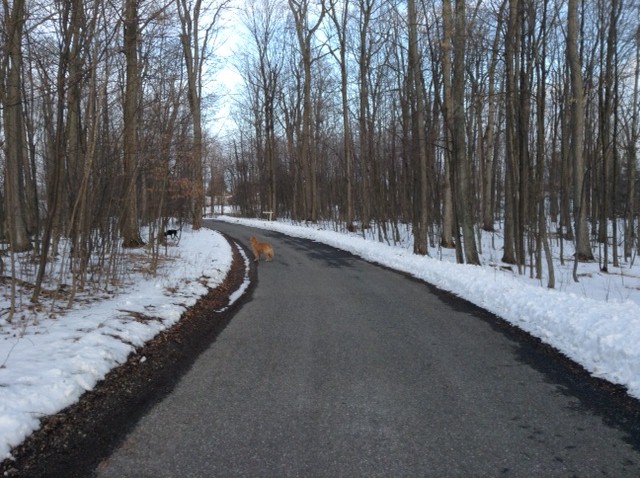 I am back from my holidays to sunny but cool Florida. I have attached a couple of pictures from my weekend at Merrywood, March 22- 23. The snow is slowly melting. The maple trees are being tapped. Spring is thinking of coming soon. I will be attending a Health Career Job Fair in Toronto and Ottawa this Thursday, Friday and Sunday. I will be staying at Merrywood Saturday night. Hopefully it will be a little warmer this time.
March 22, 2013
I am off to a Camp Fair in Ottawa tomorrow, then heading down to sunny Florida for a few days of holliday. Should be fun. I will also pick up our Spikeball set that was shipped down to Florida for me That will be a fun game for both campers (with some adaptions) and the staff. Here is a link to the Spikeball site. I have also put up a link on the top right corner to the Easter Seals Recreation Pinterest site. Just got to love that Piinterest!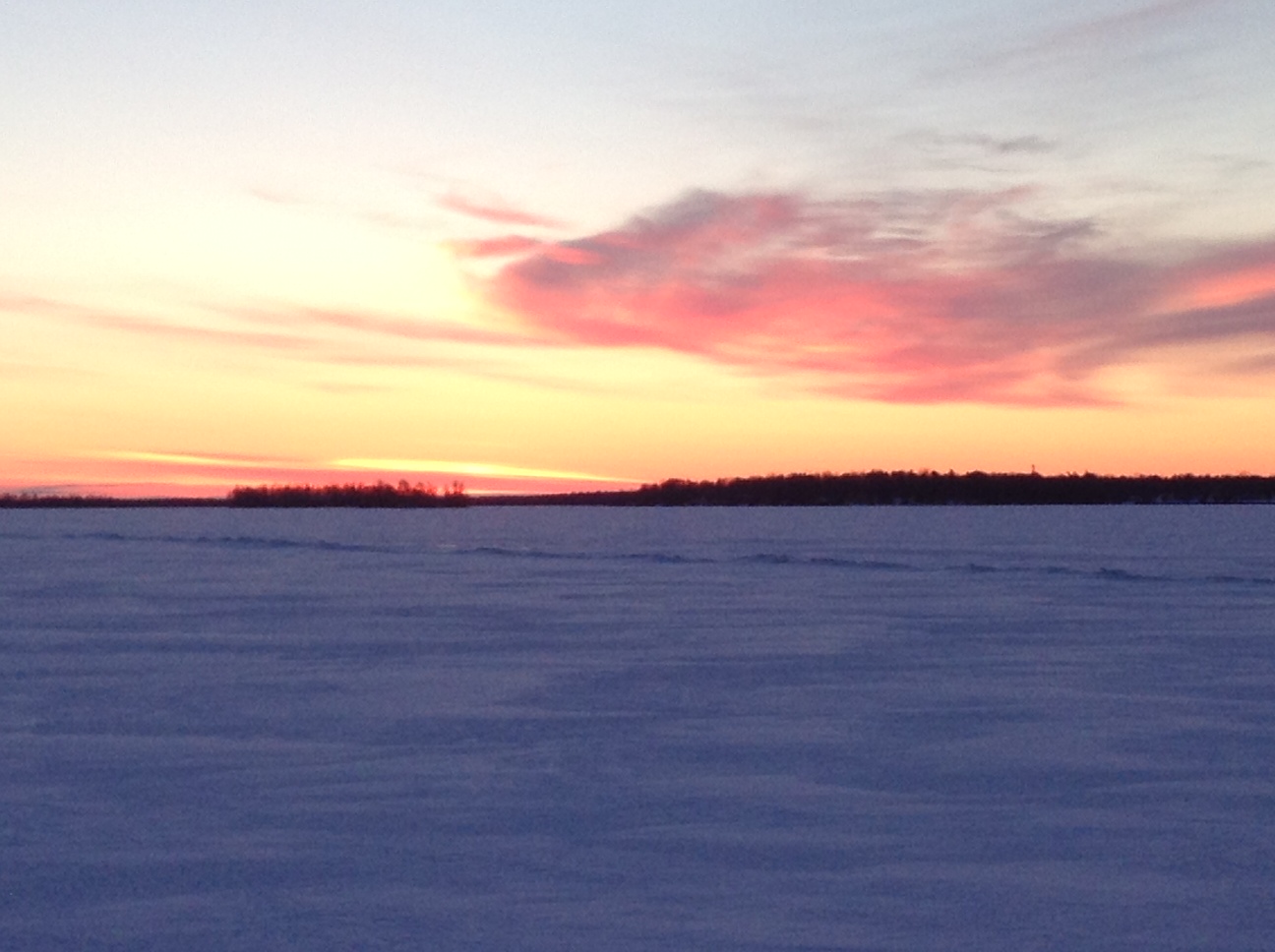 March 20, 2013
Today is the first day of Spring. Ninety-two days until Pre-Camp begins!
The L-team is now back from the Tri-State conference. As usual it was an amazing conference that gave us lots of great ideas for pre-camp and the summer in general. I think we now have some more Michael Brandwein followers. Our trip to Atlantic City started at Merrywood. It still felt very much like winter there. The lake was frozen solid and the fishing huts were still up. The ice was cracking and that is always a strange sound. I am heading back to Merrywood this weekend to attend a camp fair in Ottawa.
March 8, 2013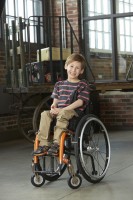 This is a great story about 2 brothers who won the Sports Illustrated Kids Winner.
Click here to watch.
Don't forget that the Kingston & Toronto Telethon for Easter Seals is on CBC this Sunday 9 am - 3 pm! Thanks to all of the Merrywood Staff past and present who are volunteering.
On Monday, the Leadership Team will be off to the Tri-State conference in Atlantic City. It is an amazing conference with well over 5000 attendees. We always get so many great ideas for the summer from this conference.
I almost forgot to mention that Tai Young is now one of the 2013 Provincial Ambassadors for Easter Seals Ontario. Click here to read his bio.
March 7, 2013
I thought I would share a great resource that Expert Online Training put together on how to include your camp experience on your resume to make it look professional and focus on all the great skills you will develop workingn at camp. Click here to see this resource.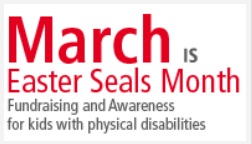 March 5, 2013
The Toronto Easter Seals Telethon will be on Sunday March 10th from 9:30 am - 3:00 pm on CBC. Tune in and support Easter Seals!
March 4, 2013
Thanks to all the Merrywood staff and alumnit who helped at the Easter Seals Telethon in Peterborough this past weekend. It was a great success.
Here is a recent article from the American Camps Association website called What to expect this summer with lots of suggestions especially for first time camp staff.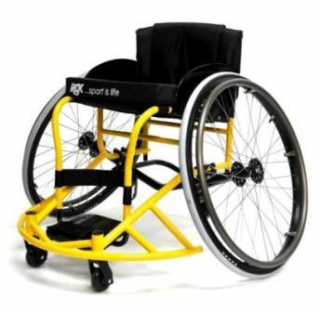 March 1, 2013
Lots of snow at Merrywood this week!
I had a great tour of the RGK wheelchair factory yesterday. It was amazing the new chairs are going to be amazing.
Have a nice weekend.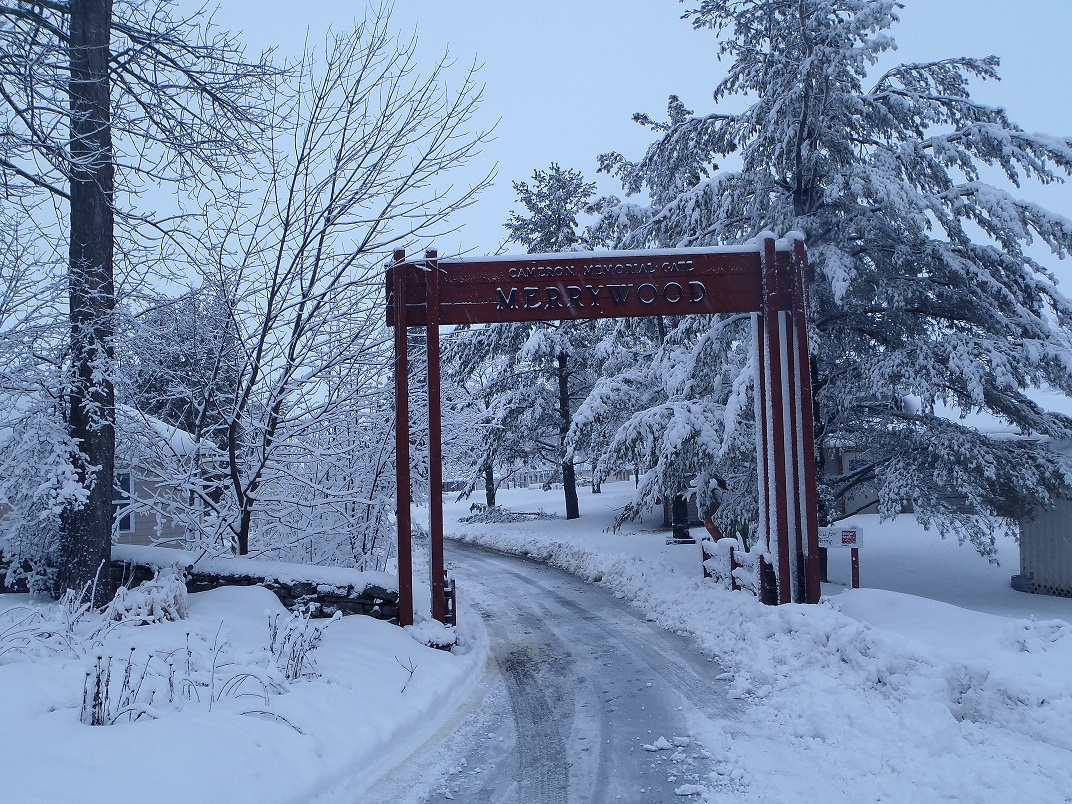 Main Gate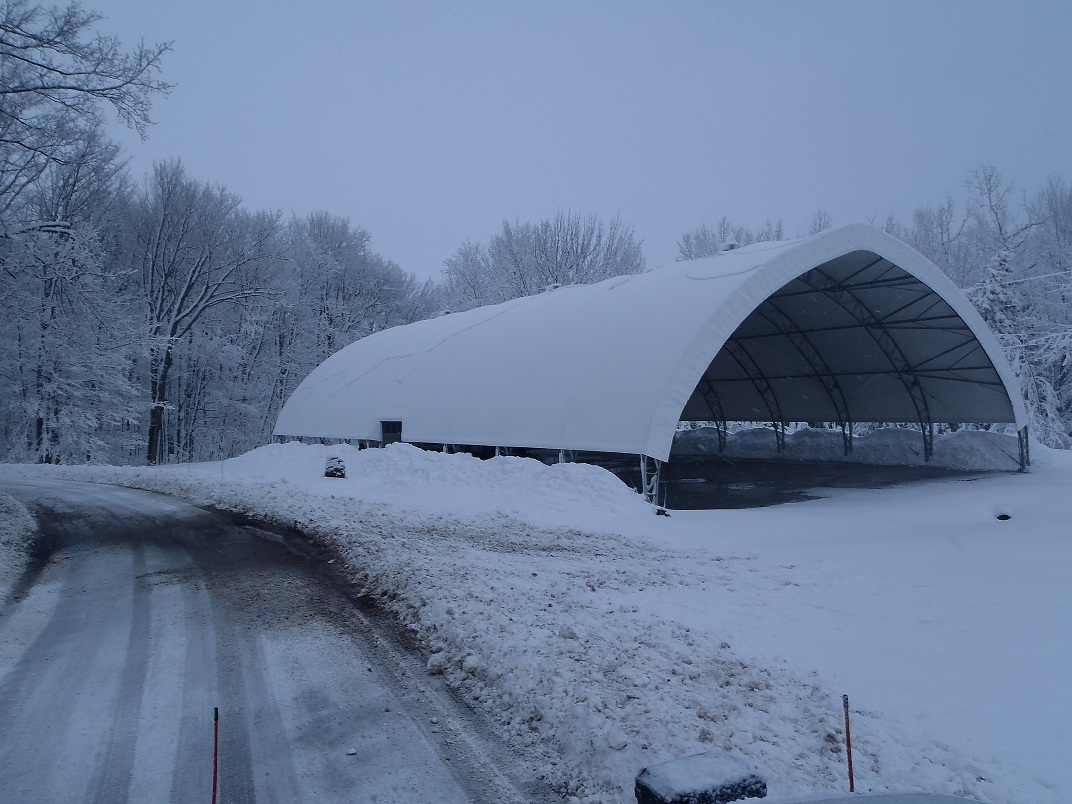 New sports pad.
Road out of the camp.
February 28, 2013
I am heading out in a few minutes to travel to Vaughen to purchase our new wheelchair basketball chairs. Very exciting! Thanks to a great donation we will have 8 all sport wheelchairs this summer to use on our new Sport 'Hot' Pad.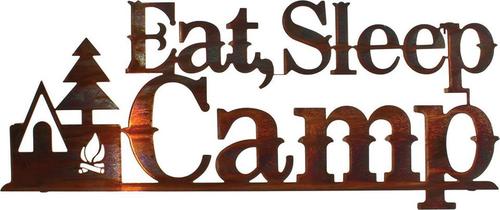 February 21, 2013
HELP WANTED! We are looking for volunteers to help out at the EASTER SEALS TELETHON on Sunday March 10th at the CBC Studios in Toronto between 8:30 am and 3:00 pm followed by an after party. You can be on TV, answering phones and make a difference! You will be helping kids with physical disabilities succeed - by helping to raise funds for whllechairs, walkers, lifts and fees too participate at a fully-accessible Easter Seals Camp. If interested, please e-mail Ana at asilva@easterseals.org.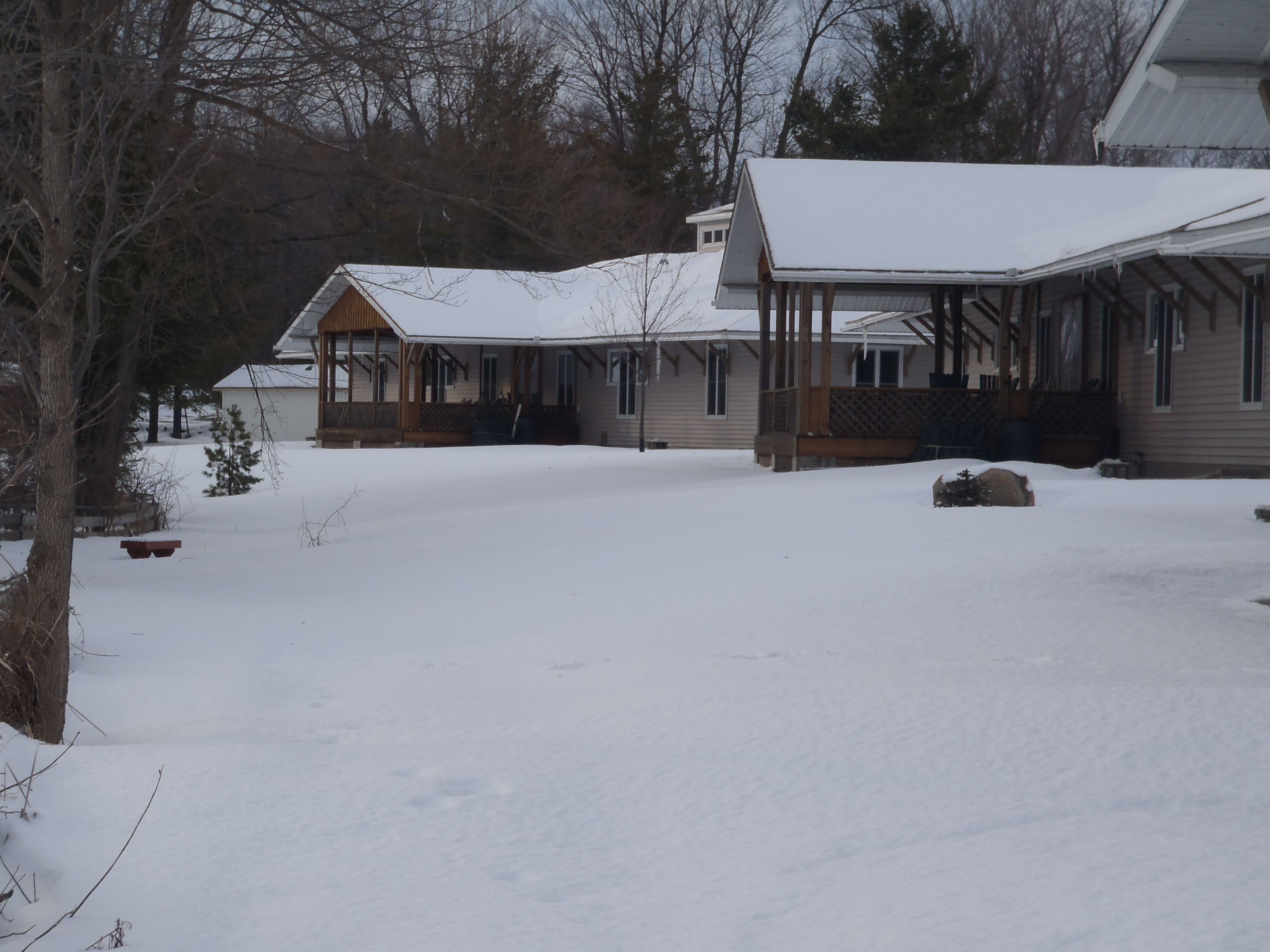 Feb 20, 2013 - Merrywood Camp. The back of the camper cabins.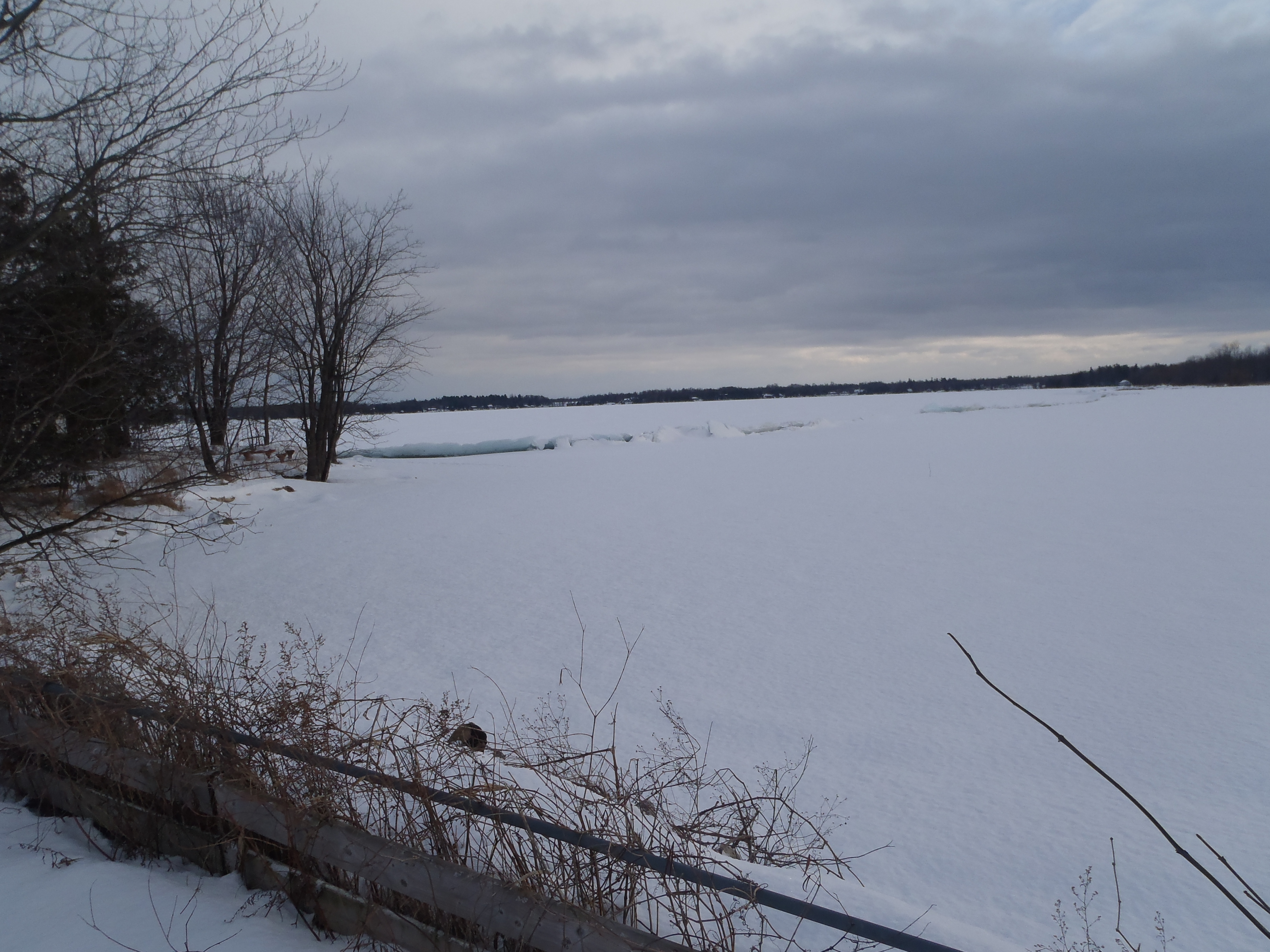 Feb 20, 2013 - A pressure crack in the ice off of the point be Loon's Nest.
Feb 20, 2013 - Fishing Huts on the lake. Picture taken from the Point.
February 20, 2013
I hope everyone on Reading Week is enjoying their 'break' whether in cold Canada or in a sunny climite.
HIring is going well.The L-team is doing lots of interviewing. There are some pretty amazing new staff hired. Thanks to so many of you who have referred your friends.
February 11, 2013
This week is Random Acts of Kindness week. Click here for more information. It has been a busy week of interviewing for the Leadership Team. It is so nice to see so many returning staff coming back, and lots of new staff too. It is shaping up to be a great year. We should have most of the positions filled in the next couple of weeks. Still looking for an out-tripper and 2 sailing specialist, so if you know anyone who would be interested in an of these positions, just have them contact me.
Poplum Lodge - the old dining hall and staff room upstairs.
February 5, 2013
It has been a busy couple of weeks. Last weekend I was at the Camp Fair at Holland Bloorview Kids Rehabilitation hospital. I saw a number of Merrywood Campers. They are all looking forward to coming back for another fun summer. All returning staff should have been contacted by now, many have already been interviewed and hired. Contract packages will begin to be mailed out next week. It has been fun speaking with everyone and catching up with them.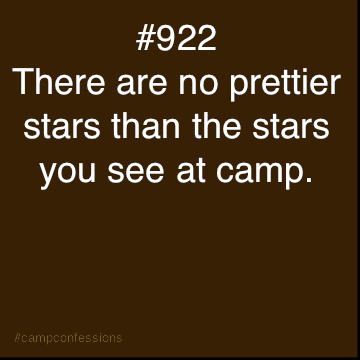 January 25, 2013
It was a great job fair at Queen's University this week. Lots of great potential staff. It .was also nice to see all of you that dropped by to say hi.
Thanks to everyone who has submitted an application for this upcoming summer. The Leadership Team has been hired (pending one confirmation). We will begin contacting everyone next week.
I have done a little bit of reshuffeling some of the L-Team positions. There is now a Waterfront Co-ordinator and a Special Events & Fun Co-ordinator who report directly to the Program Director. The Camp Administrator will have increased responsibilities and assist the Head Counsellor in overseaing all the Volunteers, PCA's and Peer Support Counsellors.
I hope everyone has a great weekend.
January 16, 2013
Returning staff deadline is January 25th!
Thanks to everyone who has already sent in their application to work at Merrywood this summer. I am currently interviewing all of the candidates for the Leadership Team positions. We will begin setting up interview times for all returning staff January 26th. So watch your e-mail.
On Janaury 22 I will be at the Queen's Job fair, so if you are in the area, stop by I would enjoy seeing you.
Then
and now.
January 9, 2013
I hope everyone has adjusted to being back at work/school, the first week back is always the hardest. As it is Merrywood's 65th Anniversary this year, I thought I would post some pictures from the past. Here is the first one.
Staff applications are coming in - don't forget the deadline for returning staff is Friday January 25.
January 3, 2013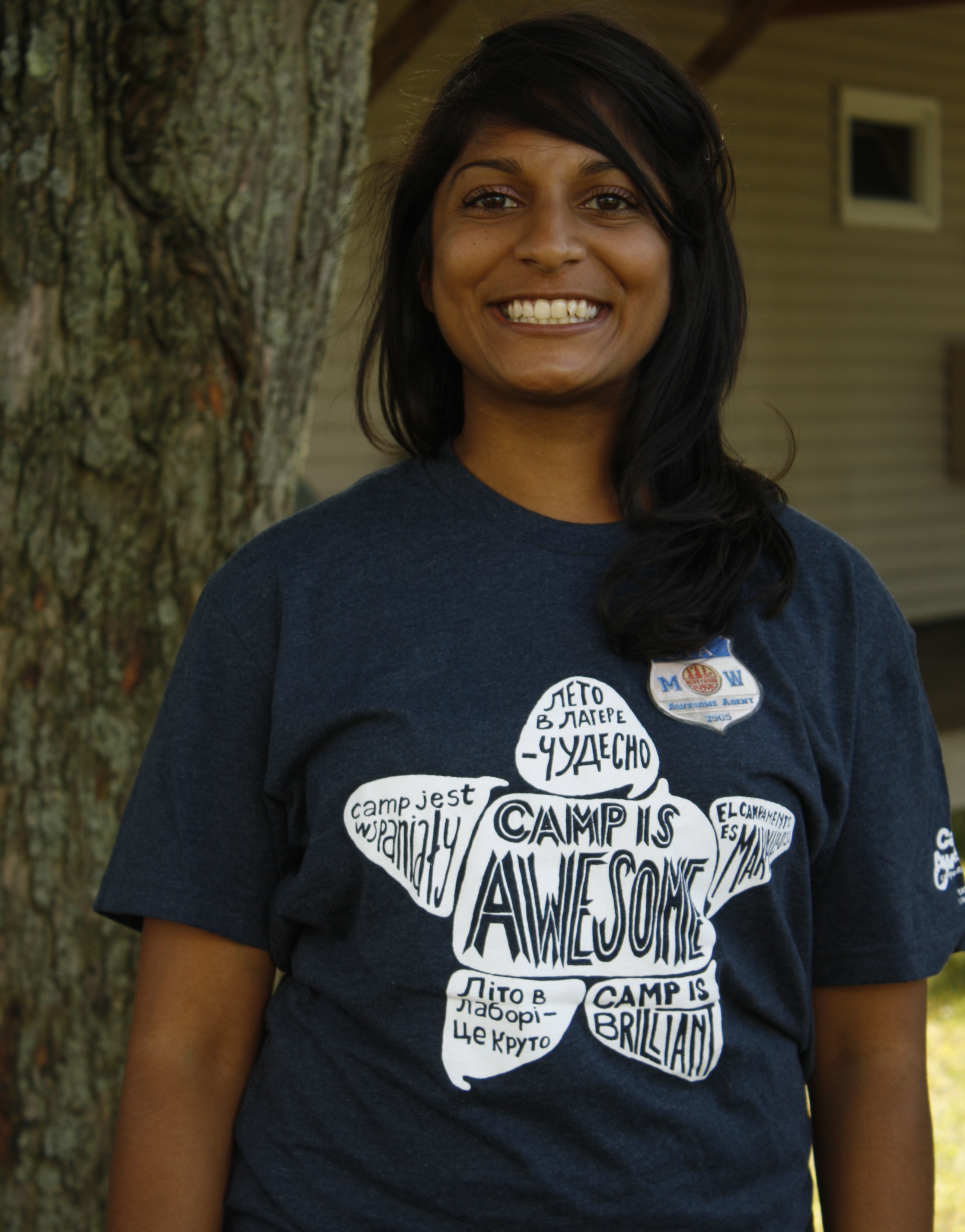 More good news Emma F (Charge Nurse) is now engaged to be married! Congratulations Emma.
I have added some new photo albums in the 'Pictures' folder. I am having some problems with this program, but hope to have it worked out soon.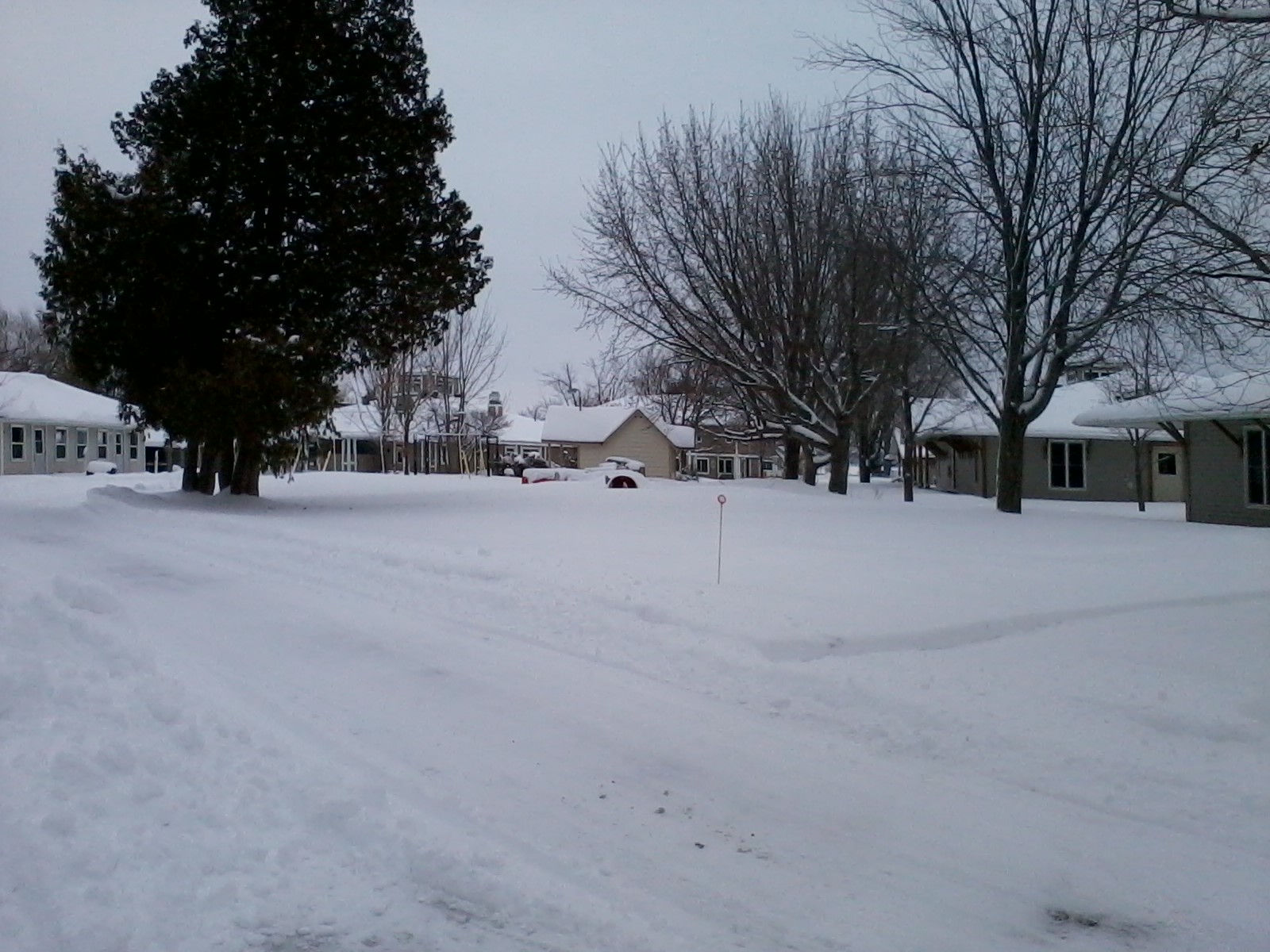 January 2, 2013
Happy New Year!
I hope everyone had a great holiday, although many of you will still be on holidays. My inbox was flooded witih both staff and camper applications. It looks like the sports Camp will be pretty popular this summer. There has been a lot of interest in it.
For those who have worked at Merrywood the past few summers will remember Heather Chrystie who camp to fill in for a short period in the Health Hut. She just had a baby boy December 29 named William. Both mom and William are doing well.
Although the MS Camp will not be returning to Merrywood this summer, the video that was produced last summer is now online. Lots of great pictures of many of the staff, campers and the camp. Click here to watch the video.
This year is the 65th Anniversary of Merrywood Camp. We will be celebrating the 65th anniversary during the Open House, Sunday June 23 from 1 - 4 p.m. All are welcome!sy
There has been lots of snow at camp. Jacques has been busy snowplowing much of the holidays.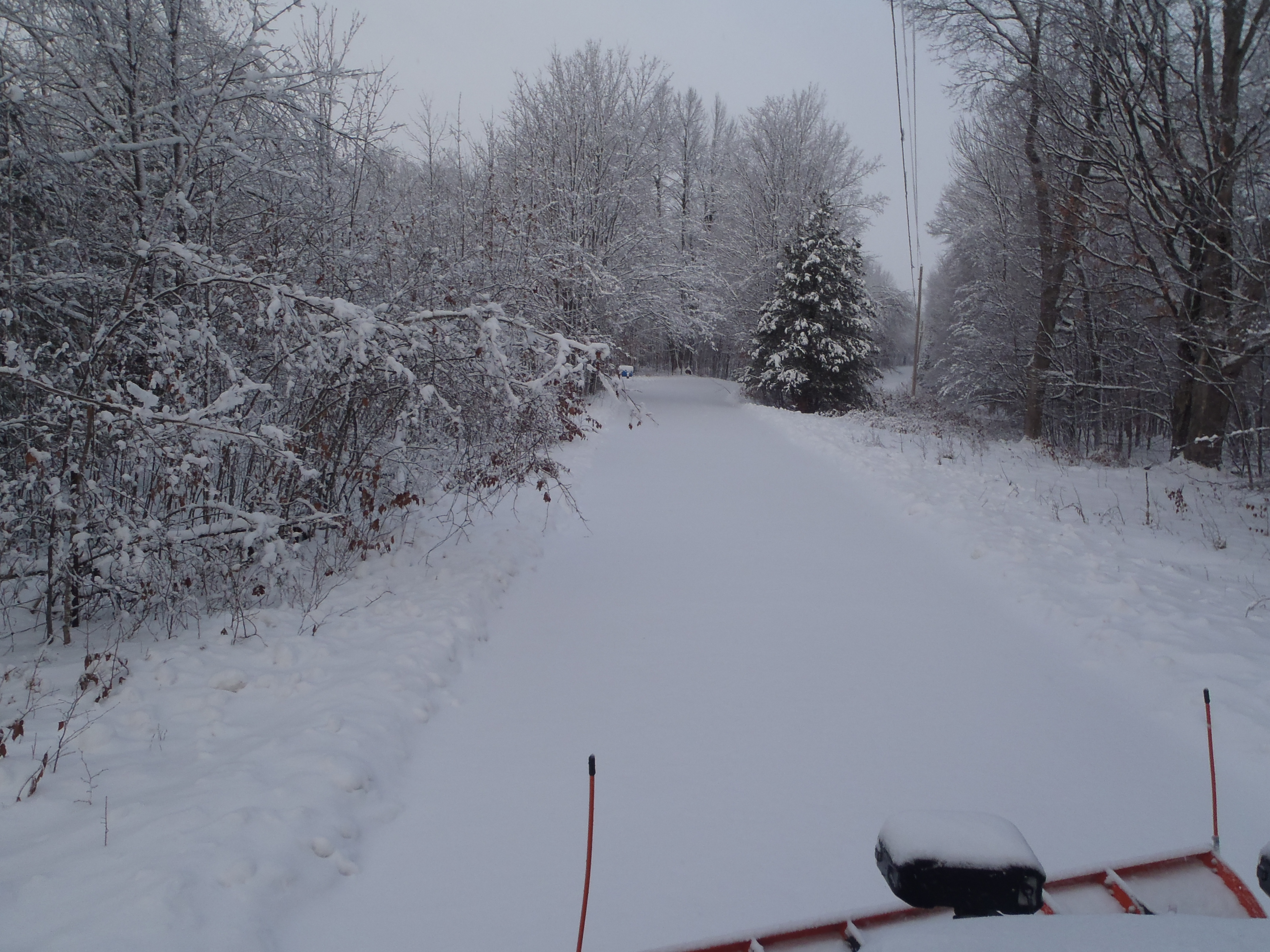 PREVIOUS POSTS HAVE BEEN MOVED TO 'OLD POSTS'