Photos can be found in the 'Pictures' Section.
December 21, 2012
I hope everyone has a lovely holiday with family and friends. The Easer Seals Ontario office is closed until January 3, 2013.
December 17, 2012
Staff applications are now available online: www.eastersealscamps.org. First staff application is in already!
December 14, 2012
I am back from my quick holiday to the German Christmas Markets. The markets are so much fun and really make it feel like Christmas. It was very cold in Europe and it snowed everyday.
This morning we packaged up all of the staff applications and they are now in the mail. They should reach most people early next week. The application package will also be available online at ww.eastersealscamps.org on December 17th. If you have time, check out the new website. Lots of new pictures and information.
If you have a friend who would make a great staff member, please refer them to the Easter Seals website.
November 29, 2012
Just thought I would post some new pictures of the 'Hot Pad'. The area around the pad has now been graded and will be seeded in the spring. The washrooms and storage shed will be completed in the spring too.
I received an e-mail today from a former camper who attended Merrywood back in the late 50's. He said he still has very fond memories of attending Merrywood. He has also kept all of the awards he received at camp! Just shows you how much those final awards mean to the campers.
This reaally is my last post before I head out on holidays. Back on December 12th.
November 28, 2012
Happy 90th Birthday Easter Seals Ontario!
November 27, 2012
I can't believe how quickly the fall is passing and the holiday season is approaching. Last weekends snow fall was a cold reminder that winter will be here soon. The application packages will go to the printers this week to be mailed out December 14th. Then the peace and quiet here in the office will be shattered and the fun will begin.
I have posted the 2013 dates on this website under dates if you are interested. Very similiar to last year.
I will be away on holidays until December 12, so there will not be any postings during that time.
I spoke to Jacques today and right now the contractor is in leveling the groud around the new 'Hot Pad' so everything will be ready to seed in the spring. The ice is beginning to form on the Rideau.
I liked this poster from Camp Confessions and I am sure all the Harry Potter fans will to.
Good luck to all those university/college students finishing up essays and preparing for your exams.
November 21, 2012
I just wanted to let everyone know that the MS Society has decided not to use Merrrywood Camp this summer, instead they will be holding the camp in Alberta this summer. It was a fun 6 years that the MS Camp used our facilities. A number of the orginal campers continued to return each year. I know we will miss seeing them this summer. To replace the MS Camp, Easter Seals has decided to offer a new and exciting program that wil utilize the new 'Hot Pad' (stay tuned). The Out-tripping Adventure Camp and Discovery Camp will continue to be offered.
November 15, 2012
I thought I had put a link to this article before, but apparently I didn't. This is an article written by Deb & Lee who came to camp this summer and ran the Sit Volleyball program. Click here to read the article.
November 12, 2012
Tomorrow is International wear your camp t-shirt day! Click here to view the link. If you submit a picture of yourself wearing your t-shirt to this site, they will make make a $5 donation to help the Sandy disaster relief fund.
Just a heads up - staff applications for the 2013 season will be mailed out December 14th and available online on December 17th .
The 2013 sites for the 4 day out-trips to Crotch Lake have been booked!
November 6, 2012
It is beginning to feel like winter outside; dark, grey and cold. Maybe this picture is a little optimistic but my countdown counter tells me it is only 226 days until the 2013 Pre-Camp begins.
Happy Halloween!

What crazy weather we have been having this past week. 'Sandy' didn't cause any damage at the camp which was nice. I hope everyone has a great Halloween and you don't get too wet.
October 22, 2012
If you or anyone you know is looking for a full time recreation position, Easter Seals Camp Horizon is looking for a full time Coordinator, Resources. Click here for more information.
I thought I would show you some pictures of Merrywood Camp getting ready for the winter. It won't be much longer before the snow starts to fall.
October 17, 2012
The new 'Hot Pad' is almost done. The cement has been poured and polished and the washroom & storage shed has been framed. It will certainly be a great spot to use for programs next summer! Landscaping around the pad will have to wait until the spring.
October 15, 2012
It is Global Handwashing Day. Don't forget to wash your hands!
I would like to thank everyone for doing the end of summer survey. Your feedback has been great. We will be implementing a number of your suggestions this upcoming summer.
I am busy working on the 2013 budget. It looks like the dates for the 2013 season will be similiar to 2012. Next year is Merrywood's 65th birthday so we will be having a fun birthday party this summer.
October 9, 2012
I hope everyone had a nice Thanksgiving weekend. I was up north at the family cottage and it certainly was very beautiful with all the leaves changing on the trees.
I was remiss in not celebrating the 50th anniversary of the James Bond series of movies.
This year is Easter Seals Ontarios 90th anniversary. In honour of this event, Easter Seals is posting 90 testimonials from various individuals connected to Easter Seals. There are a number of Merrywood mentions by campers and staff.
October 2, 2012
I was at Merrywood Camp last week watching the dome go up over the new sports 'Hot Pad'. It is going to be an amazing space to play sledge hockey, basketball and other fun games. Construction on the washrooms & storage shed is scheduled to begin today. The concrete for the pad will be poured this week if the weather is nice.
I hope everyone has a nice Thanksgiving!

September 27, 2012
I am heading off to Merrywood this afternoon. The cover for the 'hot pad' will be going on tomorrow. I will post some pictures on Monday.
I have e-mailed out the camp staff survey. We use the feedback we receive to make Merrywood camp even better!
September 24, 2012
Just heard from Jacques and the dome cover should be on by Friday. I can't wait to see it.
Mirjam Groen, Pottery Specialist, 2011 is heading off to Tanzania with Youth Challlenge International. She is required to do some fundraising, so it you would like to support her, here is the link Apparently there are still a number of volunteer positions available with YCI if anyone is looking for an international experience.
September 19, 2012
I am now back from holidays up in Sioux Lookout. It is such a beautiful part of Ontario. The trees have begun changing up there, so it really felt like fall. Now that I am back in the city, the tedious task of filing has begun.
Yesterday Jacques was in Toronto to pick up our new wheel chair accessible bus (or new to us). It will be a great addition to our 'fleet' of vehicles.
The new "Hot Pad" is well on its way to being built. The dome should be going up in the next week.
Here are some pictures:
If you didnt get a chance while you were at camp to sponsor Mattson & Suzanne, they are still looking for donations for Drop Zone. Here is a letter from Suzanne:
Hey Camp Friends!
Well folks, I am doing it again! And I'm bringing Mattson this time!
On September 24th, I will be "dropping" for Easter Seals kids! What does that mean, you may ask?! Well, I will be scaling down the side of a building over 18 stories high! I might even do it in high heels again! Check out my facebook for more pics of last year.
I am looking for donations to meet my goal of $1500. I have just a few weeks and I'm confident that I CAN do this! Any donation, big or small is very much appreciated, even the change that you can find in your couch! Got a $5? - Perfect! Pennies are going out of style, but I'll still take 'em!
All monies collected go to support programs for kids with physical disabilities. I am dropping specifically for Camp Merrywood, a specialized summer camp very dear to my heart, and coincidentally my summer-home since 2006! We strive to achieve an increased level of independence for all of our campers, and are able to do so thanks to the camp's accessibility, adapted equipment and highly trained staff.
Please read the information below and consider helping me to reach my goal in raising funds for Easter Seals' Kids!
Thanks and have a wonderful week!
Suzanne :)

August 29, 2012
Well another camping season has come and gone. It is hard to believe that it is over and that we are not just on our time off between sessions. It was an amazing summer. Fantastic staff, great campers and happy parents. Lots of positive feedback from both the campers and their families.
I would like to thank all of the staff and the many volunteers who helped make this summer such a success. Everyone worked so hard, through the heat and long days.
Enjoy the upcoming long weekend.

July 17, 2012
Joey, Max & Ira rode into Merrywood Camp yesterday evening on their way across Canada on their 8000km journey across Canada. All the campers from Session #2 were lining the road into camp to great them. The campers had been making signs to welcome them. Today they went out sailing with the GEAR-Up campers and had a blast. Follow their trip at www.8000km.ca All money raised goes to the sailing program at Merrywood. Have you dontated yet?
June 24, 2012
Today is OPEN HOUSE from 1 - 4, pm. Hope to see you there.
June 18, 2012
All of the programmers have now arrived at Merrywood! I have attached a picture of them being sprinkled with fairy dust by Peter Pan. This dust will help them plan some amazing programs this summer for our campers.
June 14, 2012
Via rail has a 50% off sale June 14 - 19 for travel up to September 30th.
June 13, 2012
The Out-trippers have arrived. They are now getting ready to head out tomorrow morning for a trip to Crotch Lake. Megan, one of our Health Care Assistant is here and Emma our Charge Nurse will be here tomorrow to begin to clean and set up the Health Hut for the summer, prior to the arrival of the rest of the nursing team.
We now have all of our nurses. Natasha will be joining us this summer for Session #2.
The picture above is of one of the many turtles that come into the camp to lay their eggs.
June 4, 2012
The Leadership Team is now at camp. It is pretty cold and rainy, but good weather for cleaning out the question mark room. The lake is very high, and the water is flooding the point. We are all heading to Ottawa on June 7 to celebrate the 90th anniversary of Easter Seals.
May 30, 2012
We had a great Leadership and Nursing training weekend at Woodeden. We are planning some fun things for pre-camp and the rest of the summer. I head to camp on Saturday. Can't believe where the time has gone. Still looking for a nurse for Session #2 - if you know any nurses or new grads that might be interested, please have them call me. Preparation for the new sports pad (to be called the 'Hot Pad' will begin in June with the removal of 'Merrywood Mountain'. The Kitchen staff have been assigned, Kathy will be returning as our Chef and Bridgette as our baker!
May 22, 2012
I hope everyone had a fun Victoria Day weekend. It was so beautiful out. The gardens at Merrywood have been planted and everything looks very nice. Jacques and his crew have been hard at work. Loon's Nest has a new floor, the path outside Maple & Pine has been widened and the Environment Building and Merrywood sign have been repainted just to mention a few things. This weekend the Leadership Team and Nurses have their training at Woodeden Camp.
May 17, 2012
Only 35 days until pre-camp starts!
I have sent everyone out the staff newsletter. If you didn't receive it, you can let me know or click here. Lots of information regarding what to bring, when to arrive, Open House, etc. I forgot to add April Haggart to the list. She is a counsellor and lives in Ottawa.
I am off this weekend to Merrywood Camp to plant the gardens for the summer. It should be a lovely weekend, hopefully the black flies are not out.yet!
Have a great Victoria Day weekend.
May 8, 2012
This past Saturday was a busy one. The Ontario Camps Association held their Health Care Workshop. It was a full day of sessions for camp nurses. I did a session all about skin rashes - pretty exciting. Camp Nurse Elaine was there too.
On Saturday night I attended the We Care Gala Ball. We Care is a charitiable arm of many in the food industry. For thirty years they have been funding Easter Seals camp programs across Canada. You can only imagine how great the food was. I saw many of our campers. Laura W. is now the We Care Ambassador, lucky her. I also found out that there will be a We Care day at Merrywood August 7. This is not your typical BBQ, it is an amazing event. It will be great to have so many people from different companies come and see the camp that they have supported for so long. Can't wait.
Looking for camp ideas, check out Pinterest. There are so many amazing ideas on that site.
May 3, 2012
Some exciting news for one of our staff members. Samantha Smith will be going to the Olympics representing Canda in Tranpoline. Unfortunately this means she won't be able to work at camp this summer. We all wish her the best.
Are you looking for some exciting reading? How about checking out the May/June edition of the Camping Magazine? http://www.acacamps.org/campmag/1205 Lots of great articles written by all the top people in the camping field.
May 1, 2012
Wear your camp t-shirt today! Melissa Moor (Cabin Leader) on the right and Jennifer Hall (out-tripper) & Harley in their camp t-shirts.
April 30, 2012
Tomorrow is May 1 - Wear your Camp Shirt day! Send me a picture of you wearing your t-shirt and I will post them.
I am still looking for a nurse (RN/RPN) for Session #2 (July 14 - July 25). If you know anyone who would be interested have them contact me.
As the start of camp quickly approches, I am getting everything ready - the t-shirts have been ordered, the Staff Resource Manual will go to print at the end of this week, nursing supplies need to be ordered and staff training will be taking place.
Joey and his friends will begin their cross Canada bike ride May 15th.
What an exciting time of year.
April 23, 2012
Only 1 more week left before the t-shirt order is placed. Contact me with your order.
May 1st is wear your camp t-shirt day. Wear your t-shirt, take a picture and I will post it.
Also fast approaching is the start of Joey Carson and his friends 8000km bike trip across Canada in support of Easter Seals Ontario. www.8000km.ca All funds raised will go toward purchasing a new sailboat for Merrywood Camp. Hopefully they will be able to stop by Merrywood on their way to the east coast.
April 17, 2012
I think the tech peoplehave the Expert Online Training working again.You should be receiving something from it very soon. I am sorry about all the confusion.
I have been updating the informaiton page as I am finding tons of great camp resources online. Many come complete with program ideas (Hint to programmers) and even Youtube videos.
April 12, 2012
First I must apologize for all the problems with the Expert online training videos. I am working with the company to fix the error. Once it is up and working again, I will resend it. They are very good with lots of important information in them.
Here is some goood news. Thanks to a very generous donor, Easter Seals now has the funds to build a covered sports pad where the campers and staff will be able to play sledge hockey, basketball, etc. It will look something like the Woodeden pad below, but with a sun cover over it. Building will begin in the fall and it will be ready to go for the 2013 camping season. It wil be built up by the current staff parking lot.
Have you thought how you are getting to camp? Right now Via Rail has a 50% seat sale. The one way fare is $66 from Toronto to Smiths Falls. Offer ends April 17th.
April 9, 2012
I am now back from holidays ready for the start of a very busy season. Only 73 days until pre-camp starts. Thanks everyone for their t-shirt order. Remember the deadline for ordering is April 30.
I will be soon sending you an e-mail with a link to a couple of videos that will help prepare you for this upcoming summer. Kim Vallieres, the new camp director at Woodeden Camp and I have teamed up together to allow us to choose training videos that are related to your job at camp.
All of our positions have been filled (just waiting for final confirmation for Kayaking and a 10 day nurse). I think we have an amazing team this year.
March 27, 2012
I was at a Health Care Job Fair on Sunday & Monday in Toronto and had the opportunity to meet a number of former staff, that was a nice surprise. I will begin interviews for the final nursing spot (for Session #2) shortly. Due to a cancellation, we are currently looking for a Lifeguard with kayaking experience.
I have posted the information about the t-shirts in the information section above.Check the t-shirts out, they are pretty nice.
I am off to Woodeden Camp tomorrow for a couple of days. Jacques is coming too, and we will pick up the Woodeden sailboats and bring them to Merrywood. The motor boat will follow shortly. I am away on holidays negt week, but will be back in the office April 9th.
March 23, 2012
I found this great website with some pretty funny camp quotes: http://summercampconfessions.tumblr.com/archive
A couple of examples are above. I am sure you will find at least one that you can relate to.
This year we found a fun t-shirt design and thought it might be nice if staff could pre-order the t-shirt and have it at camp when they arrived. On TuesdayI will post the new design, price and details, stay tuned!
March 20, 2012
Back from an amazing conference. Every session I went to I learned so much. Can't wait for the summer to start to put some of these ideas into practice.
The picture above is of the Leadership Team at the beach in Atlantic City (back row: Mattson & Emily, front row: Max, Suzanne and Barb). The picture on the right is at the keynote speaker, Merrywood's photo submission is on the screen.

March 12, 2012
Today the Leadership Team heads off to the Tri-State conference in Atlantic City. It is an amazing conference with over 5000 participants. It is the largest camp conference in the world. Mattson & Max will finally get a chance to meet and see Michael Brandwein in action.
For those on March Break, enjoy your week and this lovely weather.
Here is a great value of camp video: http://www.youtube.com/watch?v=jwWw8sPml4g&sns=em
March 7, 2012
Last night I attended the opening of the Canon Photosensitive Kids that Can exhibit at the Brookfield Place in Toronto. The Lieutenant Governor General, David Onley opened the exhibit. He also visited Merrywood a few years ago. It is an amazing exhibit If you are in Toronto in the next 2 weeks, you should see it. If you can't make it, you can see all the videos and photographs on line at: http://eastersealskids.com/easter-seals-gallery.php
March 3, 2012
All of the 2012 Merrywood Camp program, cabin leaders & program staff positions are now full!
February 29, 2012
Happy Leap Year!
Today is also Rare Disorder Day http://www.rarediseaseday.org/
February 24, 2012
This year the Easter Seals Teleton in Toronto is being held April 1. The organizers are looking for a couple of people to be attendants for the day. If anyone is interested in being an attendant, please let me know via e-mail at(bgray@easterseals.org). It is a fun day and a chance to see many of the Easter Seals children and their families.
Also check out the new Easter Seals media ads. They are great and provocative: http://www.easterseals.org/about-us/media
February 23, 2012
Just uploaded some pictures and videos to the Picture section.
February 21, 2012
Just so you know, the Photosensitive 'Kids who Can' exhibit will be on for a couple of weeks in case you are unable to make the opening on March 6.
One of Merrywood's alumni staff, Joes Carson and his friends are biking across Canada for Easter Seals. Here is their website: www.8000km.ca If you get a chance, please support them in their fundraiser to purchase a new sailboat for Merrywood.
February 16, 2012
Last summer at camp Photosensitive came and took pictures as well they made a video. This did this at every Easter Seals Camp across Canada. On March 6, 2012 at 6:30 pm they are opening the 'Kids who Can' exhibit in Toronto at the Allen Lambert Galleria, Brookfield Pl, 181 Bay St, Toronto. Here is the link to the exhibit. http://eastersealskids.com/
February 15, 2012
Here is an old video, from the 50's of a typical day at Merrywood-on-the Rideau. Thanks Emily for putting in up on YouTube. http://www.youtube.com/watch?v=SVM5yAOpPQc&feature=youtu.be
February 14, 2012
Happy Valentines Day!
February 13, 2012
Just to let everyone know that contracts are slowly going out. Seem to be a lot of interuptions.
Peter Katz is looking for some help.
hey Merrywood family,
I wanted to thank you all again from the bottom of my heart for all of your contributions to the cupcakes for Hillary fund. I'm still so amazed that this summer two kids will be walking through those gates in Hillary's memory.
I have another favour to ask of you (as if I haven't asked enough already ...). Very recently after Hillary passed away, I sent a message to Peter Katz; we all love him, and Hillary was no different. I knew it was a long shot, but I asked him if it would be possible for him to write Hillary a song. I thought what a wonderful gift it would be for all that knew Hillary and a wonderful gift to her Merrywood family, us. To my surprise, he got back to me rather promptly and said yes!
This is where you come in Merrywood. Peter wants anyone who can to write stories of Hillary, memories, inside jokes, anything we can think of, because he wants the song to be as true to her as possible, which I think is amazing. Below I will copy the directions that he sent to me to give out, so you know exactly what to do.
I will sadly not be joining you all this summer at that amazing place, though I wish I was, but I will be thinking of all of you every day and I hope this summer is just as amazing as it was last year.
Thanks everyone! I miss you all.
---
Hi there,
First of all, my sincerest condolences for your loss; I was deeply saddened to hear about Hillary's passing. As a songwriter, my goal is to make music that helps people in their lives, that is a companion for life's many ups and downs. I received a very nice email from Sarah asking if I would be willing to write a song to help remember Hillary. I was incredibly touched to be asked to do this, but I need your help as I unfortunately didn't have the pleasure of knowing Hillary as well as you did. If you're up for it, then I'm asking you to please write me a letter about any stories, favourite memories, general feelings about how you're coping, whatever comes. The more information I have and the more personal you're willing to make it, the better justice I'll be able to do to Hillary's memory. There are a few guidelines though that I have, and it's very important that you follow them. Here they are:
1. There is to be no editing whatsoever. I don't care about grammar, sentence structure, formatting anything. Nothing should be deleted, please. This is for my eyes only, it's private, confidential and you can trust that I will be the only person to read it (and without any judgment whatsoever)
2. Only sit down to write the letter when you have a dedicated moment without distraction. Once you find that time, just start writing and don't think about it. Don't let your fingers stop typing or your hand stop writing. Just write, don't stop, don't edit, don't correct, don't review or change a single word. Don't stop for a moment, just let it come out and don't stop, forget about how you've been taught to write, just write.
3. Once you've written all that you think that you can write, that exact moment is when you should push yourself and write a little (or a lot) more. Then once you've completely completely written it all out, just send it to me. Again, no editing or fixing or any changes please, that's very important
4. Thank you in advance for sharing this with me. As I said, I take your trust in opening up to me very seriously. I will do my best to honour what you've shared.
You can email me at hellopeter@peterkatz.com, or if you've written it out by hand, please send to P.O. Box 65006, RPO Chester, Toronto, ON, M4K 3Z2
thanks and take care, Peter (Katz)
February 10, 2012
Sorry for not updating the staff list. There has been technical problems with the website and I had to wait for Lycos to correct it. Seems to be back up and working again.
Peter Katz has been nominated for a Juno for his CD Peter Katz and Friends: Live at the Music Gallery. Congratulations Peter!
Have a great weekend.
February 6, 2012
Really like this quote:
"If I have to be remembered for something, I want it remembered that I really liked children and was a good camp counsellor."
Francis Ford Coppola, film director
February 3, 2012
What a crazy week it has been. I was in Kingston yesterday for the kick off to the Telethon there. I saw lots of our campers. Chad L the local ambassador did a great speech about how he was scared to go to camp and had not wanted to go. Last year was his first year and he said he had a blast. He can't wait to return!
The LIT program is full and GEAR-UP is almost full too.
All of the returning staff applications are in the hands of the Leadership Team. They should have contacted everyone by the end of next week.
Here is a link for informaiton about Cannon's Photosensitive exhibit that will be in Toronto March 6 to coincide with Easter Seals month. This is what the photographer and videographer were filming at Merrywood and all Easter Seals Camps across Canada this summer.
January 26, 20112
Track3 is looking for volunteers for their ski program. Visit their website for more information: www.track3.org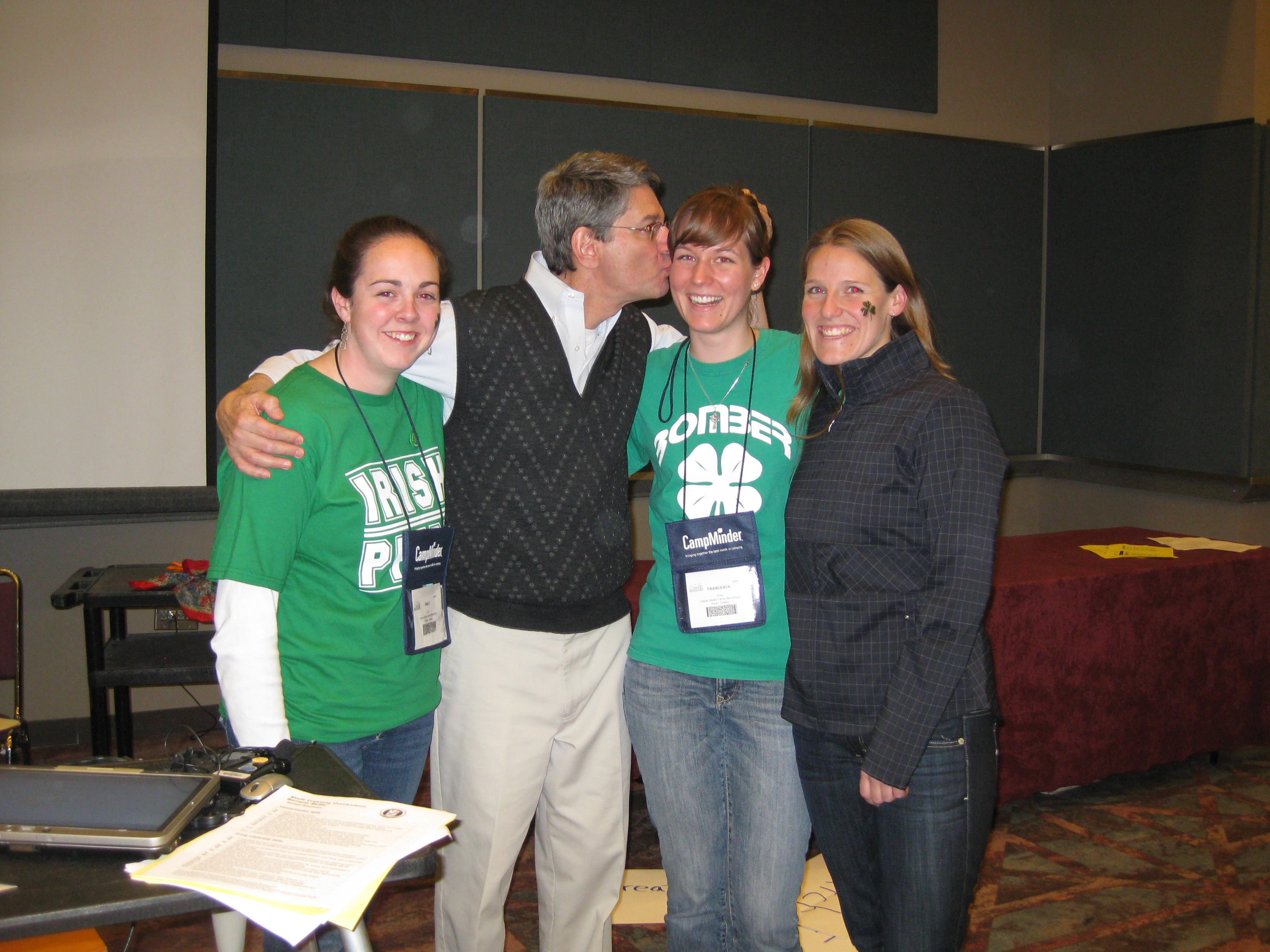 Michael Brandwein and the LT at the Tri-State conference
January 25, 2012
Had a great day at Queen's University yesterday. Lots of very interested potential staff. I am off this afternoon to the OCA Annual Conference for their AGM, Special Needs Dinner and to hear Michael Brandwein speak. Sould be a great evening.
The Leadership Team is almost in place. There were lots of excellent candidates applied and it was a very difficult decision. Nice to think that there are so many talented Merrywood staff and alumni out there!
Don't forget to check the 2012 camp staff list for updates!
January 23, 2012
I am off to the Queen's job fair tomorrow in Grant Hall from 1030 - 3:30. If you are in the area, please stop by.
January 13, 2012
Easter Seals Nova Scotia is currently looking for a full time Camp Director at Camp Tidnish. If you or anyone you know is interested, here is the link: http://www.ccamping.org/_customelements/uploadedResources/CampTindishDirectorJobPosting.pdf Application deadline is January 25.
January 12, 2012
Just back from a couple of days at Woodeden Camp where we have been interviewing potential candidates for the Camp Director and Site Manager position. It felt like spriing when we were there.
Just went onto the website and saw that $2,930.00 has been raised - pretty amazing. Thanks so much Sarah for getting this going. Some of you might have noticed that even Peter Katz has made a donation.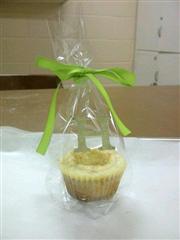 January 7, 2012
Sarah has started a fundraiser. All proceeds will go to Merrywood Camp in memory of Hillary. Check out the link: http://my.e2rm.com/personalPage.aspx?registrationID=1330757
January 5, 2012
Just heard that Hillary's family has dontated her organs. It is nice to think that with her tragic death, others will live.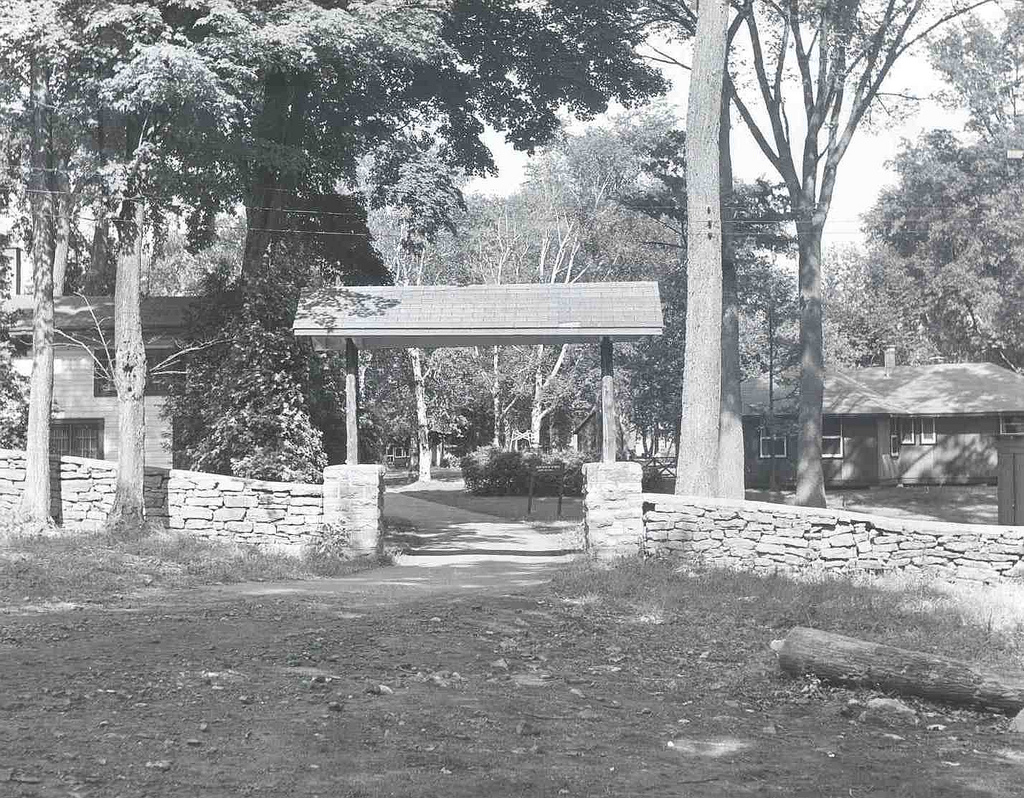 Original entrance to Merrywood-on-the-Rideau Camp
January 4, 2012
Happy New Year! I hope everyone had a wonderful holiday. Some of you are sttill lucky enough to still be on holidays.
This year Easter Seals Ontario is celebrating its 90th year of providing services to children with physical disabilities. It is also the 75th year that they have run camping programs. I recently found some old film of Merrywood-on-the-Rideau (former name) from 1950. It was fun to watch what they did during the day. All of the staff wore white clothes. I can't imagine how dirty everyone would be if we wore white every day.
Just a reminder: January 6th is the deadline for applications for a Leadership Team position.
For those staff who worked at Family Camp last summer, here is an article about Emma Miles who died December 12th.
3 p.m. more sad news....
I just heard that Hillary Afelskie (a counsellor in 2011) just died in a car accident on her way back to Laurentian University after the holidays. I had just received her application to work at Merrywood again in 2012. She will be greatly missed. Here is a link to the newspaper article
http://www.yourottawaregion.com/news/article/1273960--three-students-die-in-crash</span>
December 23, 2011
This is the last day before the holidays. Our office will be closed until January 3, 2012.
I hope everyone has a great holiday and a chance to get together with friends and family.
Here is one of my favourite Christmas quotes:
"And the Grinch, with his Grinch-feet ice cold in the snow, stood puzzling and puzzling, how could it be so? If came without ribbons. It came without tags. It came without packages, boxes or bags. And he puzzled and puzzled 'till his puzzler was sore. Then the Grinch though of something he hadn't before. What if Christmas, he though, doesn't come from a store? What if Christmas, perhaps, means a little bit more?" Dr Seuss.
December 20, 2011
7 camper and 2 staff applications have arrived already!
December 19, 2011
We spent this morning stuffing envelopes with all of the applicaitons for the 2012 camping season. Canada Post has now picked them up and they will be arriving in your mailbox soon. For those that can't wait - the application package is available online at www.eastersealscamps.org.
December 15, 2011
Yesterday the office had a gingerbread house contest. Here is one of the winners above titled 'Magic Camp'.
I have some sad news to share, Emma Miles from Family Camp died this week. Our thoughts are with her family at this very sad time.
December 6, 2011
There has been some snow flakes in and around Toronto, so it is beginning to feel like the holiday season. The application packages for the 2012 summer season will be avfailable online December 19th and put into the mail that day. It is an exciting time in the recreation department, a bit like the calm before the storm.
Unfortunately our long time Camp Director/Site Manager at Woodeden Camp, Cory Nelson is leaving Easter Seals to join the OPP. Easter Seals Ontario is now looking for a full time Site Manager and a full time Camp Director. If you know anyone, feel free to have them submit their resume with cover letter to the HR Department at Easter Seals Ontario.
November 28, 2011
Today Easter Seals Ontario is celebrating its 89th year of providing services to children and youth who have a physical disability.
Check out Chad Lees letter about his first time at Merrywood! http://www.easterseals.org/news/chad-lees-my-camp-merrywood-experience
November 24, 2011
Just back from a very relaxing holiday in Florida. The weather was amazing!
You might want to check out the video that Matt made to promote camp - http://www.youtube.com/watch?v=LZ7Ni8MiorY
I also just received information about a New Outdoor Education Dual Cerficate in teaching offered in BC. Here is the link for more information: SFU www.educ.sfu.ca/teachersed/pdp.html and TRU ww.tru.ca/toursim/adventure.html
November 14, 2011
I am back from Alberta. What an amazing experience to see another Easter Seals Camp and to spend time with other Easter Seals Directors. We had a great time, I learned lots. The mountains are amazing. We spent Thursday in Kananaskis Country. They have done some amazing things to make the park accessible. We visited the William Watson Lodge - a facility for people who have a disability to stay and enjoy nature, the Tim Hortons Children's Ranch and the big YMCA Camp - Chief Hector. I also spent a day in Banff.
Early morning frost - November 2011
November 8, 2011
Tomorrow I head off to Alberta for an Easter Seals Camp Director retreat. It is always so much fun to gett together with everyone and talk camp. So many times I will get such great ideas that we can implement at Merrywood. I have heard it is quite cold there right now with the possibility of snow.
Holly & I are just putting the finishing touches on the 2012 application packages, getting the mailing ready to go. The Easter Seals Board meets on Nov 29th and once the 2012 budget is approved, we can start sending out the applications. They sould be up mid-December. I have a meeting with the MS Society at the end of the month, so we will be able to confirm the dates for that camp then. The dates for 2012 will be very similiar to this past summer.
Merrywood Camp in the fall.
October 24, 2011
It has been a busy time here in the Provincial Office as we are working on the 2012 budget and getting the application packages ready to put up on the website and to send out in the mail mid-December. I am also very excited about the opportunity I have to go to Easter Seals Camp Horizon in Alberta early November. I have always wanted to visit that site as I have heard so much about it. I was sent this blog posting about working at a camp, I thought you might enjoy reading it. Here is the link:
http://www.usatodayeducate.com/staging/index.php/blog/opinion-skip-the-internship-go-to-camp#.TqVkC-HDEKM.email
October 12, 2011
I hope everyone had a great Thanksgiving weekend and had an opportunity to get out and enjoy the beautiful weekend. Thanks to everyone who completed the survey. You have given us some terrific ideas for the 2012 camping season.
October 15th is Global Handwashing day. Don't forget to wash your hands!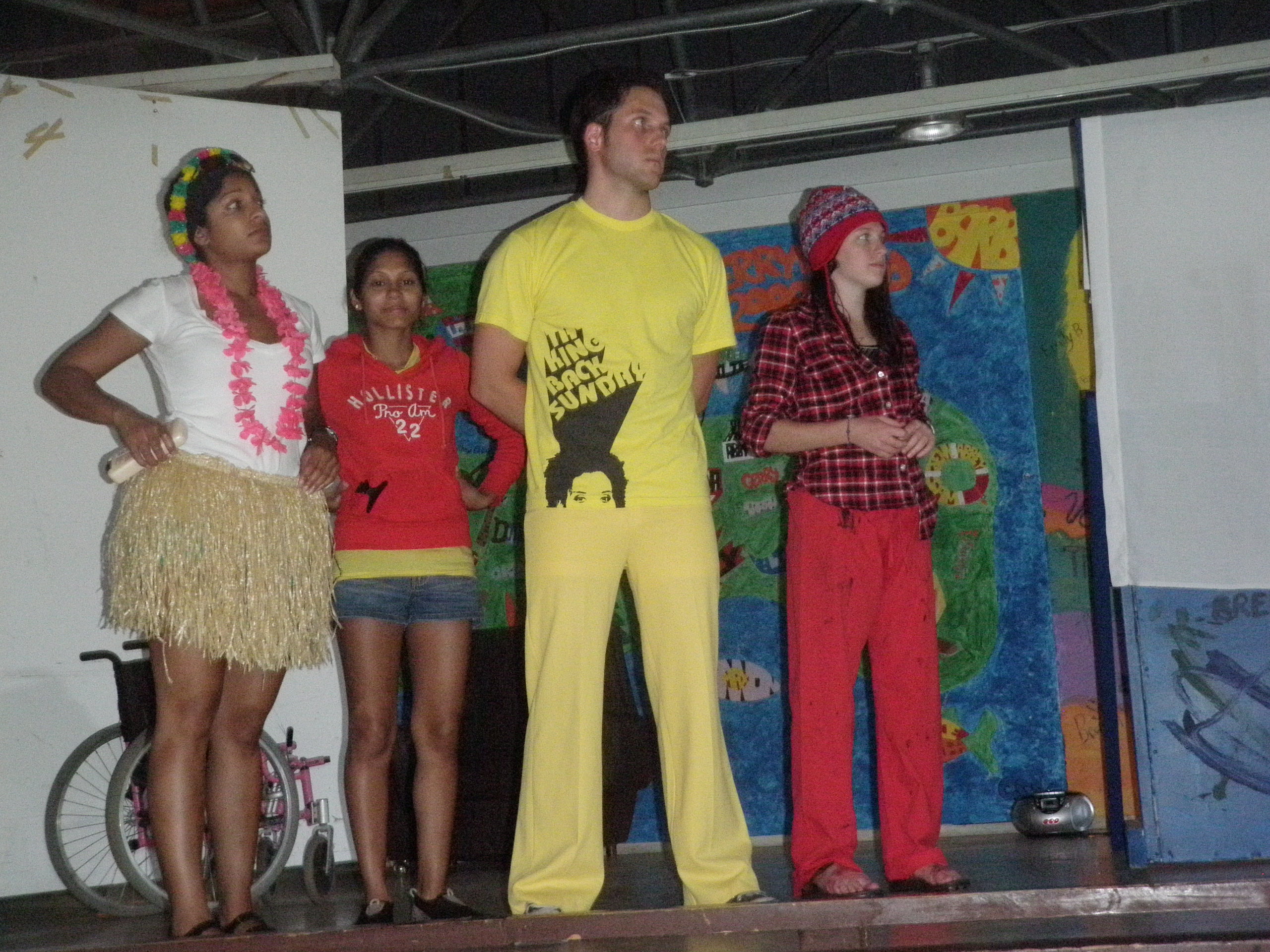 October 4, 2011
I hope everyone has a great Thanksgiving weekend where ever you are. If you get a chance, don't forget to do the staff survey. There has been lots of great ideas and suggestitons for the 2012 season already. Thanks to all who have completed the survey.
Thought I would share with you a picture of Suzanne (dressed as Bat women of course) participating in the Drop Zone for Easter Seals in Ottawa last week.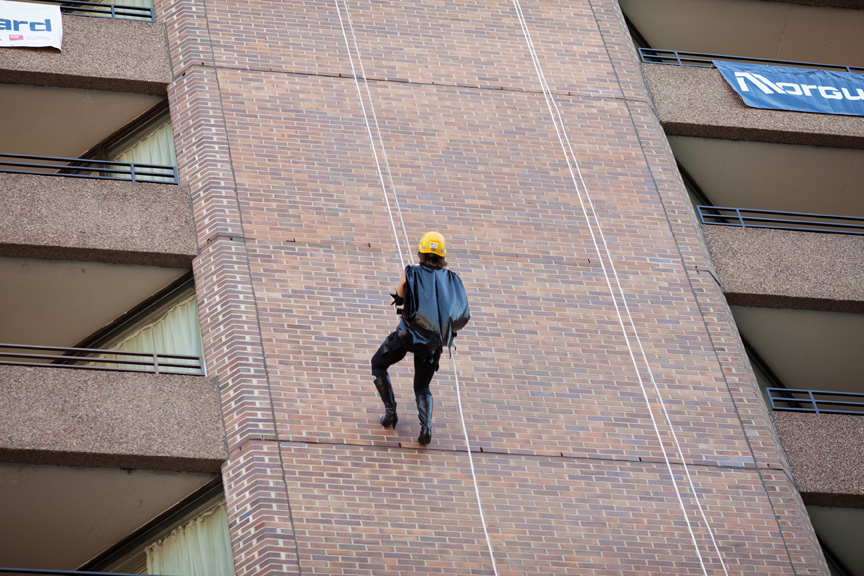 September 26, 2011
I have put up most of Kat and my photographs from this summer. If you did not receive a link (via e-mail) please contact me and I can send you out a new one again.
I am wrapping up the 2011 season - lots of stats. Just finished all the accident and unusual occurance formss As you would all know, we were full this summer. We were at 102% capacity. For the first time in many years, Session #1 was full.
September 20, 2011
= just received an e-mail from Holland Bloorview Children's Rehab Centre. They are currently desperate for lilfeguards to teach their weekend swimming program. If you are interested, or know someone who would be, please have them contact Louise at
September 14, 2011
This position has been filled.
I have had a request from a school (private) for someone to be an attendant on a class trip to Temagami September 24 - 30 for a boy with CP who is in Grade 9. He walks with forearm crutches. If interested, please let me know ASAP at bgray@easterseals.org and I will give you the contact information.
September 1, 2011
The summer is now over, the camp is almost clean (according to Jacques) and the campers and staff are preparing to start school again and I am heading off on vacation. I can't believe how fast 3 months have gone by. We had a great summer - the staff were amazing, there were lots of great programs (who will ever forget the Lady Gaga EP), the theme dinners we had each Saturday night back, the all staff out-trip to the locks, having Peter Katz do a concert for us then come to our campfire, our amazing Volunteers, the evolution of dance routine and the great food that Kathy and her team made for us each day are just some of the highlights of the 2011 camping season.
Suzanne is participating in the Easter Seals Drop Zone event in Ottawa. If you are interested you can give a donation. Here is the link: http://my.e2rm.com/personalPage.aspx?SID=3102786&Lang=en-CA
I was at a meeting today to beginplanning for the 2012 season camping season. I have actually had an application come in for next year already!
I hope ever everyone has a great Labour Day weekend.
August 20, 2011
Sorry for the long delay in posting to this site. It has been an amazing summer that has flown by. Our last session Family Camp is starting on Monday. Strange to think we will be all done a week today. MS Camp was a huge success this year. Lots of new things - a leadership component, an outtrip to Murphy's Point Provincial Park and Aaron the drummer from Billy Talent was here too. This year we had 15 Discovery Campers, all but one were first timers. The Out-tripping Adventure Camp had a blast in Algonquin Park.
August 1, 2011
Where is the summer going? Yesterday was arrival day for Session #3. It was a busy day as we welcomed 74 campers and LIT to camp. Session #2 was a great camp. We had the hot weather, but with all programs becoming water programs we were all able to stay cool Last session we had the OPP dogs back visiting us as well as the Smiths Falls Rotary Club BBQ. This session we have the Strathcona Legion BBQ and the Kempville Pizza dinner. A group of IBM workers are coming to volunteer and the local CIBC manager is coming to speak to the LIT about managing their money. It will be a busy session!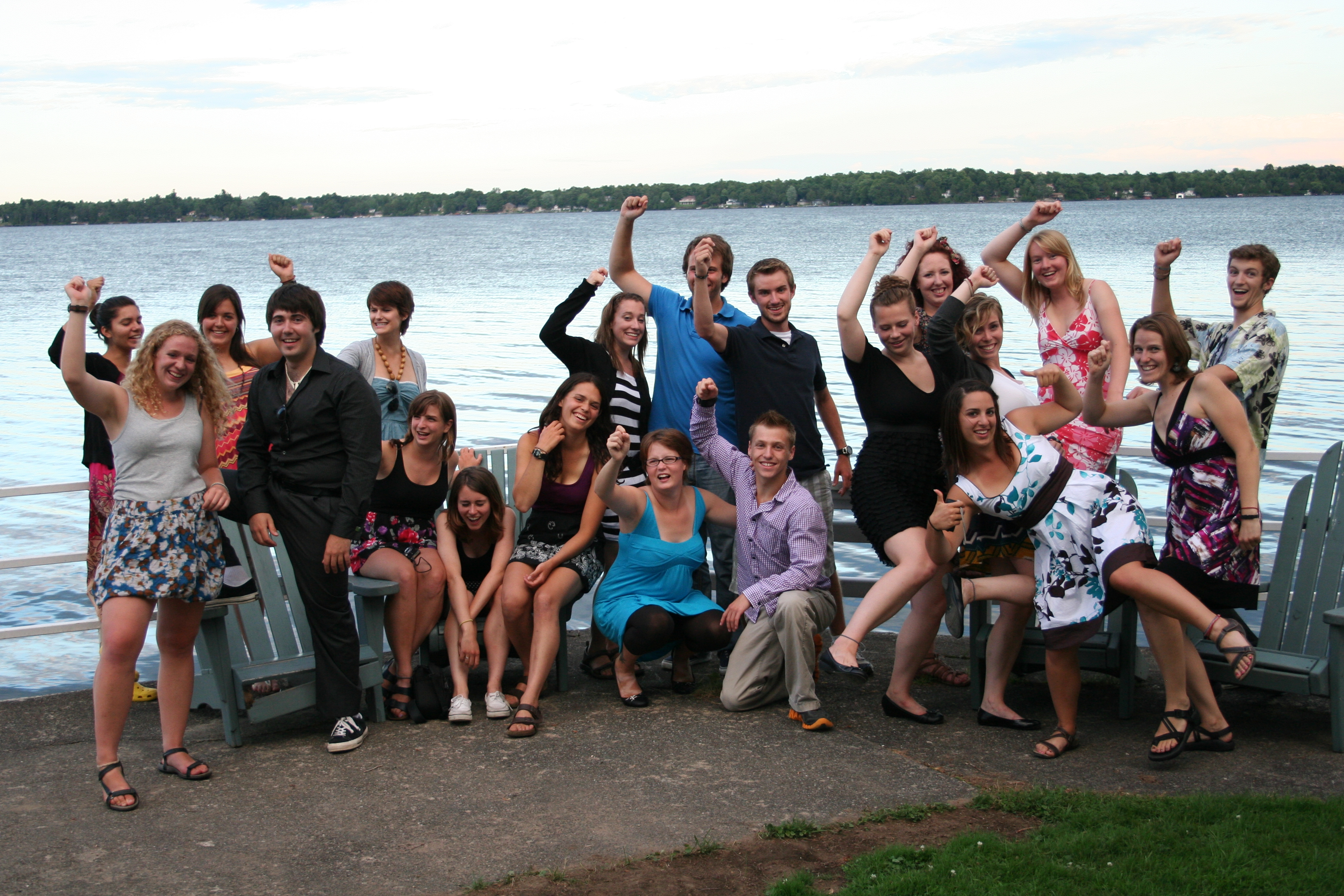 July 18, 2011
Can't believe we are now through our 1st session and we are now on Day 2 of Session #2. We had a big storm last night, but no damage, just some small branches down. Session #1 was very busy and fun. Lots of great programs, many fish caught, and sledge hockey was a hit. Looking forward to Session #2.
If anyone is interested in volunteering to be a PCA with a camper for Session #3 (July 31 - August 10) please contact me at 613-267-1244 or e-mail bgray@easterseals.org.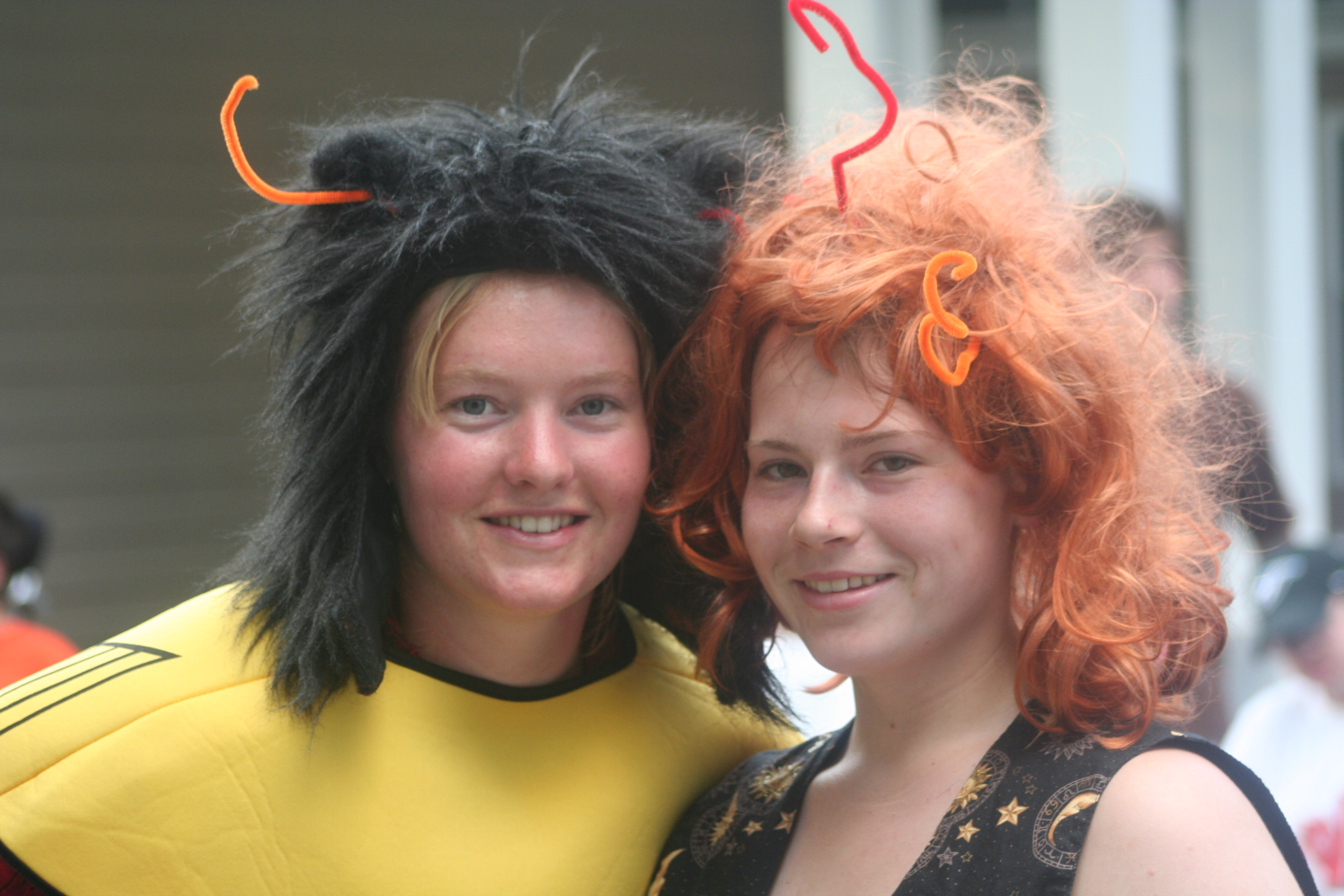 July 4, 2011
The first arrival day has come and gone. It was a busy day, but lots of fun. The staff did an amazing job of making sure everyone got checked in quickly. It is a busy time at camp with LIT, Gear-Up and regular camp taking place at the same time.
June 29, 2011
This is the last day of pre-camp 2011. It has been an amazing week. This year's staff are a great group of hard working and very talented staff. Last night's talent show proved that! I think they are all ready for 'C' Day on July 3.
There were many highlights of this week: the out-trip to the locks, the great food, talent show, Max hoola hooping for over 26 minutes, the 'intermissions', Shauna & Erin's presentation, the Ducharme's & Chloe's presentation and much, much more. Can't wait for the campers to arrive!
June 25, 2011
Open Houseis tomorrow, 1 - 4 pm.
Pre-camp is going great. Lots of great sessions. Our returning staff are doing a great job running sessions. Lots of tired staff as we begin Day 2 of lifting.
June 22, 2011
Internet is finally up! There are lots of happy staff right now.
We are looking for another lifeguard. If anyone knows someone who would be interested, please have them contact me. Tomorrow all of our counsellors arrive and the 2011 Pre-Camp begins.Can't wait for everyone to arrive.
Here is a picture of the 2011 Land & Waterfront staff hard at work.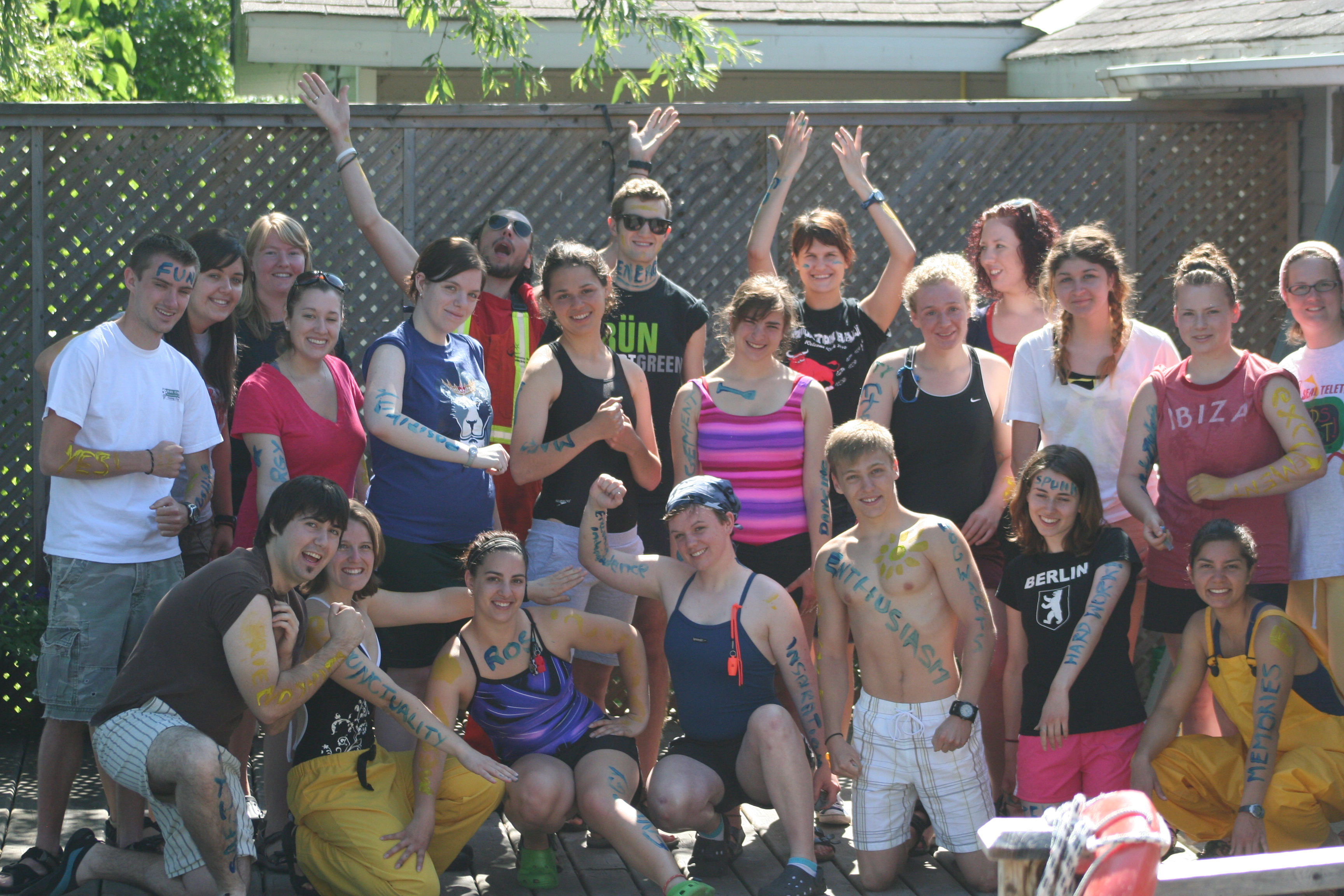 June 17, 2011
The waterfront staff arrive today. By tomorrow morning there will be 19 of us. Our Chef and some of her crew are here, things are looking pretty good food wise this summer. Still no internet. We are hopefull by tonight or tomorrow morning to have it back up.
June 14, 2011
We are making progress - we now have a working telephone and fax! Now just the internet and all would be great. Here is a picture of the tree that caused much of the problem. That is the rail of the bridge on the nature path that the tree took out.
June 13, 2011 Still without internet or a telephone at camp. Very fustrating right now. We are doing work at the Perth Library. We hope it will be up and working in the next couple of days.
June 8, 2011 The Leadership Team is now at camp hard at work. Unfortunately the wireless has been down and yesterdays storm caused a couple of trees to fall on the power lines so we have been out of power since yesterday afternoon. Now at the Perth Public Library taking advantage of their free internet access. Will attach some pictures when our internet is back up.
June 3, 2011 I leave for camp tomorrow! Can't believe that our 2011 camping season is about to start. This weekend our camp goes to the dogs as Camp Dogwould, takes over the camp. Over 80 people bring their dogs for a weekend of dog lectures, raining and other fun things. Some of our catering staff will be there as they do the cooking for the weekend. Congratulations to all the staff who are graduating.
June 2, 2011 Counsellors - if you are planning on taking the train from Toronto to Smiths Falls on June 23rd, all of our international staff will be on board too! Train leaves Union Station at 0640 and arrives in Smiths Falls at 1038. Our van will be there to great you and bring you to camp.
June 1, 2011 Not much longer until camp starts. For those programmers starting to think of program ideas, or counsellors looking for get to know you games and other back pocket activites, check out the information section of this site. There are some pretty amazing camp resources out there right now. Many even have videos on how to do the activites. If you usually rely on your cell phone to tell you the time, you might want to purchase an inexpensive watch for the summer. You will need to know the time at camp so you are not late for activities. We now have a Chef.
May 31, 2011 Don't forget tomorrow is Camp Day at Tim Hortons. You can help our camp friends send kids to camp! With the potential postal strike, if you are sending your missing documentations or contracts to the Provincial Office, I would recommend that you send it by fax. The fax # is 416-696-1035.
May 30, 2011 Only 24 more days until the start of pre-camp and finally the weather is making it feel like summer is almost here. We have lost and out-tripper so we are looking for a replacement before the 16th. The kitchen staff have been named - just waiting for final confirmation on a chef. Good luck JV on your RN exams on Wednesday!
May 24, 2011 I am back from a fun weekend at camp. I planted almost all the gardens and have started the vegetable garden too. It was so nice being back! There were lots of loons calling all night and we now have a Canadian goose family living around camp. I saw the whole family out for a swim a couple of times during the weekend. Lots of mosquitoes - so come prepared. I was sent this great link to a TVO series. Some of our campers are featured in it. Here is the link. You need to go to 'watch' then to 'shows that begin with M' and finally click on Mark's Moments. http://www.tvokids.com/shows/marksmoments
May 19, 2011 Happy Victoria Day weekend! I hope everyone has a great long weekend and that the weather co-operates. I am off to Merrywood on Saturday to plant the gardens for the summer. Hopefully the rain will hold off while I am planting. Final nurse hired! Only 35 more days until pre-camp starts!
May 16, 2011 We had a great training weekend at Woodeden Camp. Both the Leadership and Nursing team got together and began planning the 2011 camping season. We have some fun and informative sessions planned for you. We were very lucky that the weather help so it only rained on Sunday. If you have not yet watched the Expert on Line videos I recommend that you do so prior to the start of camp. These videos provide some great information about adapting programs and getting into the 'camp' frame of mind.
May 12, 2011 It has been a busy week - 42 Days until Pre-Camp Starts!. Last weekend the Ontario Camping Association, Health Care Workshop took place in Toronto, JV & Karen both attended as well as the nurses from Woodeden Camp. This upcoming weekend is the Leadership Team training and Nursing Training Weekend. To me, this weekend really signifies the start of camp as we begin planning pre-camp and develop our goals for this upcoming summer. I would also like to welcome Emalin Fernando to our nursing team! We just need a nurse for Session #3.
May 4, 2011 It is May already - can't believe how quickly the time is going. Only 50 days until Pre-Camp starts! This weekend many of our camp nurses from both Merrywood and Woodeden will be attending the Ontario Camping Association Health Care Workshop in Toronto. It is shapping up to be a very informative day. I hope those that have completed the Expert online training have enjoyed it and have now begun to think about how you will adapt your programs this summer. Suzanne has now begun to contact staff with missing documentation.
April 26, 2011 I have sent out to everyone some online training through Expert Online Training. The two videos will help you prepare for the upcoming summer. If you have not received it, please check your Spam box and if it isn't there, let me know and I can resend it. If you are having difficulties - go to www.expertonlinetraining.com/ and in the top right corner, click on the login button. If you are a returning staff member and did this last year, you will a;ready have a password. If you are a new staff member, please click on set up an account. Here is a nice video that thanks camp staff for all they do http://www.youtube.com/watch?v=akRedzOY0s4
April 25, 2011 If you know of a nurse who is registered (either RN or RPN) and you think they would enjoy working at camp, please have them contact me. I hope everyone had a nice holiday weekend. The weather was pretty nice for the most part.
April 20, 2011 Check out this video http://www.youtube.com/user/Eastersealsont?feature=mhum#p/a/u/1/Oz4GCF45jsg- It was shot during Discovery Camp in 2011. This company will be filming at Easter Seals camps across Canada this upcoming summer. .
April 19, 2011 Well all hiring is done (except one last nurse). It looks like an amazing team this year. We had so many applicants this year, more than double the usual number. I spoke to Jacques and the ice went off the Rideau Sunday April 10. Won't be long before we are swimming in the lake. I attended a conference call today with the MS Society and plans for the MS Summer Adventure Camp are coming along. Already there are 23 campers registered and they are expecting to havve campers from Europe attending this year. I also heard a rumour that Arron from Billy Talent may be making an appearance thisyear. I hope eveyone's final exams are almost over. If you have not sent back your contract, don't forget to.. Happy holidays and enjoy the long weekend. Hopefully it will be more spring like this weekend.
April 15, 2011 Sorry for the lack of postings. I was away on holidays last week and when I came back I detached my retina again, so have been unable to update this site or go to work. I am sure everyone is very busy studying hard for your final exams. I wanted to let everyone know that starting today until April 18th, Via Rail is offering a 50% reduction in train travel across Canada. If you are coming to camp via Via Rail, we can pick you up at Smiths Falls. On the 23rd there is a train arriving in Smiths Falls at 1038. If you get a chance, watch Rick Mercer's Rant - VOTE!
March 28, 2011 Well we had quite a night at Merrywood. It was freezing cold. The poor heaters in the Health Hut could not keep the place warm. The wind of the frozen lake didn't help either. The snow as gone though. I have put some pictures taken this weekend on the left. At the Camp Fair in Ottawa we meet a few potential campers and had a chance to meet other camp staff from eastern Ontario